BY SCOTT STIFFLER | Reactivated last year after a period of pandemic-era downtime, the West Side Community Fund (WSCF) is a consortium of leading companies based on Manhattan's west side. It's also the best friend an underfunded good idea could have—the kind that comes bearing encouraging words backed by a generous check! Each grant cycle draws from a fund ($100,000 on average) created by contributions from locally based corporations including Amazon, Cooley, Google, Jamestown, KKR, Pfizer, Related, RXR, Tapestry Foundation, and Third Point.
On August 30, WSCF announced that applications for their new round of grants are being accepted through September 22, with recipients announced in late October. That's good news for non-profits, neighborhood organizations, block and tenants' associations, schools, health clinics, police-community programs, religious institutions, and other projects whose worthy initiatives benefit Chelsea, Hudson Yards, or Hell's Kitchen (i.e., Manhattan Community Board 4's catchment area, as illustrated on the below flyer). Individuals who deliver services (such as teachers) and past grant recipients are also eligible to apply.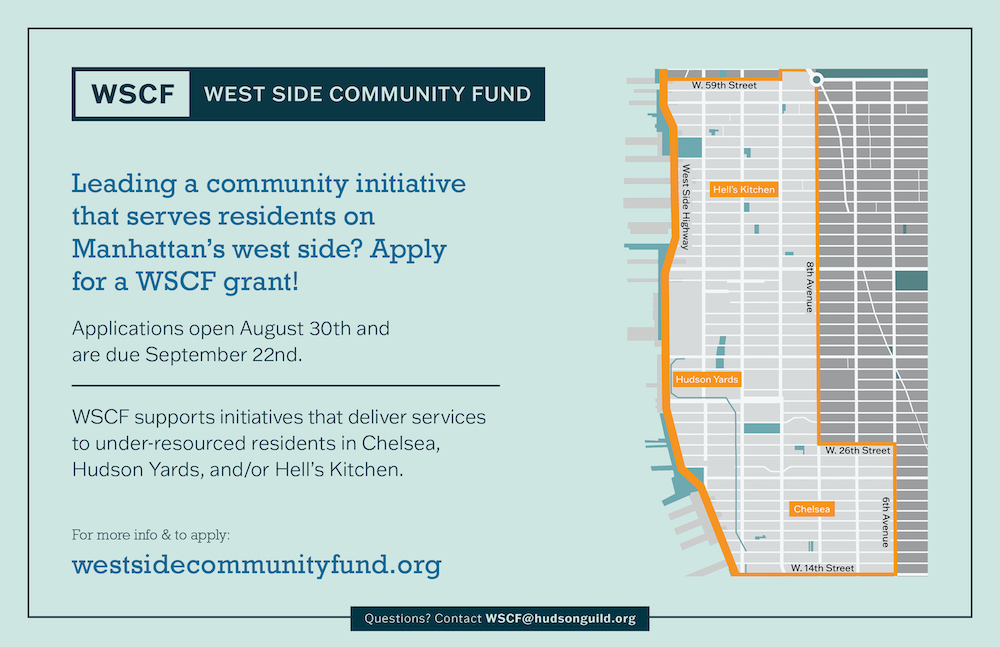 Previously funded initiatives include food pantry expansion, entrepreneurship programming for NYCHA residents, a pedestrian safety app, senior-centric health services, and a mural restoration project (click here to see how one honoree, Friends of Chelsea Green, has been using their grant money to sustain a summer music program).
To learn about the 15 programs funded by the first round following WSCF's reactivation, click here to read Chelsea Community News' coverage of an October 22, 2022 event held to celebrate the grantees–at which Michael Phillips, President at Jamestown and also President of WSCF's Board, noted, "We're motivated to find the groups that fall between the cracks of traditional community support. We're the only nonprofit that's actually funding neighborhood associations—groups that don't have a formal status—if they have a good plan,…We want to support the people who need to be lifted along with everyone. All boats need to rise together."
More than a mere monetary award, a West Side Community Fund grant functions as a vote of confidence that welcomes recipients into an ever-growing community. A celebratory gathering for each cycle's winning roster encourages communication among them, and the grant administrators at Chelsea's own Hudson Guild are rich sources of resources and advice, drawing on decades of serving the Chelsea community. There's that word again—community. We'll say it one more time in the spirit of full disclosure: Chelsea Community News has received multiple WSCF grants, one of which helped to ensure our survival during the budget-busting crest of COVID. So instead of asking what WSCF has done for us lately, here's a little bit about a few Spring 2023 grant recipients, to give potential applicants a sense of the program's breadth.
BUT FIRST: To learn more about eligibility requirements and access the online application (due Sept. 22), click here. For more information about the West Side Community Fund and its ever-growing roster of recipients, click here to visit WSCF's website. An Impact Report highlighting Fall 2022 grantees can be seen by clicking here. Questions? Send an email to WSCF@hudsonguild.org.
The following features a few of Spring 2023's 21 grant recipients. For the complete list, click here.
Art for Progress — an organization that provides arts education to underfunded schools serving at-risk youth in NYC
The Dwelling Place of NY — a program that provides transitional housing for women who have suffered a major traumatic event
Housing Conservation Coordinators — a nonprofit organization dedicated to advancing social and economic justice and fighting for the rights of poor, low-income and working individuals and families
Keoni Movement Arts — a nonprofit organization that provides movement classes and performance opportunities to individuals of all ages, abilities, and means
Midtown South Community Council — an organization devoted to building better neighborhoods and stronger relationships within the Midtown South area of Manhattan
PS11 Friends of Asylum Seekers — a group that is providing support to migrant families living in shelters who have children attending PS11
—END—
Chelsea Community News is an independent, hyperlocal news, arts, events, info, and opinion website made possible with the help of our awesome advertisers and the support of our readers. Our Promise: Never a paywall, no pop-up ads, all content is FREE. With that in mind, if circumstances allow, please consider taking part in our GoFundMe campaign (click here). To make a direct donation, give feedback, send a Letter to the Editor, or contact our founder/editor, email Scott Stiffler via scott@chelseacommunitynews.com.
To join our subscriber list, click here. It's a free service providing regular (weekly, at least) Enewsletters containing links to recently published content. Subscribers also will be sent email with "Sponsored Content" in the subject line.  That means it's an exclusive message from one of our advertisers, whose support, like yours, allows us to offer all content free of charge.