Here's What's Happening In & Around Chelsea
Manhattan Community Board 4's HHHS Committee meeting / /Vinyl Nights / High Line Open Studios / Upcoming Events: The London Terrace Street Fair / Ongoing Events: Free Fitness Boot Camp, Retrospection/Continuance at Hudson Guild Gallery,  Fresh Food for Seniors / Past but Present: Events From Earlier This Week (CB4 Full Board Meeting / Butchered Jokes)
A Meeting of the Manhattan Community Board 4 (CB4) Housing, Health & Human Services Committee (HHHS)
: Thursday, September 7, 6:30pm
| The meeting's "hybrid" format allows attendance via
Zoom
, CB4's
YouTube
channel, and in person at CB4's office (424 W. 33rd St., Suite 580). To attend by phone, the conference call number is 646-518-9805 (when prompted for the Webinar ID, enter 955 2999 9182). Mindful of COVID, CB4 notes, "Virtual participation is highly recommended…If you would like to attend in person, we ask that you register with Assistant District Manager Nelly Gonzalez at 
negonzalez@cb.nyc.gov
." The first item on the agenda is comprised of a Committee Update on the topic, followed by Discussion. The topic: 410-412 West 46th Street. A similar Update/Discussion re: the development plan for Chelsea NYCHA Campuses, scheduled Sept. 7, has been postponed to the October meeting. Elsewhere on the agenda, the Committee discusses the Fiscal Year 2025 Statement of District Needs and Budget Requests. The meeting concludes with New Business: An update on the Hudson Hotel (353 W. 57th St.), and a Committee Discussion re: Bill 1099—City Retirees Choice of Medicare Plan. 
ABOUT HHHS: 
 The Committee reviews proposals and monitors the progress of affordable housing commitments made during the Hudson, West Chelsea, and Western Rail Yards rezoning. The Committee also reviews Low Income Housing Plan Applications as part of the Inclusionary Housing Program; Evaluates tenant complaints re: service issues, co-op conversions, and tenant associations; Acts as a liaison between the Board and local social service providers, including City agencies; and advocates for the needs of children and parents. For info on other September CB4 committee meetings,
click here
for the calendar page of their website.
P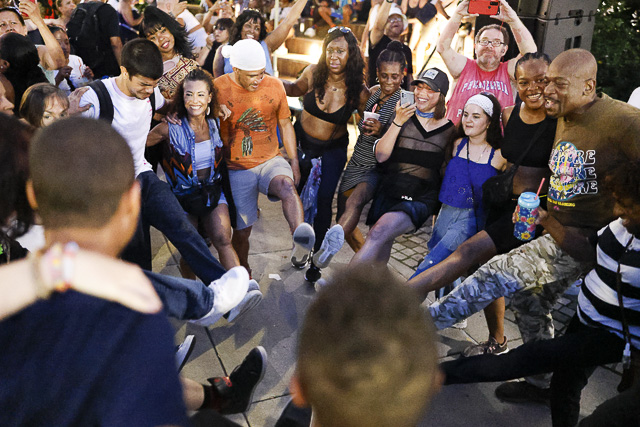 Vinyl Nights at Bella Abzug Park/Hudson Yards (Hudson Blvd. East btw. W. 34th & 35th Sts.): A Free, All-Ages Dance & Music Celebration, 6-9pm on Thursdays,  Sept 7, 21, 28 | Whether you were there when it all began or were born decades later, this outdoor dance and music celebration invites you to step up and boogie down to the hits that shaped NYC club culture in the 70s, 80s, and 90s—when the DJs played strictly vinyl. Each new installment promises a plethora of Disco, Funk, Soul, House, Boogie, and Latin music that has stood the test of time. This vibrant, joyful, inclusive all-ages dance party (a spinoff from Operator EMZ's legendary Mobile Mondays! all 45s night) makes its own contribution to the legacy of the hot wax hits it spins by having on hand living legends such as Operator Emz, DJ Misbehaviour, DJ Woof, and MoneyMike & Friends. Rebecca Lynn produces this joyful celebration, presented in partnership with the Hudson Yards Hell's Kitchen Alliance Business Improvement District (HYHK). For more info about Vinyl Nights, click here. To visit their website, click here. For their Instagram, click here. To see our photo essay based on a visit to the July 6 installment, click here.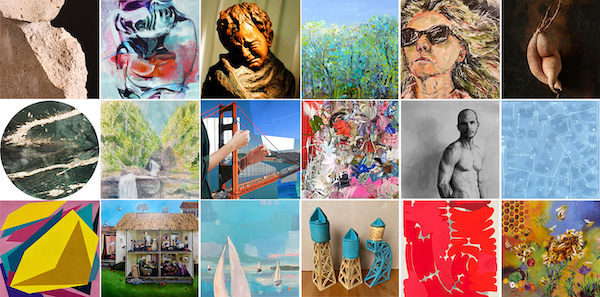 High Line Open Studios: A Self-Guided Tour in the Heart of the West Chelsea Gallery District / 12pm-6pm on Saturday/Sunday, September 9/10 | In an annual tradition timed to run in conjunction with the Armory Show at the Javits Center (Sept. 8-10), West Chelsea artists will open their private studios/work spaces to the public. Your self-guided tour begins when you pick up a Tour Map in the lobby areas of the West Chelsea Art Building (508-526 West 26th Street). This rare opportunity for art lovers, collectors, dealers, and tourists allows for discussion with the artists about their creative process. It also allows for the purchase of art, absent the markup you get by shopping at a gallery. Artworks will be available in a wide range of media including—but not limited to—painting, sculpture, photography, mixed-media, textiles, prints, collage, and street art. For more information, visit High Line Open Studios online by clicking here.
UPCOMING EVENTS: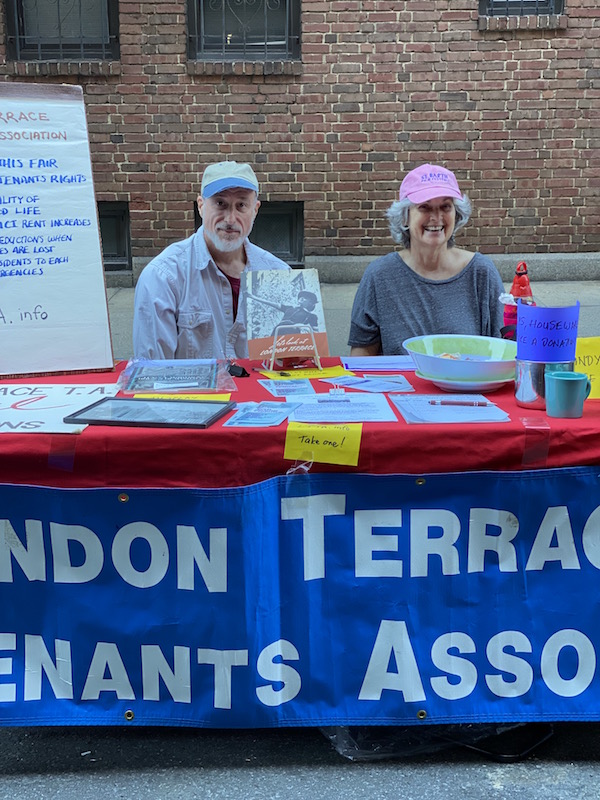 The 31st Annual London Terrace Street Fair: Saturday, September 23, 10am-5pm on West 24th Street (btw. 9th & 10th Aves.) | The best little street fair in Manhattan is back, bearing many surprises. There will be vendors of fine art, jewelry, clothing, furniture, vintage collectibles, physical media (records, tapes, CDs, DVDs, etc.), light food and drink, and inexpensive trinkets. It's the perfect place to find an affordable gifts for the holidays—or a practical item for your kitchen, a new rug, a pillow, possibly a spread for your sofa in the living room, a new piece of jewelry or clothing, or your favorite LP record from your high school days. It's also the place where one walk down a crosstown block can mean running into an old friend, being greeted by an elected official, and learning about a community organization you've always heard about. It's also the place where treasure long-buried in the back of your closet can find a new home, while providing a nice profit for your own home! To reserve your Vendor Tables space, click here (and do it quickly; available slots are going fast!). For more information about this annual event brought to you by the London Terrace Tenants Association, click here.
ONGOING EVENTS
Free Fitness Boot Camp in Bella Abzug Park (Hudson Boulevard West btw. West 36th & 37th Sts.), Tuesdays & Thursdays, 7-8am, Weekly Through September 28 | Early risers reap the reward of feeling great and having accomplished something substantial, before some of us have found the strength to roll out of bed. That sense of well-being is to be found at the twice-weekly Morning Boot Camp brought to you by the Hudson Yards Hell's Kitchen Alliance. Ave and Olivia, Manhattan Plaza Health Club instructors, have designed an invigorating, high-intensity interval training workout (HIIT) combining strength and cardio in creative ways that challenge participants to use body weight as resistance. Start your day the MPHC Boot Camp way at these classes that are open to the public (please bring your own mat). For more info, and to register, click here.
Retrospection/Continuance at Hudson Guild Gallery (441 W. 26th St.), Through September 27 | Artworks from the American Indian Community House collection will be on view. Hudson Guild Gallery hours are Tues. to Fri., 10am-6pm and Sat., 12-3pm. For more info, see the below flyer and/or click here.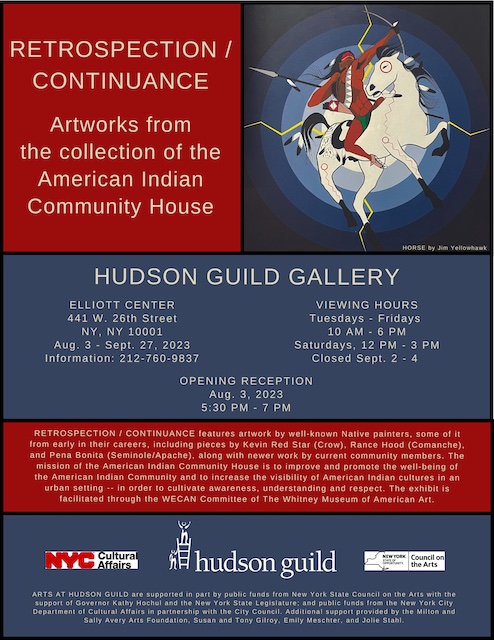 Fresh Food for Seniors | The second annual version of this program from NYC Council Member Erik Bottcher and Manhattan Borough President Mark Levine sees to it that you receive a bag of fresh, locally harvested fruits and vegetables every other week through November 14. The cost is $10 per bag. Sign up for Fresh Food Bag participation on certain Mondays and Tuesdays at local senior centers, with pick-up the following Tuesday.Local participating senior centers include Visions at 135 W. 23rd St., where sign-up is 10am-3pm; Hudson Guild NORC at 441 W. 26th St., where sign-up is 8:30am-5:30pm; Penn South Program for Seniors at 290A Ninth Ave., where sign-up is 9am-5pm; and Encore Senior Center at 239 W. 49th St., where sign-up is 8:30am-4:30pm. For more info, call 212-554-7757 or email district3@council.nyc.gov. For the schedule of dates, see the below flyer.
Past but Present: Events From Earlier This Week
The Full Board Meeting of Manhattan Community Board 4 (CB4): A Hybrid (Virtual and In-Person) Event at 6:30pm on Wednesday, September 6| After a funky July/August combo meeting, the full board is back to the steadfast schedule that sees them meet on the first Wednesday of the month. Unlike the laser-focused work of their committee meetings, a full board event is notable in that it gathers the complete membership of CB4 to hear from the public, elected officials and their reps, local law enforcement, and others with a stake in matters happening between 14th and 59th Streets—to the west of Eighth Ave. north of 26th Street, and to the west of Sixth Ave. south of 26th Street (aka Chelsea and Clinton/Hell's Kitchen).
To register for the meeting and view it via Zoom, click here. To view the live stream via CB4's YouTube channel, click here. Note: Zoom registration allows you to sign up for a slot in the Public Session, where you're allowed to speak on topics of your choice (usually for 2 minutes). Those wanting to interact with the meeting in this manner cannot do so by simply live streaming; they must attend via Zoom or in person. The "real world" location will be the Fulton Senior Center (119 9th Ave. btw. W. 17th/18th Sts.). To attend by phone, dial the conference call number: 646-518-9805. When prompted, enter 986 0945 5541 as the Webinar ID.  Click here to view agenda items for the Sept. 6 meeting. Generated by the individual committees of CB4, the letters (each one assigned an agenda item number) articulate CB4's position on a matter, and/or appeal to the recipient to take certain actions. Well-vetted by the time they reach the full board, committee letters are often voted on favorably. Sometimes, a letter will be approved pending the addition changes the board has just discussed; and in rare cases, letters will be sent back to committee for more work. Likely to earn the full board's approval is a letter to the New York State Office of Cannabis Management, coming out of an Aug. 24 Informational Presentation. Hosted by CB4, it was an opportunity for the Soodak family to provide details about how they'll be running their licensed cannabis dispensary–expected to open at 158 W. 23rd St. (btw. 6th & 7th Aves.). The letter, penned by Jessee Greenwald (of CB4's Cannabis Working Group) articulates support for the father and son business, partiularly since the family has owned NYC liquor stores for decades without ever facing a fine for improper operating procedures. For more info, click here to read Chelsea Community News' coverage of the Aug. 24 event. For info about all things CB4, you'll find it on their website, which can be reached by clicking here.
Butchered Jokes: A Free Comedy Night on Wednesday, September 6 & October 4 at Dickson's Farmstand Meats on the Lower Level of Chelsea Market (enter through semi-secret side door at 435 W. 15th St.) / Doors open at 7pm, Comedy starts at 7:30pm | Nine fantastic comics make for a rich menu of talent, as they dig into the marrow of matters mundane, surreal, and everything in between. The atmosphere is casual and supportive, in keeping with the general vibe cultivated by the driven but easy-going folks at Dickson's Farmstand Meats. In addition to consuming the comedy, Dickson's amazing hot dogs, steaks, and burgers are at the ready, with $5 draft and hard seltzer and $20 bottles of red, white, and Rose. Butchered Jokes is a free event, but you're asked to register in advance. To do so, click here. To visit the Dickson's website  (where you can access the menu and find out about other activities including classes), click here.
—Listings Compiled by Scott Stiffler
—END—
Chelsea Community News is an independent, hyperlocal news, arts, events, info, and opinion website made possible with the help of our awesome advertisers and the support of our readers. Our Promise: Never a paywall, no pop-up ads, all content is FREE. With that in mind, if circumstances allow, please consider taking part in our GoFundMe campaign (click here). To make a direct donation, give feedback, send a Letter to the Editor, or contact our founder/editor, send an email to Scott Stiffler, via scott@chelseacommunitynews.com.
To join our subscriber list, click here. It's a free service provding regular (weekly, at least) Enewsletters containing links to recently published content. Subscribers also will be sent email with "Sponsored Content" in the subject line. That means it's an exclusive message from one of our advertisers, whose support, like yours, allows us to offer all content free of charge.