Here's What's Happening In & Around Chelsea
Pick of the Week / Vinyl Nights / West Side Community Fund Grant Applications / Rescheduled from Sept. 23 to Oct. 7 / The London Terrace Street Fair / Ongoing Events: Free Fitness Boot Camp, Retrospection/Continuance at Hudson Guild Gallery,  Fresh Food for Seniors /  
PICK OF THE WEEK
421a Webinar: Know Your Rights! | Thursday, Septmber 21, 6-8pm online, via Zoom. To register for this event, click here. | NYS Assemblymember Tony Simone is among the elected officials on board as a sponsor of this event, which means to clear the air regarding changes in, well–the air (and at the legislative level). In an email accompanied by the below promotional flyer, Assemblymember Simone noted, "421a was first passed in 1971, and is a tax exemption that allows landlords to pay little or no tax on their building in order to provide more affordable housing for residents. Are you unsure if your building is receiving the 421a benefit? You can search your address at the NYC Department of Finance website for property information. The benefit expired in June of last year, and since then I have heard from many neighbors and constituents that are unsure of their rights. The webinar will go over many issues and concerns that constituents have about the end of 421a and what it'll mean for them…  I will be joined by experts from Housing Conservation Coordinators and the New York State Division of Homes and Community Renewal for this panel on 421a and its related issues."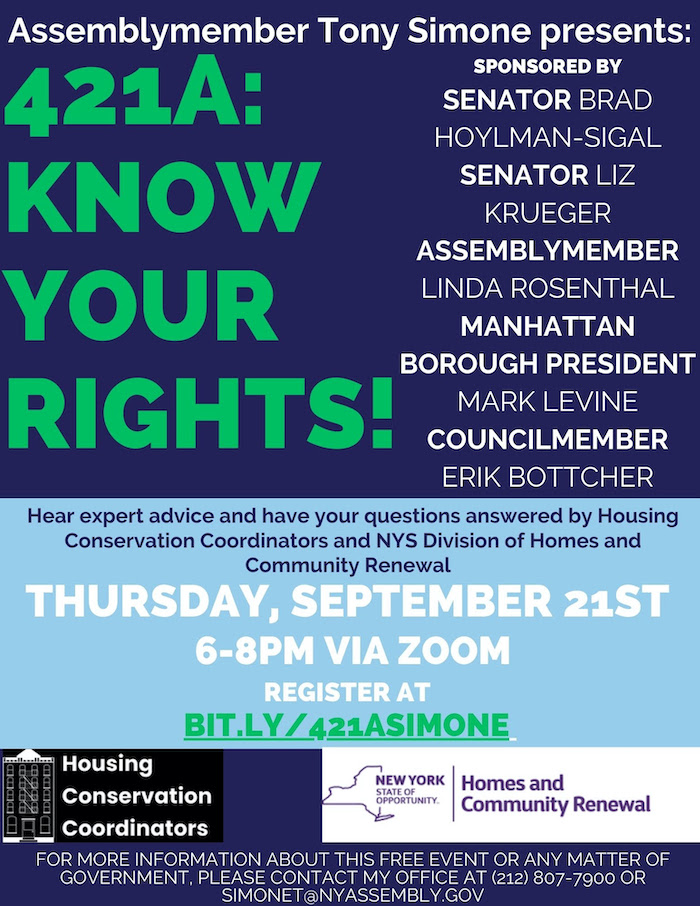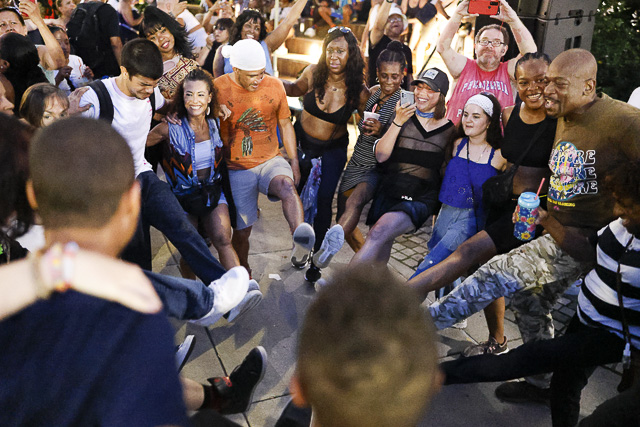 Vinyl Nights at Bella Abzug Park/Hudson Yards (Hudson Blvd. East btw. W. 34th & 35th Sts.): A Free, All-Ages Dance & Music Celebration, 6-9pm on Thursdays,  September 21, 28 | Whether you were there when it all began or were born decades later, this outdoor dance and music celebration invites you to step up and boogie down to the hits that shaped NYC club culture in the 70s, 80s, and 90s—when the DJs played strictly vinyl. Each new installment promises a plethora of Disco, Funk, Soul, House, Boogie, and Latin music that has stood the test of time. This vibrant, joyful, inclusive all-ages dance party (a spinoff from Operator EMZ's legendary Mobile Mondays! all 45s night) makes its own contribution to the legacy of the hot wax hits it spins by having on hand living legends such as Operator Emz, DJ Misbehaviour, DJ Woof, and MoneyMike & Friends. Rebecca Lynn produces this joyful celebration, presented in partnership with the Hudson Yards Hell's Kitchen Alliance Business Improvement District (HYHK). For more info about Vinyl Nights, click here. To visit their website, click here. For their Instagram, click here. To see our photo essay based on a visit to the July 6 installment, click here.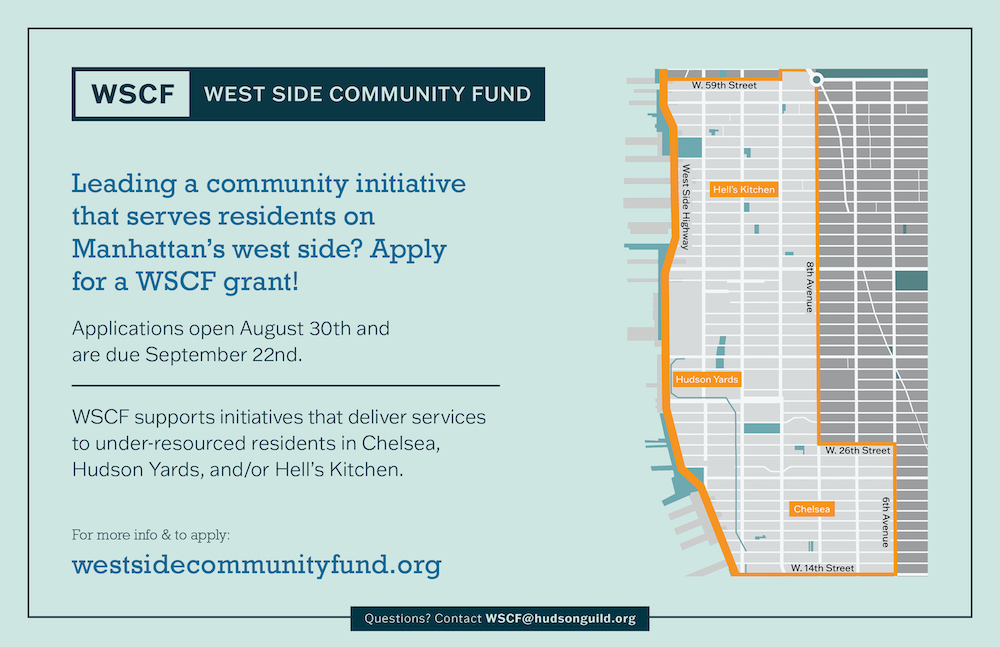 The West Side Community Fund's Fall Grant Applications Are Due on Friday, September 22 |Reactivated last year after a period of pandemic-era downtime, the West Side Community Fund (WSCF) is a consortium of leading companies based on Manhattan's west side. It's also the best friend an underfunded good idea could have—the kind that comes bearing encouraging words backed by a generous check! Each grant cycle draws from a fund ($100,000 on average) created by contributions from locally based corporations including Amazon, Cooley, Google, Jamestown, KKR, Pfizer, Related, RXR, Tapestry Foundation, and Third Point. That's good news for non-profits, neighborhood organizations, block and tenants' associations, schools, health clinics, police-community programs, religious institutions, and other projects whose worthy initiatives benefit Chelsea, Hudson Yards, or Hell's Kitchen (i.e., Manhattan Community Board 4's catchment area, as illustrated on the below flyer). Individuals who deliver services (such as teachers) and past grant recipients are also eligible to apply. Click here to visit the WSCF website, and click here for our recent editorial coverage of the current grant application round.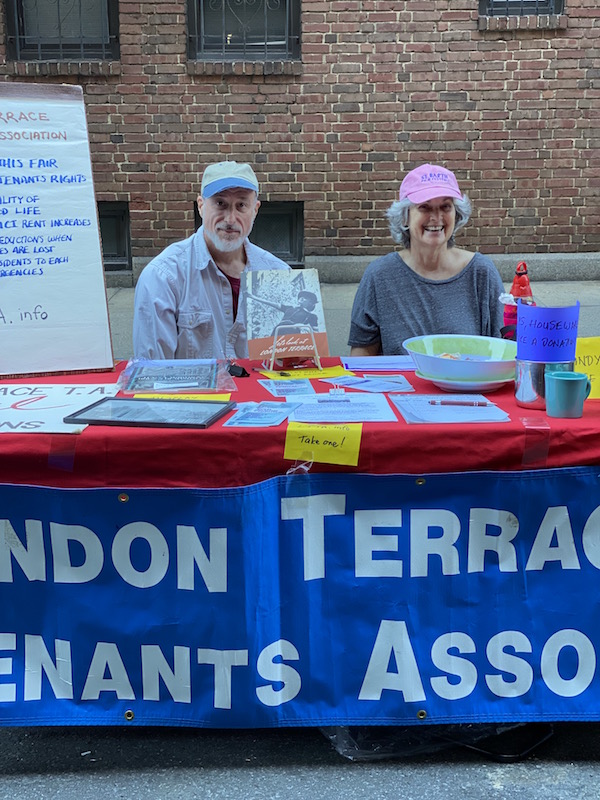 RESCHEDULED FROM SEPT. 23 TO OCT. 7 BECAUSE OF SEPT. 23'S WEATHER FORECAST | The 31st Annual London Terrace Street Fair: Saturday, September 23, 10am-5pm on West 24th Street (btw. 9th & 10th Aves.) | The best little street fair in Manhattan is back, rain or shine, bearing many surprises. There will be vendors of fine art, jewelry, clothing, furniture, vintage collectibles, physical media (records, tapes, CDs, DVDs, etc.), light food and drink, and inexpensive trinkets. It's the perfect place to find an affordable gifts for the holidays—or a practical item for your kitchen, a new rug, a pillow, possibly a spread for your sofa in the living room, a new piece of jewelry or clothing, or your favorite LP record from your high school days.
It's also the place where one walk down a crosstown block can mean running into an old friend, being greeted by an elected official, and learning about a community organization. What's more, it's where treasure long-buried in the back of your closet can find a new home, while providing a nice profit for your own home! To reserve your Vendor Tables space, click here (and do it quickly; available slots are going fast!). For more information about this annual event brought to you by the London Terrace Tenants Association, click here.
Fitness Boot Camp in Bella Abzug Park (Hudson Boulevard West btw. West 36th & 37th Sts.), Free. Tuesdays & Thursdays, 7-8am, Weekly Through September 28 | Early risers reap the reward of feeling great and having accomplished something substantial, before some of us have found the strength to roll out of bed. That sense of well-being is to be found at the twice-weekly Morning Boot Camp brought to you by the Hudson Yards Hell's Kitchen Alliance. Ave and Olivia, Manhattan Plaza Health Club instructors, have designed an invigorating, high-intensity interval training workout (HIIT) combining strength and cardio in creative ways that challenge participants to use body weight as resistance. Start your day the MPHC Boot Camp way at these classes that are open to the public (please bring your own mat). For more info, and to register, click here.
Retrospection/Continuance at Hudson Guild Gallery (441 W. 26th St.), Through September 27 | Artworks from the American Indian Community House collection will be on view. Hudson Guild Gallery hours are Tues. to Fri., 10am-6pm and Sat., 12-3pm. For more info, see the below flyer and/or click here.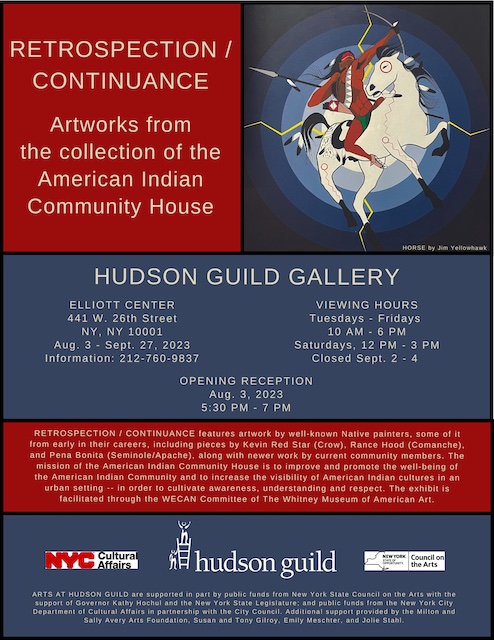 Fresh Food for Seniors | The second annual version of this program from NYC Council Member Erik Bottcher and Manhattan Borough President Mark Levine sees to it that you receive a bag of fresh, locally harvested fruits and vegetables every other week through November 14. The cost is $10 per bag. Sign up for Fresh Food Bag participation on certain Mondays and Tuesdays at local senior centers, with pick-up the following Tuesday.Local participating senior centers include Visions at 135 W. 23rd St., where sign-up is 10am-3pm; Hudson Guild NORC at 441 W. 26th St., where sign-up is 8:30am-5:30pm; Penn South Program for Seniors at 290A Ninth Ave., where sign-up is 9am-5pm; and Encore Senior Center at 239 W. 49th St., where sign-up is 8:30am-4:30pm. For more info, call 212-554-7757 or email district3@council.nyc.gov. For the schedule of dates, see the below flyer.
AGED OUT: Events from Earlier in the Week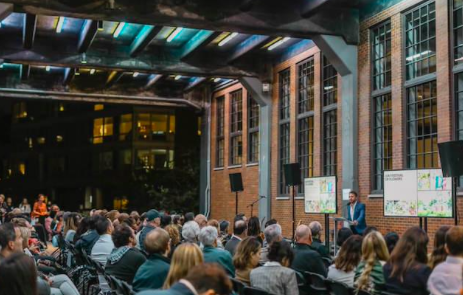 The Meatpacking District Management Association (MDMA) 8th Annual Meeting: Wednesday, September 20, 8:30am at Samsung 837 (837 Washington St.) | Get informed about, and involved in, the Meatpacking District neighborhood. Check-in starts at 8:30am, with networking until the main program begins (9-10:15am). On the agenda: A review of the past year and a glimpse of the year ahead; Remarks from speakers; and voting on the Board of Directors. Note: To vote, you must be officially registered with the BID. For voting purposes, there may only be one vote-holder per property/commercial tenant/residential unit within the BID boundaries. However, all are welcome to attend. Unsure if you need to register or have questions? Email hello@meatpacking-district.com. Hosted by Samsung 820. RSVP required: To do so, click here.
—Listings Compiled by Scott Stiffler
—END—
Chelsea Community News is an independent, hyperlocal news, arts, events, info, and opinion website made possible with the help of our awesome advertisers and the support of our readers. Our Promise: Never a paywall, no pop-up ads, all content is FREE. With that in mind, if circumstances allow, please consider taking part in our GoFundMe campaign (click here). To make a direct donation, give feedback, send a Letter to the Editor, or contact our founder/editor, send an email to Scott Stiffler, via scott@chelseacommunitynews.com.
To join our subscriber list, click here. It's a free service provding regular (weekly, at least) Enewsletters containing links to recently published content. Subscribers also will be sent email with "Sponsored Content" in the subject line. That means it's an exclusive message from one of our advertisers, whose support, like yours, allows us to offer all content free of charge.