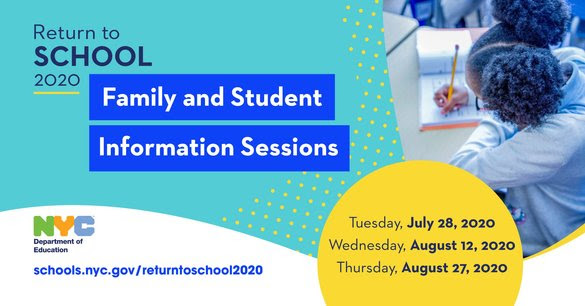 Family and Student Information Sessions | Throughout the summer, the NYC Department of Education (DOE) will be hosting info sessions to share information and answer questions about the 2020-2021 school year plans. Read our recent article about NYC's plans for the 2020/2021 school year by clicking here. The remaining info session is scheduled for  Thurs., Aug. 27, 6:30-8:30pm. To register, click here.
Saturdays, 10am: Meatpacking District presents Meatpacking Unpacked: Community Connected | The Meatpacking BID presents this weekly conversation with a variety of guests shaping the cultural, political, and business landscape across NYC. More details at bit.ly/2YXfVp3.
Pandemic Benefits Guidance Packet |This Benefits Guidance includes information on grocery options, health care, financial support and more. Find out what you are eligible for, regardless of your employment or immigration status. To view the packet, click here. For more information, click here.
PPE (Personal Protective Equipment) Vending Machines in Subway Stations | The MTA is deploying a dozen vending machines at 10 subway stations, allowing customers to buy COVID-19 personal protective equipment (PPE). The new machines, part of a pilot program, will offer reusable face masks, gloves, hand sanitizer, and sanitizing wipes. Vending Machines can be found at the following stations: 14th Street-Union Square: 4, 5, 6, N, Q, R, W Lines / 34 St-Herald Square (2 machines): B, D, F, M, N, Q, R, W Lines / 34 St-Penn Station: 1, 2, 3 Lines / 34 St-Penn Station: A, C, E Line / 42 St-Port Authority Bus Terminal: A, C, E Lines / 42 St-Times Square (2 machines): 1, 2, 3, 7, N, Q, R, S, W Lines / 59 St-Columbus Circle: 1, A, B, C, D Lines / 74 St-Roosevelt Avenue: 7, E, F, M, R, Lines / Atlantic Av-Barclays Center: 2, 3, 4, 5, B, D, N, Q, R Lines / Lexington Av: E, M Lines. Single-use surgical masks will still be distributed at station booths and sanitizer will be placed at subway stations for customers.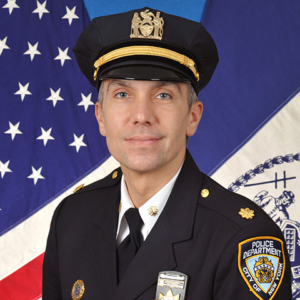 August 27: Build the Block Meetings | Deputy Inspector Kevin J. Coleman, Commanding Officer of the 10th Precinct, has invited neighbors to attend the third, and final, Build the Block meeting of August. For more information about the meetings and to read the Chelsea Community News' interview with DI Coleman, click here.
NCO Sector C (W. 29 St. to W. 43rd St., 9th Ave. to the Hudson): Thurs., Aug. 27, 5pm, at 400 W. 43rd St. (Manhattan Plaza).
Neighborhood Coordination Officers, or NCOs, are your local problem solvers. They spend all their working hours within the confines of their assigned sectors, actively engaging with local community members and residents. They get to know the neighborhood, its people, and its problems extremely well.
Down to Earth Farmers Market: Saturdays in Chelsea | It's one of those sure signs of spring: Down to Earth Farmers Market has returned to Chelsea, Saturdays, 9am-3pm, through December 19, along the sidewalk on the North side of W. 23rd St., east of Ninth Ave.The Market has altered its shopping guidelines, in accordance with COVID-19 precautions. Click here to read the guidelines, and arrive prepared to browse while maintaining social distance. To visit the website page specific to their Chelsea Market, click here.
The Sunday Summer Schedule of Chelsea Community Church | During the current social distancing, Chelsea Community Church is providing a Zoom service every Sunday at noon. The church is nondenominational, and has guest speakers as well as lay-led services that include traditional music. Chelsea Community Church is an inclusive, independent, lay-led and non-denominational Christian community. Due to COVID-19 concerns and recommendations, they will not hold in-person services until further notice.  However, the Church is currently holding virtual services via Zoom.  Visit chelseacommunitychurch.org. Regarding the current schedule, their website notes: "August through Labor Day:  Our summer hiatus. There will be no worship services, but we will meet for informal fellowship each Sunday at 12 p.m. via Zoom. If you need a Zoom invitation, please e-mail us at: info@chelseachurch.org."
Open Streets | With no closing date currently set, New York City is opening streets to allow for greater social distancing during the COVID-19 crisis. Open Streets are available daily, 8am to 8pm (unless otherwise noted) for pedestrians and cyclists to use the roadbed of the street while maintaining social distancing. Opening hours may vary by location due to NYPD staffing. For info on the Open Streets program, click here, and see the below flyer. Designated local areas include W. 22nd St. btw. Seventh & Eighth Aves., and W. 21st St. btw. Ninth & 10th Aves. For our recent article on how Chelsea is participating in the program, click here.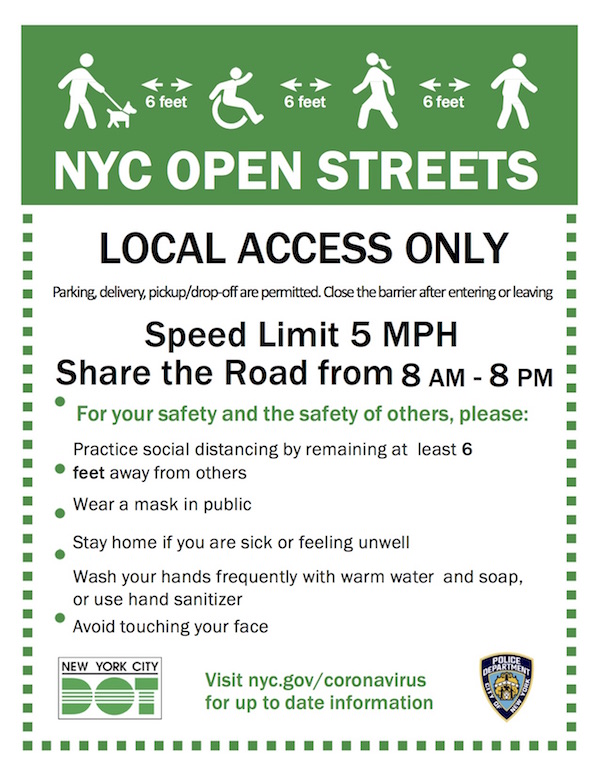 –Compiled by Scott Stiffler
Chelsea Community News is made possible with the help of our awesome advertisers, and the support of our readers. If you like what you see, please consider taking part in our GoFundMe campaign (click here). To make a direct donation, give feedback about the site, or send a Letter to The Editor via email, at scott@chelseacommunitynews.com.