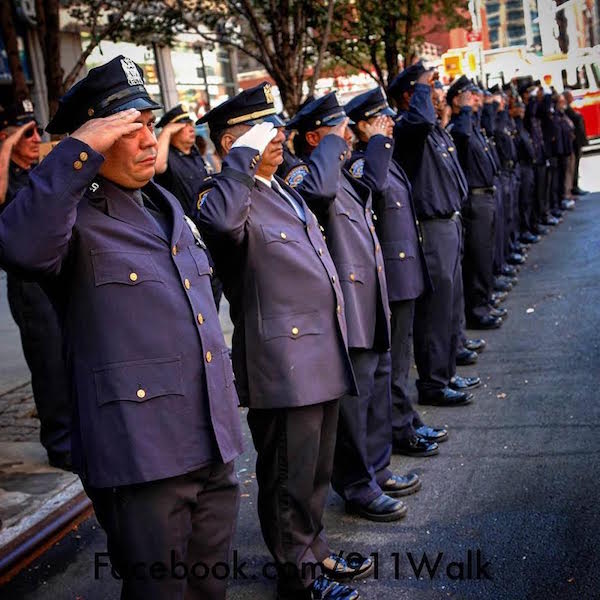 Sunday, September 6, at approximately 9am: Walk of Remembrance Stops in Chelsea | The annual Father Mychal Judge 9/11 Walk of Remembrance is scheduled for Sun., Sept. 6. In past years, 2018 for example, over 1,100 people participated, despite a cold, unremitting rain. Held to honor Fr. Mychal Judge (1933-2001), an FDNY Chaplain listed as "Victim 0001" of the Trade Center events, as well as NYPD Detective Steven McDonald (1957 – 2017,) and all those who perished on September 11, 2001, the Walk follows the route taken by Fr. Judge from his rectory at St. Francis of Assisi Church, down Seventh Ave., to the World Trade Center towers.
The 2020 observance will see adjustments, in light of COVID-19. Event organizers note, on Facebook: "Slightly different itinerary from previous walks! This year's Fr Mychal 911 Walk will start at 0800 Sunday September 6, 2020 with a Rosary outside the Friary at Saint Francis of Assisi [135 W. 31st St.]. We will then proceed down 7th Ave along our route to Saint Peters Church. The 911 Walk will start promptly at 0830 following The Rosary. Thank you for all your support these past years."
At its stop in Chelsea, the Walk honors Line of Duty Deaths from the 13th Precinct, West 19th Street's FDNY Engine 3/Ladder 12/ Battalion 7, and nine Chelsea residents whose lives were lost at the Trade Center. Click here for info on this year's event, and here for our coverage of last year's Walk.
Saturdays, 10am: Meatpacking District presents Meatpacking Unpacked: Community Connected | The Meatpacking BID presents this weekly conversation with a variety of guests shaping the cultural, political, and business landscape across NYC. More details at bit.ly/2YXfVp3. The Saturday, 10am series takes a brief hiatus Labor Day weekend, but will resume its regular schedule as of Sept. 12, when the theme will be "Urban Planning." On Sept., 19, the guest is Amit Bagga, Deputy Director for NYC Census 2020.
Pandemic Benefits Guidance Packet |This Benefits Guidance includes information on grocery options, health care, financial support and more. Find out what you are eligible for, regardless of your employment or immigration status. To view the packet, click here. For more information, click here.
PPE (Personal Protective Equipment) Vending Machines in Subway Stations | The MTA is deploying a dozen vending machines at 10 subway stations, allowing customers to buy COVID-19 personal protective equipment (PPE). The new machines, part of a pilot program, will offer reusable face masks, gloves, hand sanitizer, and sanitizing wipes. Vending Machines can be found at the following stations: 14th Street-Union Square: 4, 5, 6, N, Q, R, W Lines / 34 St-Herald Square (2 machines): B, D, F, M, N, Q, R, W Lines / 34 St-Penn Station: 1, 2, 3 Lines / 34 St-Penn Station: A, C, E Line / 42 St-Port Authority Bus Terminal: A, C, E Lines / 42 St-Times Square (2 machines): 1, 2, 3, 7, N, Q, R, S, W Lines / 59 St-Columbus Circle: 1, A, B, C, D Lines / 74 St-Roosevelt Avenue: 7, E, F, M, R, Lines / Atlantic Av-Barclays Center: 2, 3, 4, 5, B, D, N, Q, R Lines / Lexington Av: E, M Lines. Single-use surgical masks will still be distributed at station booths and sanitizer will be placed at subway stations for customers. 
Down to Earth Farmers Market: Saturdays in Chelsea | It's one of those sure signs of spring: Down to Earth Farmers Market has returned to Chelsea, Saturdays, 9am-3pm, through December 19, along the sidewalk on the North side of W. 23rd St., east of Ninth Ave.The Market has altered its shopping guidelines, in accordance with COVID-19 precautions. Click here to read the guidelines, and arrive prepared to browse while maintaining social distance. To visit the website page specific to their Chelsea Market, click here.
Open Streets | With no closing date currently set, New York City is opening streets to allow for greater social distancing during the COVID-19 crisis. Open Streets are available daily, 8am to 8pm (unless otherwise noted) for pedestrians and cyclists to use the roadbed of the street while maintaining social distancing. Opening hours may vary by location due to NYPD staffing. For info on the Open Streets program, click here, and see the below flyer. Designated local areas include W. 22nd St. btw. Seventh & Eighth Aves., and W. 21st St. btw. Ninth & 10th Aves. For our recent article on how Chelsea is participating in the program, click here.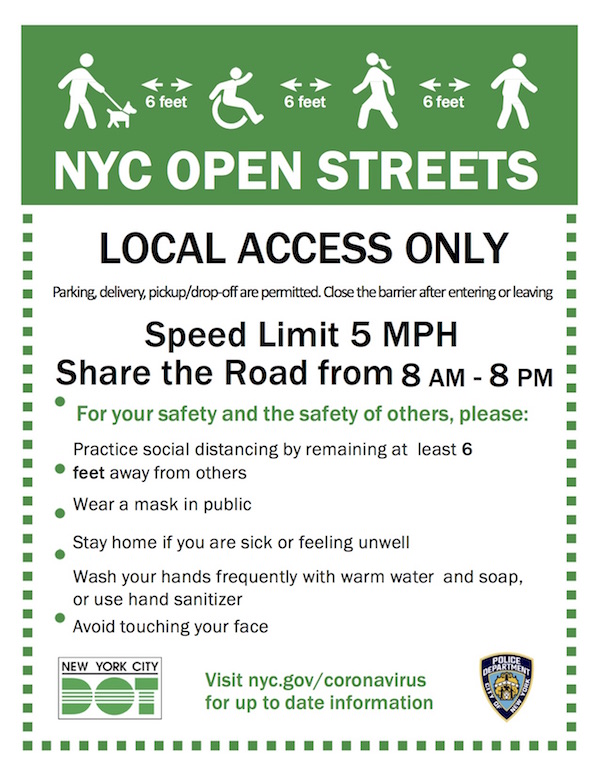 Wednesday, September 2, 6:30pm: Manhattan Community Board 4 (CB4) Full Board Meeting | They took the month of August off, but don't call them slackers: For our Q&A with the leadership of CB4, following their July 22 full board meeting, click here. On Wed., Sept. 2, CB4 returns to their regular schedule of full board meetings, held on the first Wed. of the month. Until further notice, those meetings will be conducted online, via Zoom. For information on how to attend, click here. To preview what's on the agenda, click here. The public is invited/encouraged to attend. Those interested in having their say (a full two minutes of it) can sign up in advance, for the Public Session of the meeting. To sign up to speak during the public session, please fill out the Full Board Public Session Sign-Up Form by 12pm on Wed., Sept. 2.
–Compiled by Scott Stiffler
Chelsea Community News is made possible with the help of our awesome advertisers, and the support of our readers. If you like what you see, please consider taking part in our GoFundMe campaign (click here). To make a direct donation, give feedback, or send a Letter to the Editor, email scott@chelseacommunitynews.com.