File This One Under "There's Always Next Year" | For info on an event that has already aged out of our calendar cue, scroll down to the "tail" end of the page, and make plans to attend next year's annual Blessing of the Animals, at St. Peter's Chelsea.
Tuesday, October 6, 5-7 pm: Night Out Against Crime | The street in front of the 13th Precinct Stationhouse (230 E. 21st St.) is the fitting outdoor setting for this annual community-building campaign that promotes police-community partnerships and neighborhood camaraderie. Stop by, say hello, and pick up valuable safety tips—such as that one you already know by heart: "Follow COVID-19 guidelines, and wear a mask." One more tip some of us on the Western tip of Chelsea might not know: Those of us on the east side of Seventh Ave. (and north of the middle of 14th St.) are in the 13th Precinct. For more info on the precinct, including how to attend their third-Tuesday-of-the-month Community Council meeting, click here. 
Wednesday, October 7, 9am: Manhattan Borough President Candidates Virtual Forum | MBP Gale Brewer hosts all the hopefuls with their hats in the ring—former Manhattan Community Board 7 chair Elizabeth Caputo, New York State Senator Brad Hoylman, New York City Councilmembers Ben Kallos and Mark Levine, Community Education Council 3 president Kim Watkins—as gather under the same tent—virtually, that is, for a forum about the 2021 race. Register here. The focus will be on New York City's economic recovery generally with an emphasis on the needs of small businesses in Manhattan.
Wednesday, October 7, 6:3pm: Manhattan Community Board 4 Full Board Meeting| If you missed a little, you missed a lot–at least last month, at the first full board meeting since their annual August break  (known as "vacation" during pre-pandemic times, because  people who left town for the weekend usually planned to come back). As we reported here, CB4's membership found themselves at odds over excessive"rhetoric" in a letter condemning the NYPD's recent attempted arrest of Black Lives Matter activist and Hell's Kitchen resident Derrick Ingram, who was in attendance. At the meeting's outset, however, CB4 found itself in relationship-building mode, welcoming Deputy Inspector Kevin J. Coleman, Commanding Officer of Chelsea's 10th Precinct. It was the kickoff of what CB4 hopes will be regular, rotating appearances from reps of every precinct in the board's area of coverage. Don't expect to see Coleman again, when the circle is complete: He'd since been transferred to the Bronx, on the same day that saw dozens of other commanding officers transferred. (His replacement, Captain Robert Gault, recently greeted the public for the first time, when the 10th Precinct Community Council resumed its function as a regular public gathering.) On Oct. 7, Deputy Inspector Steven M. Hellman of the 13th Precinct appears before the board, as the series' second member of the NYPD to accept CB4's offer to appear before them. Following that, the Public Session allows members of the public who sign up to speak their mind on any topic of their choice. Multiple topics are allowed, of course, but at one minute, 45 seconds, you'd better wrap it up–they're pretty strict about the two-minute time frame. You must sign up to speak by 12pm on Wed., Oct. 7. To do so, click here. Matters the Board will discuss and vote on include Item 12: Letter to DHS [Department of Homeless Services] re Temporary Hotel Shelter Operations in the West 30s. This Zoom-only meeting is presented on CB4's YouTube channel. For more information, including the agenda and committee letters, click here.
Down to Earth Farmers Market: Saturdays in Chelsea | Down to Earth Farmers Market has a presence in Chelsea, Saturdays, 9am-3pm, through December 19, along the sidewalk on the North side of W. 23rd St., east of Ninth Ave. The Market has altered its shopping guidelines, in accordance with COVID-19 precautions. Click here to read the guidelines, and arrive prepared to browse while maintaining social distance. To visit the website page specific to their Chelsea Market, click here. Go to the Manager's Tent to use your SNAP EBT card and get tokens to spend with our vendors. Health Bucks available. FMNP WIC/Seniors checks can be used at the farm stands through November. Note: Food scrap recycling collection is on pause. Please do not bring items for composting to the farmers market.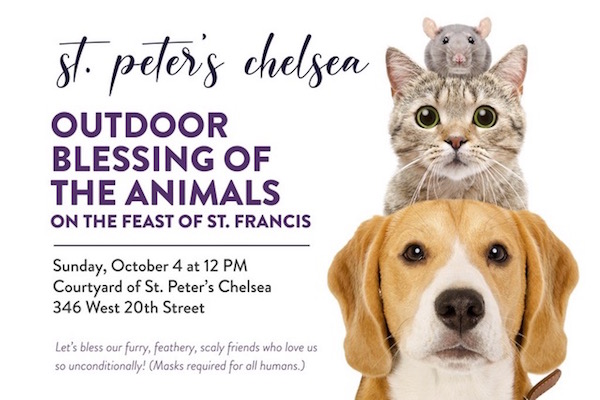 Sunday, October 4: Blessing of the Animals | We buy their kibble, scoop and clean when nature calls, and sit on that one tiny corner of the couch when they're sprawled out on the rest of it, fast asleep. All that work, and what do we get in return? Little else but endless expressions of Unconditional Love. "Our pets have been such a source of comfort during these difficult times, and we want to bless them!" said Rev. Christine Lee, of St. Peter's Chelsea, in advance of this pandemic-era, rain-or-shine version of their popular Blessing of the Animals event. This year's perks include the chance to take a photo with a cardboard cutout of Saint Francis (who is said to have preached to animals). Sun, Oct. 4, 12-1pm in the courtyard of St. Peter's Chelsea (320 W. 20th St. btw. 8th & 9th Aves.). Click here to visit the St. Peter's Chelsea website.
–Compiled by Scott Stiffler
Chelsea Community News is made possible with the help of our awesome advertisers, and the support of our readers. If you like what you see, please consider taking part in our GoFundMe campaign (click here). To make a direct donation, give feedback, or send a Letter to the Editor, email scott@chelseacommunitynews.com.