"Where do you see yourself at this time next year?" wasn't always such a loaded question. Before COVID-19, forward thinkers could confidently project ahead 365 days to find themselves dancing at their wedding, playing contact sports, or making good on a campaign vow to bring sweeping legislation before their fellow New York City Council Members.
At this time next year, that last scenario will be brought to you by Erik Bottcher, Phelan Dante Fitzpatrick, Marni Halasa, Aleta LaFargue, Leslie Boghosian Murphy, or Arthur Schwartz. They're the six people determined to represent our namesake neighborhood, alongside others in the District 3 area of coverage (Hell's Kitchen, Greenwich Village, West SoHo, Hudson Square, Times Square, Garment District, Flatiron, Upper West Side). The winner will succeed Corey Johnson, who was re-elected in 2017, became Council Speaker in 2018, and is compelled by term limits to step down.
Chelsea Community News begins its coverage of this race with a Q&A that's as curious about the person as it is about their policies. All candidates were sent the same questions. Below, find responses from Marni Halasa, followed by links that take you to the answers provided by others. For info about the Primary Election (June 22) and the General Election (Nov. 2), visit https://vote.nyc.
Scott Stiffler, for Chelsea Community News (CCNews): Regarding the Biography/About section on your website: What policy, belief, or personal detail sums you up nicely, and why?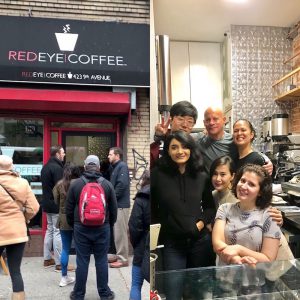 Marni Halasa: My advocacy for the Small Business Jobs Survival Act is something that I would say defines me. My husband and I used to own RedEye Coffee, a very popular coffee shop on 9th Avenue. Even though it was only 110 square feet, we sold over 500 cups of coffee a day, often with a line of surprisingly patient and agreeable customers out the door. Our customers became our family. And my husband Peter as owner-operator gained the reputation as the 9th Avenue Coffee Guru since his coffee had that uncanny ability to transport the drinker to, if I may: java nirvana. Customers told Peter his matcha lattes were transcendent, turmeric cappuccinos sublime, while others drank it no-frills black. Our baristas were true artists and our customers came for coffee multiple times a day. But it wasn't just our great coffee, folks came for the neighborhood coffee shop experience — it was community in the purest sense. But that all ended when we lost our lease. When we tried to renew our lease, our landlord attempted to extort us for thousands in cash in exchange for that lease. The new lease also was limited for a mere 6 months, so he could raise our rent, or kick us out (which is in his right as a landlord to do so) but absolutely no way to run a viable business. We were devastated. Closing our shop was probably one of the most painful experiences of my life. But there are thousands of stories like mine of small business owners shuttering their doors due to unreasonable landlords. New York City has been in a small business closure crisis for decades. And knowing that those businesses didn't have a true advocate in the Council is one of the main reasons I am running for this City Council seat
But all those businesses could have been saved if City Council would have passed the Small Business Jobs Survival Act (SBJSA). The SBJSA would have leveled the playing field between business owner and landlord, so landlords wouldn't have all the power in lease negotiations. This legislation would give all small businesses in the city a long-term affordable and renewable lease—the solution to the crisis of closures. With a majority of support in the Council, the SBJSA could have easily been passed if there would have been the political will from Council Speaker Corey Johnson. He gave the bill a public hearing, but refused to move it to a full-floor vote after he made a public commitment to do so. Perhaps if it would have been passed, my husband and I would still have our beloved coffee shop, which one customer aptly described as "a little slice of paradise in the big bad city."
CCNews: Can you envision a situation when the duties of advocating for District 3 and the city as a whole are not in agreement? If so, how will you reconcile local obligations with the greater good?
Halasa: Yes—and such a situation is happening now. If I was the current councilmember, I would have sued the city months ago on behalf of NYCHA tenants in District 3, challenging the city's virtual hearings on Zoom are not an adequate public review process when converting public housing to RAD, Rental Assistance Demonstration. The online meetings do not allow tenants to fully participate and understand these plans, since many do not have access to the Internet or have access to Zoom technology. I would also have demanded that the de Blasio administration delay the online meetings until after the pandemic until they can be held in-person.
I would also sue the Mayor for pushing RAD/Blueprint, which places public housing tenants in a dangerous position of losing their deeply affordable housing. Under RAD, rents hike and eviction rates increase substantially. Also actionable is that RAD is not accountable to the Warranty of Habitability, with one RAD Resident Handbook stating that the landlord did not have to meet repairs up to the habitability standard 'to protect investor investment.' In addition, under RAD, repairs can take up to 20 years. The Mayor has put one-third of all public housing apartments into RAD, with the rest placed into a 'Public Trust,' which if defaults, could lead to private investors taking over the property. If this happens, residents will be displaced, since under the Public Trust plan, the City Council cannot intervene with emergency funding to help. Such a scenario could be the end of public housing as we know it.
In addition, I would have also sued the Mayor's NYCHA Chelsea Working Group for being held in secret for months, a violation of the state's Open Meetings Law, which states that any meeting discussing the disposition of public assets (like public housing) must be open and transparent to the public. Even while operating illegally, the Working Group also refused to let NYCHA Tenants and stakeholders into meetings at PS33 and the Hudson Guild, with the NYPD refusing their entry.
CCNews: Regarding the above question, apply that to an example in your personal life. Are you any more rigid or flexible when it comes to advocating for yourself vs. others?
Halasa: As a person, I am happy, friendly and pretty easy-going. I would even say I am flexible. But when it comes to what I believe, I am resolute. Often in advocacy, you have to hold true to what you believe is right — especially when you are advocating for others, people are counting on you and it is the right thing to do.
CCNews: Conflict and Compromise: What do these words mean to you, in terms of how you will be an effective Council Member?
Halasa: It is a long-held belief that compromise is often necessary in politics to get something done. But what if that outcome begat by compromise does not lead to people getting relief? And in fact, is a compromise that created an policy that doesn't go far enough in its objective? One example is the Commercial Rent Stabilization Bill (CRS), legislation that is a weak alternative to the Small Business Jobs Survival Act. The CRS Bill is inferior because it does not have the SBJSA's right to renew—which means that any business owner can still be kicked out of their space. So this is not a real solution, and most likely a policy driven by the landlord lobby.
Small business owners, I believe, would much rather negotiate rent increases over the long-run with their landlord, (or if disputed, take their chances with arbitration), than put their livelihoods in the hands of the CRS Board comprised of the big real estate lobby and the Economic Development Corporation, year after year. Compromise is only a good thing if it is in the best interest of the public or in this case, the small business owner. As a small business owner myself, if I would have had the right to renew our lease, our shop would have been saved and the incentive for extortion, short leases or rent hikes would disappear due to mandated renewal rights.
CCNews: The time machine has been invented. Once you've played the stock market, it's time to visit your younger self. What one action do you tell this person not to take? Which one action do you choose not to mention, because it has to happen in order to make you who you are?
Halasa: Actually, I think all our life experiences bring us to where we are now. It's a very Buddhist perspective, but there is no right or wrong path. I used to think that not having political experience made me a lesser candidate. But in fact, it makes me a stronger. Because when you are outside the establishment, your decision-making is independent, free and unencumbered—and you are there for one thing: the people. The journalist Bill Moyers wrote a book about political reform, which exposed the fact that incumbents primarily act to maintain power, than to push for real change to improve people's lives. The result of this is machine candidates pushing for policies that may sound appealing, but are cosmetic in nature and do nothing to help ordinary people. My campaign is the exact opposite, pushing specific policies that will fully-fund NYCHA, fully-fund CUNY, permanently house the homeless and cancel the rent for small businesses and tenants hit hard by the pandemic by taxing corporations and the wealthy. Additionally, I want to demilitarize and defund the NYPD, with it's bloated budget of $11 Billion dollars, and refund that money to education, healthcare, youth programs and communities of color. And I want the community, not big real estate, to control and have the final say in development/rezonings at the community board and resident level. We have a chance now in the next 10 years to reimagine our neighborhoods, district and city in a way that could reverberate for generations. It's time for ordinary citizens to take back our city.
CCNews: What local small business do you wish we all gave our business to? How have they fared during the pandemic, and what can we do to help?
Halasa: I really wish the Rail Line Diner could have been saved. It had been around for decades, and it was my neighborhood go-to place that used to make a mean spinach and feta omelet. I used to go there with friends, activists and even campaign staff. Unfortunately, because the City Council and the State Legislature waited for federal help, instead of stepping up early on with emergency legislation to give rent relief vouchers to small businesses, they couldn't hang on and closed last September. When I spoke to the owners the day before they closed, they told me that cancelling the rent during the pandemic would have been a game changer. A small business that we all must support is Kashmir 9, one of the best Pakistani restaurants on 9th Avenue in lower Hell's Kitchen with tasty curries, chicken biryani and nan bread as big as a spaceship—the food is fantastic and it's affordable. With 2/3rds of city restaurants predicted to close by the end of January 2021, affordable eateries like Kashmir 9 are a local gem that must be saved.
CCNews: Favorite Golden Girl: Blanche, Dorothy, Sophia, or Rose?
Halasa: Blanche! She is smart, sexy, sassy, wears loud floral prints really well, is loyal to her friends and is not afraid to express what she really believes. She also has the ability to have calm, measured conversations after altercations occur, and understands that friendships can withstand disagreement.
CCNews: You took the time to answer our questions—even that last one, which, frankly, was a little gimmicky. So in the interest of fairness, we end by turning the tables: What one question do you want voters to ask themselves when they see six names in the running for City Council, District 3?
Halasa: Voters should ask themselves if the city and our district truly need change. For years, we've had policies of neoliberalism, austerity and gentrification, that have hurt our district and it's residents. And you see the ramifications of those policies every time you walk down the street. The pandemic only exacerbated what we already knew—that our city is being tailored for the wealthy, with no regard to the middle and low-income classes, with a disproportionate amount being people of color. Our lack of affordable and deeply affordable housing, dying small businesses and the lack of quality jobs pre-pandemic is due to a council administration that values the big real estate lobby over the people of this district. It's going to take someone from the outside who actually cares about tackling these crises of homelessness, unemployment and small businesses. We need a councilmember who believes in putting people first, with specific policy choices that create and preserve affordable and deeply affordable housing like NYCHA, a neighborhood with thriving businesses and jobs, a more equitable educational system and a genuinely reformed NYPD. Candidates need to come to this position already with a moral compass in place. I am that candidate.
NOTE: To see Chelsea Community News' Q&A with Erik Bottcher, Phelan Dante Fitzpatrick, Aleta LaFargue, Leslie Bogosian Murphy and Arthur Schwartz, click on their names, which appeared earlier in this… sentence.
Chelsea Community News is made possible with the help of our awesome advertisers, and the support of our readers. If you like what you see, please consider taking part in our GoFundMe campaign (click here). To make a direct donation, give feedback, or send a Letter to the Editor, email scott@chelseacommunitynews.com.