"Where do you see yourself at this time next year?" wasn't always such a loaded question. Before COVID-19, forward thinkers could confidently project ahead 365 days to find themselves dancing at their wedding, playing contact sports, or making good on a campaign vow to bring sweeping legislation before their fellow New York City Council Members.
At this time next year, that last scenario will be brought to you by either Erik Bottcher, Phelan Dante Fitzpatrick, Marni Halasa, Aleta LaFargue, Leslie Boghosian Murphy, or Arthur Schwartz. They're the six people determined to represent our namesake neighborhood, alongside others in the District 3 area of coverage (Hell's Kitchen, Greenwich Village, West SoHo, Hudson Square, Times Square, Garment District, Flatiron, Upper West Side). The winner will succeed Corey Johnson, who was re-elected in 2017, became Council Speaker in 2018, and is compelled by term limits to step down.
Chelsea Community News begins its coverage of this race with a Q&A that's as curious about the person as it is about their policies. All candidates were sent the same questions. Below, find responses from Phelan Dante Fitzpatrick, followed by links that take you to the answers provided by others. For info about the Primary Election (June 22) and the General Election (Nov. 2), visit https://vote.nyc.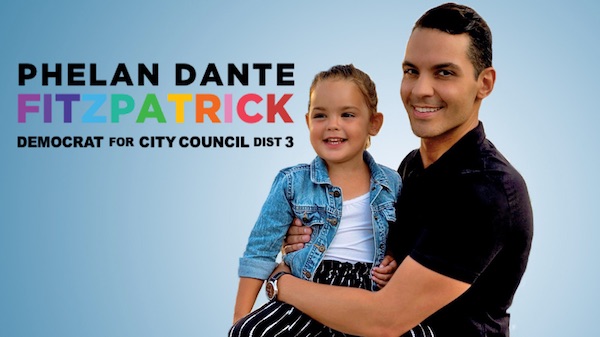 Scott Stiffler, for Chelsea Community News (CCNews): Regarding the Meet Phelan section on your website: What policy, belief, or personal detail sums you up nicely, and why?
Phelan Dante Fitzpatrick: As the operator of three small businesses in NYC, I know first-hand the economic uncertainty facing working people. Being a gun violence survivor, and enduring racial and homophobic discrimination my entire life, has driven how I have to navigate my role and purpose in this city that's been hit hard by the pandemic. I'm also a Black and gay single father, who's trying to keep his head above water.
Being a full-time dad, trying to keep my businesses open and my employees paid, and campaigning for this position has not been easy, but it has been rewarding. After years of feeling that my representatives didn't understand my lived experiences or recognize my struggles, I knew it was my responsibility to get involved and run for local office. I don't believe you have to be a policy expert to run for office. I don't have the same type of experience that some of my opponents have, I'm not a political insider. I don't attend black tie political fundraisers and I don't have all the right connections to get all the prime endorsements. I know the difference between what's good for a few versus what's good for the many. I know how to listen, I know how to be thoughtful and kind, and I know how to be patient. All the qualities that make a good parent, make a good leader.
CCNews: Can you envision a situation when the duties of advocating for District 3 and the city as a whole are not in agreement? If so, how will you reconcile local obligations with the greater good?
Fitzpatrick: For me, safety is paramount. It's why we accept and depend on our government. How we ensure that safety differs from community to community. As a local representative, I will always work to ensure my district has resources it needs to be safe and feel supported.
There are many steps to dismantling systemic racism and establishing a just world for all New Yorkers. A shift in consciousness around the idea of safety needs to happen. The criminal legal system in the US and in NYC is broken. It is not a system of justice. It is a carceral system.
The NYPD policies with practices that result in a disproportionate and horrifying number of Black and Brown people harassed, ticketed, arrested, imprisoned, and murdered. It is a moral failure in organizational leadership. As a Black man living in New York City for 20 years I have been stopped and frisked three times, once in front of my daughter. These experiences have profound impacts that will never leave me. The NYPD must be restructured with equal protection under the law as the driving force for these changes.
CCNews: Regarding the above question, apply that to an example in your personal life. Are you any more rigid or flexible when it comes to advocating for yourself vs. others?
Fitzpatrick: My experience in business has shown me the importance of economic power in uplifting others, particularly those from disadvantaged communities. The wellbeing of the workers that enable our businesses to function is a top priority. Listening to them, focusing on their needs, and helping them navigate the chaos of the current world is of utmost importance to me.
Being raised by a single mother who worked three jobs, I was responsible for my two younger siblings. My younger sister has suffered from epilepsy her entire life. From my early teens and into adulthood I've been taking care and advocating for others. Not out of a sense of duty, but out of love and compassion for my family and friends who have relied on me.
A strong desire to protect my daughter and my employees is what inspired me to run for office. But it's the needs of my neighbors that continue to drive me through this campaign and hopefully across the finish line. No one should have to choose between buying groceries or paying rent. Together, we can make real change in this city for those who need it most.
CCNews: Conflict and Compromise: What do these words mean to you, in terms of how you will be an effective Council Member?
Fitzpatrick: I was disappointed by the FY21 budget. Mayor de Blasio and the City Council failed to live up to their promises. Gutting New York public schools in order to pour money into the NYPD exhibits where the mayor and Speaker Johnson's priorities lie–in conflict with the people, especially children, of New York. I would have certainly opposed this budget.
For far too long, compromise has been made by our elected officials that are not in the interest of the greater good or for our city, but for themselves. Right now, we have people in office who spend more time politicizing movements, virtue signaling on their social media accounts, and campaigning for office than actually legislating for real change that could impact the lives of countless New Yorkers. These have never been compromises for the welfare of our city, but decisions made to secure them themselves jobs, while the rest of us have been losing ours.
CCNews: The time machine has been invented. Once you've played the stock market, it's time to visit your younger self. What one action do you tell this person not to take? Which one action do you choose not to mention, because it has to happen in order to make you who you are?
Fitzpatrick: In my first year of college, just a few hours before I turned 19, my father called to wish me a happy birthday. He left a voicemail that he loved me and was proud of the man I was becoming. He was meeting some friends but would call again in the morning. Shortly after leaving that message, he was targeted outside a small gay bar in Akron, Ohio. When he refused to give up his wallet, the two men who demanded it by gunpoint shot my father once in the head, took his wallet, and ran.
As an openly gay man, my father was an incredible inspiration in living life truthfully. When I came out at 13, the support system I had from my parents helped me overcome the insurmountable struggles most members of our young LGBTQ community face today without strong leadership. My dad was a masterclass in pride, love, generosity, and respect for myself and others. Although he died in that parking lot, his ideas of living a life of truth and compassion for others did not.
I knew that to leave home was the only way I would ever survive and be happy. I buried my father, and two weeks later I made my way to NYC. I found support in our incredible gay community, shelter in the many economically diverse neighborhoods I've lived in, and love in the friendships and bonds I've made along the way. Sometimes I think being on the phone with him for just a few minutes would have changed his fate and also the trajectory of my life. Losing my dad in such a violent way made me a stronger person, and I would be different today had it not happened.
CCNews: What local small business do you wish we all gave our business to? How have they fared during the pandemic, and what can we do to help?
Fitzpatrick: It's hard not to say my own, Beach Bum Tanning! As a small business owner-operator in the district for the past 16 years, I can tell you first hand how devastating the mandatory closures have been for myself, and the 40 young, diverse staff who have been working for me over the years. As of January 1 we have been forced to close our Chelsea store. Our landlord is not only suing for every month we were closed, but in addition also adding thousands of dollars in late fees on top. What was the response from our current District 3 Council member Corey Johnson, and his chief of staff Erik Bottcher, who is also my lead opponent? They were campaigning for office, fundraising hundreds of thousands of dollars to secure jobs for themselves while the rest of us were losing ours.
The Small Business Jobs Survival Act (SBJSA), which has been sitting in committee for over two years, has yet to be brought up for a vote due to the unwillingness of City Hall and Council Speaker Corey Johnson to bring it to the floor. New Yorkers simply can't continue to run successful small businesses under the current system that gives too much power to landlords and places tenants at their mercy. As a Council Member, I'm committed to ending the political theater of never-ending hearings and will insist that the SBJSA be brought for a vote. This bill protects not only small business owners, but in turn the jobs they create as well. Each month over 1,000 NYC businesses like mine are forced to close their doors, most often because they lost their lease. By protecting these small businesses, the City can also protect the New Yorkers that keep them running each and every day.
But if I had to pick one restaurant, it would be Le Prive, a French restaurant in Hell's Kitchen that is Black-owned and operated. It was astonishing to me that no matter how hard I tried, Le Prive was the only Black-owned and operated small business I could find in the district. It's possible there are some out there, but the narrow options paint a very challenging picture for our district and the city. It is simply too difficult for Black people to pay rent, to get loans, to find opportunities to become business owners.
CCNews: Favorite Golden Girl: Blanche, Dorothy, Sophia, or Rose? 
Fitzpatrick:: I love Rose for so many reasons, the biggest is because she cares more about the needs of others more than her own. The fact that Rose works as a grief councilor says a lot about who she is and what she stands for. I think most people view Rose as naive in so many ways, but to me, she's as authentic as it gets. It wouldn't occur to her to be anyone else than who she is, which I can really identify with. She's impervious to what people may think of her, (especially Dorothy) because she's true to her core, and always doing the work of taking care.
CCNews: You took the time to answer our questions—even that last one, which, frankly, was a little gimmicky. So in the interest of fairness, we end by turning the tables: What one question do you want voters to ask themselves when they see six names in the running for City Council, District 3?
Fitzpatrick: In this election, we have big questions to answer about who we want to be…
Who we want to be as a district?
Do we want to be a model city for climate justice and sustainable development?
Do we want to build a city that serves working people?
Do we want to promote safety by securing housing, employment, and healthcare for all New Yorkers?
Can we look past our own circumstances, and our own skin color to recognize that we don't have equal protection under the law?
Can we continue to call ourselves a progressive city, if it's only in ideology but not in action?
NOTE: To see Chelsea Community News' Q&A with Erik Bottcher, Aleta LaFargue, Marni Halasa, Leslie Bogosian Murphy and Arthur Schwartz, click on their names, which appeared earlier in this… sentence.
Chelsea Community News is made possible with the help of our awesome advertisers, and the support of our readers. If you like what you see, please consider taking part in our GoFundMe campaign (click here). To make a direct donation, give feedback, or send a Letter to the Editor, email scott@chelseacommunitynews.com.