This Week's "This Week in Chelsea"
In Order of Appearance:
   Community Board 4 full board meeting |  Irish Repertory Theater presents "Little Gem" | Chelsea Green Park gets free WiFi | Vaccine site in Chelsea | W. Chelsea park's new garden club | Hudson Guild online talent show | Free tax prep with the NYC Dpt. of Consumer Affairs  | AGED OUT: Events from earlier in the week | Meet the women running for NYC Mayor | Tuesdays in May: Puma Perl and Friends  
Wednesday, May 5, 6:30pm on Zoom: Manhattan Community Board 4  (MCB4) Full Board Meeting | CB4's thoroughness and rapid turnaround means the committee meetings at which letters are voted on tonight were created and developed are available for the public to view, pre-full board meeting, via an every-growing collection on their YouTube channel.  If you find it difficult to fathom the delight one might take in following the process of compromise that allows a project to be scaled back or ramped up. For matters scheduled to be voted on by the full board all the way to compliments, complaints, and master plans you won't hear about anywhere else. And it's not just about litstening, it's about speaking up and being heard—via the Public Session of each meeting, during which all comers get two minutes of uninterrupted time to speak up about one or more topics. Just remember to wrap it up around the 1:55 point. Register to attend the meeting by clicking here. Or, if you prefer, view this meeting live and access archived CB4 meetings by clicking here for their YouTube channel. To sign up for the Public Session, you must do to by 5pm on the day of the meeting (Wed., May 5). To sign up, click here. For general info on CB4, click here. Come prepared, when you preview the full board agenda, which can be found here. Did you click on that by instinct, even though we did not tell you to "click here"? Good for you!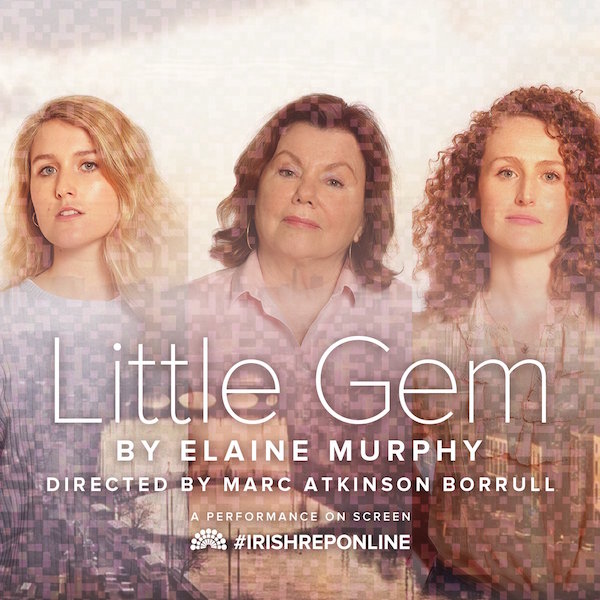 Through May 9, The Irish Repertory Theatre presents "Little Gem" | Favorably reviewed here during its 2019, pre-pandemic, brick and mortar run at the Irish Repertory Theatre (132 W. 22nd St.), this online production from the Irish Rep reunites the cast. Well, sort of. The three leads return to their roles, with each part recorded remotely,  as they shelter in place during the pandemic. Shot on iPhones and Zoom, as has been the case with most of the material in the Rep's stellar The Show Must Go Online series, this online version of Little Gem benefits from the manner in which it had to be shot. Here, the audience becomes a distant, yet informed and engaged observer, much like one or both of the other two characters did on stage when the third was having a monologue moment. For more about the plot and the cast, click here to read our review of the 2019 production. Adapted for the screen by Marc Atkinson Borrull, and starring Brenda Meaney, Lauren O'Leary, and Marsha Mason. Online, through May 9. Reservations are free but required to access this digital event. A donation of $25 is suggested for those who can afford to give. To reserve, click here.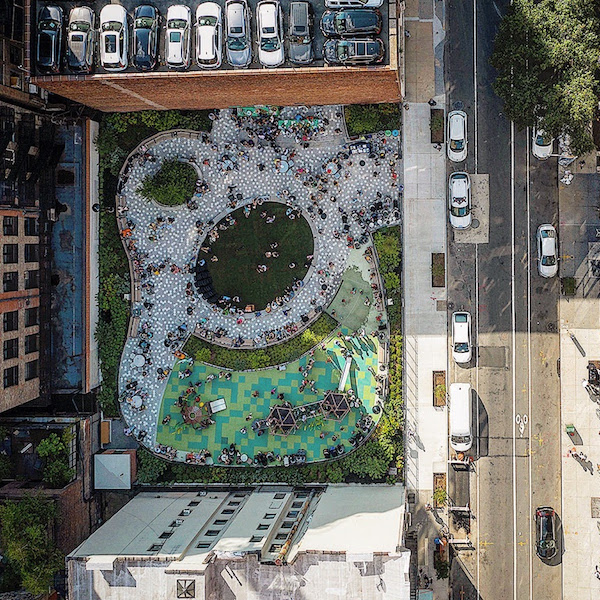 Free WiFi Comes to Chelsea Green Park | Access the whole wide world from the confines of a public green space that's "small in size, big on options," as its booster group likes to say. Now you can count free WiFi among the options, as noted in a recent email from Friends of Chelsea Green.
"We are grateful for a generous grant from Google, who has provided funding for this project," said the Friends, noting the WiFi network is provided without cost to all who are using the park. "Feel free to share the password with friends and neighbors," they said, urging parkgoers to join their email list for important info. "In order to keep the WiFi system running effectively, we may need to update the password occasionally," they warned. Currently, all you need to know is the following:
Network: Chelsea Green / Password: thank you
Put on hold because of the pandemic, the Google-funded WiFi was announced at the July 25, 2019 opening of Chelsea Green—a day of sweet rewards for years of work, noted Chelsea Community News, in a report you can access by going to the park, getting on the free WiFi, clicking here, and learning or revisiting the rich backstory that shows you what can happen when likeminded Chelsea residents, true to form, don't take "No" for an answer. Which begs the question: How did this park happen?
The short version: Friends of Chelsea Green came to that name late in the life of the park's origin story. For years, they were known as Friends of W. 20th St. Park, advocates for a much-needed micropark between Sixth and Seventh Aves. The year was 2010, when early adopter (and de facto park papa) Matt Weiss saw possibilities every time he passed the abandoned NYC Dept. of Sanitation site at 120 W. 20th St. Stalwart supporter Sally Greenspan soon followed suit and, along with other likeminded "Friends," saw their park project received $200,000 as the first-ever winner of District 3's Participatory Budgeting process.  The NYC Parks also stepped up with funding, and construction began (after it went through a collaborative design process in which the Parks Dept. held scoping meetings, incorporating a wide range of community feedback and input on the flow, feel, and resources needed inside the park). Upon its July 25. 2019 opening, the park had been dubbed, by popular opinion, "Chelsea Green"–hence the Friends of a park on W. 20th St. became Friends of Chelsea Green.
As for the current state of affairs, these words of "caution" (rhymes with "fun," which it facilitates, when properly applied:
IMPORTANT REMINDER: NO PETS | Neighbors, please remember that when dogs come into the park, they create problems for our visitors. We love our park, we love our dogs too, but please be respectful of each other and the rules, and take your dogs to a nearby dog park/run for their playtime.
We wish that Chelsea Green had space for dogs, but during development and the design stage by The NYC Parks Department, it was agreed that there simply was not enough room to include a dog run. The proximity of the playground and the oval to the rest of the park area, requires the city enforcement of the no pet rule, even for dogs on leashes. Thank you for your understanding and cooperation.
STAY SAFE | We ask that all park goers take extra precautions to stay healthy and safe. Please wear face coverings and maintain at least 6 feet of distance between yourself and others when outside and avoid congregating in groups.
SPRING FLOWERS ARE ON THE WAY | As the days grow longer, warmer and sunnier, we look forward to seeing you in the park. Spring flowers are starting to emerge. Please make sure your children stay in front of the railings; they are there to protect the emerging plant life.
New Vaccine Site in Chelsea | The Fulton Community Center (119 Ninth Ave.) offers COVID-19 vaccinations Tuesdays through Thursdays. As of April 7's opening day, NYCHA Elliott-Chelsea and Fulton residents were prioritized. As of April 12, access expanded to New Yorkers age 16 and over. This site is made possible by a partnership between Hudson Guild, Google, and Daybreak Health. Access this and other vaccination venues by visiting VaccineFinder.nyc.gov or by calling 877-VAX-4NYC (877-829-4692).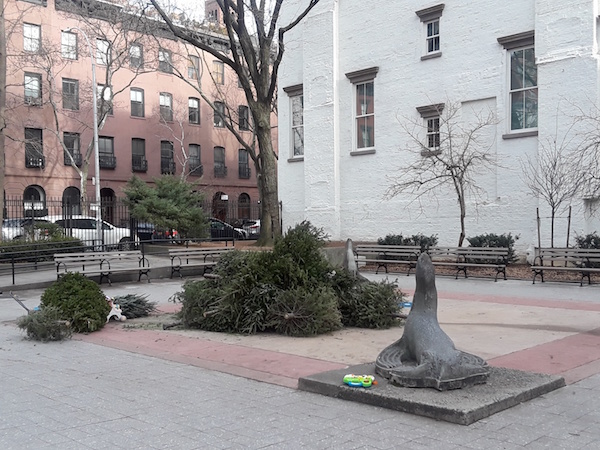 New Garden Club at CCM-Seal Park |  From a recent email comes this good news: "Several members of the newly formed Clement Clarke Moore-Seal Park Garden Club met Sunday, March 14, for a spring cleanup inside the park as well as the tree pits around the park. Many thanks to neighbors Phyliss Waisman, AJ Michel, Laura Solimene, Maria La Macchia and Allen Oster. The Garden Club is looking forward to improving the plantings inside the park and surrounding tree pits and working with NYC Parks and the W400 Block Association to make our beautiful Chelsea park oasis even more enjoyable for all. We welcome new members and if interested in joining, please contact Allen Oster at aoster@earthlink.net."
Hudson Guild Theatre Company's New Online Showcase | Live performances are on hold until their theatre can safely reopen–but that hasn't stopped Hudson Guild from nurturing new talent. Having made its premiere last week, and set to broadcast monthly through June, Talent Jam! is a new virtual showcase presented on the Guild's YouTube channel. Each episode will feature 2-3 short performances.For more information, visit www.hudsonguilod.org. To view Episode 1 of Talent Jam!, click here.
The NYC Department of Consumer Affairs Announces NYC Free Tax Prep | If you earned $68,000 or less in 2020, you may be eligible to file your taxes for free. NYC Free Tax Prep offers trusted, professional service online and in-person to help you stay safe and avoid tax preparer fees. If you didn't receive one or both Pandemic stimulus checks, NYC Free Tax Prep can assist with claiming the equivalent amounts as a "Recovery Rebate Credit." Filers may also take advantage of a one-time look-back provision, allowing them to choose to use their 2019 or 2020 income for the Earned Income Tax Credit and the Child Tax Credit.  Click here for more information. The deadline to file 2020 tax returns has been extended past the usual April 15 date. The new deadline is May 17, 2021.
Monday, May 3, 4pm: Meet the Women Running for NYC Mayor | This online opportunity gathers the three women in the running to be the next mayor of New York City—Kathryn Garcia, Dianne Morales and Maya Wiley—and looks at their approaches to address "the many challenges facing New York, including the unusually difficult economic environment that has resulted from the pandemic," according to event organizers. There is no cost associated with attending, but you do need to resister. Click here for the RSVP link. Chelsea Community News reporter Winnie McCroy, who recently co-moderated our Post-Pandemic NYC-themed online event, will be attending this May 3 forum, and we'll have her report a few days after.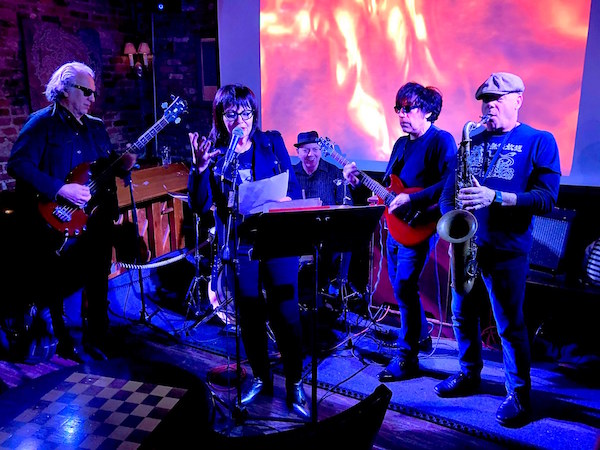 Tuesdays in May: Howl Arts Presents Puma Perl and Friends | Howl! Arts Inc. is a nonprofit organization dedicated to preserving the past and celebrating the contemporary culture of the East Village and Lower East Side. This month, Tuesdays at 8pm, their Artist-in-Residency at Howl Arts program presents performing poet Puma Perl, so described because Perl, whose first of five books (Belinda and her friends) was published in 2008, began to collaborate with downtown musicians when giving public readings of her work. By 2012, she had formed the improvisational band Puma Perl and Friends. This residency reflects that journey, with spoken word and musical performances from writers and artists personally curated by Perl. Using material from Perl's body of work, the four shows will reflect the author's journey from street poet to published writer and seasoned performer. Chelsea Community News readers will recognize Perl's name, as it appears pretty much every week via a fresh, new entry in our Writing the Apocalypse series, in which Perl uses poetry,  prose, and past incidents to document her life as a longtime Lower East Side resident living through the pandemic. As for the Howl Arts residency, here's the schedule: First up, on May 4, Nicca Ray. On May 11, Perl is joined by musicians Joe Sztabnik and Dave Donen, with intermission by Nicca Ray. On May 18, Perl's guests are Joff Wilson and Seaton Hancock, with intermission by Jane Ormerod. The series concludes on May 24, with Perl and musicians Joff Wilson, Joe Sztabnik, and Dave Donen, with special guest Seaton Hancock. Intermission by Joff Wilson and/or Joe Sztabnik. For more information on this residency, click here. To view the program, which goes live at 8pm every Tuesday, click here. The May 4 installment is can now be viewed any time, via https://www.youtube.com/watch?v=5axtVJ-_8Nc.
–Compiled by Scott Stiffler
Chelsea Community News is made possible with the help of our awesome advertisers, and the support of our readers. If you like what you see, please consider taking part in our GoFundMe campaign (click here).To make a direct donation, give feedback, or send a Letter to the Editor, email scott@chelseacommunitynews.com.