"Where do you see yourself at this time next year?" wasn't always such a loaded question. Before COVID-19, forward thinkers could confidently project ahead 365 days to find themselves seated in a restaurant booked to capacity, rubbing shoulders with fellow theatergoers, or making good on the "If I'm elected" promises that swept you into office.
At this time next year, that last scenario will be brought to you by either Lindsey Boylan, Elizabeth Caputo, Brad Hoylman, Ben Kallos, Mark Levine, or Kim Watkins. They're the six people determined to be replace term-limited Gale Brewer as Manhattan Borough President (MBP).
Chelsea Community News' latest coverage of this race is a Q&A that's as curious about the person as it is about their policies. All candidates were sent the same questions. Below, find responses from Mark Levine.  As other candidates respond, we'll add the hyperlink to their Q&A at the tail end of this one (currently, that list is comprised of Lindsey Boylan, Elizabeth Caputo, and Brad Hoylman, and Kim Watkins). For info about the Democratic Primaries (June 22) and the General Election (Nov. 2)—including the protocol for Ranked Choice Voting—visit https://vote.nyc.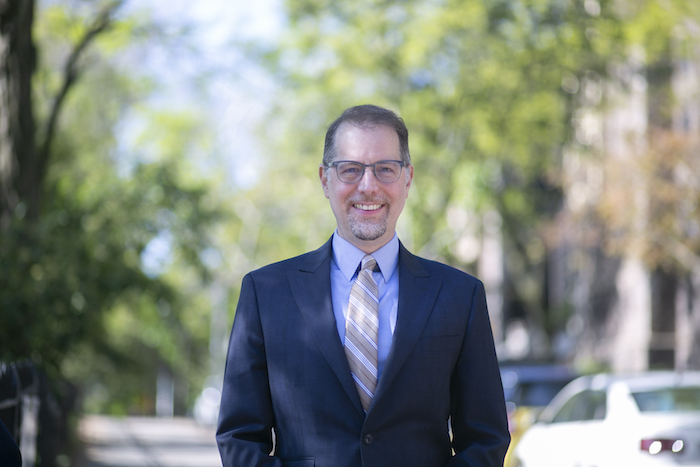 Scott Stiffler, for Chelsea Community News (CCNews): Regarding the About Mark and the Platforms sections on your website: What policy, belief, or personal detail describes you nicely, and why?
Mark Levine: I'm currently the Chair of the City Council's Committee on Health, where I've brought a fact-based approach to educating the public and holding the City accountable throughout the pandemic. I'm a legislator who works to protect tenants and improve access to deeply affordable housing (both rentals and homeownership). I speak Spanish fluently, am a former public school teacher, and a community credit union founder who provided micro-loans to small businesses. I will use my public health, legislative, budget, housing, education, and small business experience to ensure our borough recovers stronger, more equitable, and more than we were before. 
CCNews: Conflict and Compromise: What do these words mean to you, in terms of how you will be an effective Manhattan Borough President?
Levine: Conflict and compromise are part of democracy. They are a necessary part of the public negotiation and battle for progressive values. Conflict takes many forms, from bold and aggressive to subdued and measured, but it always starts from a place of advocacy. We need someone who will be an advocate for our communities in the office of Borough President.
Compromise is the resolution of conflict. It is what is often necessary to actually get things done. It is often a result of making hard choices—when you put the right thing and progress over politics or careerism. We need a Borough President who has a track record of making hard choices. I have shown time and again that I've been willing to take political hits on issues that I felt were right, and that's the type of elected official we need.  
CCNews: The time machine has been invented. Once you've played the stock market, it's time to visit your younger self. What one action do you tell this person not to take? Which one action do you choose not to mention, because it has to happen in order to make you who you are?
Levine: This is tough because every mistake one makes is part of becoming who you are today, and a better person. But, if I had to tell myself not to take one action, it would be to move to New York City sooner than I did.
CCNews: Day One, what will you do to create a better NYC, post-pandemic? What are you able to do in the meantime, as a candidate?
Levine: On day one, I'll create a COVID-Recovery Unit in the office of Borough President—a deputy Borough President-level unit that will work directly with me to ensure that our recovery advances health equity, supports small businesses, brings people back into the workplace (especially New Yorkers displaced or who lost work due to the pandemic), brings back the arts, simplifies bureaucracy (especially for small business), and prepares for the next public health crisis.
I'll also begin work to expand the Right-to-Counsel to more New York residents and even small businesses, helping to ensure that they aren't unfairly evicted or unexpectedly priced out of their home or space.
Right now, I'm working to get every New Yorker vaccinated. This is the single most important thing we can do to ensure that we recover quickly, and ensure that we can get back to doing the things that make New York City truly special. I've released my roadmap to full vaccination, and will continue to push the City to take the steps necessary to reach full vaccination rates.
CCNews: Favorite Golden Girl: Blanche, Dorothy, Sophia, or Rose?
Levine: Definitely Rose. Rose is humble, sincere, and always putting other people ahead of herself. She does whatever she can to help others in their time of need and sees the best in everyone. It's no wonder everyone completely trusts her.
CCNews: You took the time to answer our questions—even that last one, which, frankly, was a little gimmicky. So in the interest of fairness, we end by turning the tables: What one question do you want voters to ask themselves when they see so many choices on the ballot?
Levine: When you imagine a better Manhattan, what do you see?
I envision a Manhattan where we have housing to meet the affordability needs of New Yorkers, and where communities are involved in responsible development to solve our affordable housing crisis. I imagine a Manhattan where our kids have the support they need in school, and our teachers have the funding they need to prepare them. I envision a Manhattan were our streets are filled with thriving small businesses, not one where our streets look like corporate malls. I envision a Manhattan where there is more space on the street for people, where the trash is picked up, where hate crimes are a tragedy of the past. I envision a Manhattan where every New Yorker has an opportunity to experience the benefits of a collective bargaining agreement, and where every New Yorker can access affordable primary care in their own neighborhood.
I ask voters to elect whomever they believe will ensure our recovery will achieve this vision. I believe I have the background, the skills, and the vision to do it, and I hope to earn your vote.
NOTE: To see Chelsea Community News' Q&A with Lindsey Boylan, Elizabeth Caputo, Brad Hoylman, and Kim Watkins, click on their names, which appeared earlier in this… sentence.
Chelsea Community News is made possible with the help of our awesome advertisers, and the support of our readers. If you like what you see, please consider taking part in our GoFundMe campaign (click here). To make a direct donation, give feedback, or send a Letter to the Editor, email scott@chelseacommunitynews.com.