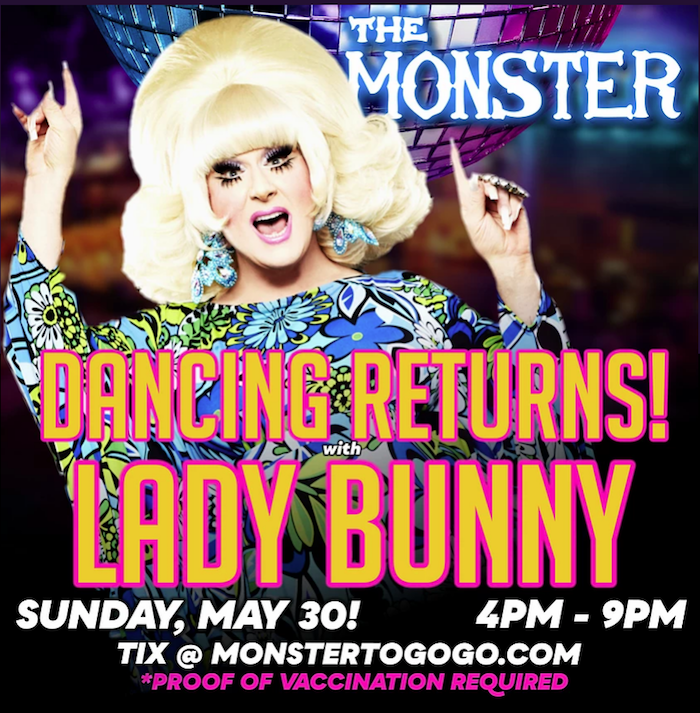 BY SCOTT STIFFLER | Located in the heart of Greenwich Village, not-so-straight across from The Stonewall Inn, steeped-in-history soul sister The Monster Bar ushers in a new era this weekend, when its Sunday afternoon Tea Dance returns from a long, pandemic-compelled closure.
"Join us in the disco for dancing and socializing and bar service and more dancing," read the promotional copy that popped up on hump day this week, on the website of event promoter Spunk Events, Inc.
The invite to come dancing came with more than the usual 21+, ID required disclaimer, noting, "The Monster Bar now requires proof of vaccination for entry, so we can return to the good old days of DANCING!"
After the shuttering of LGBTQ+ clubs and bars and the resulting damage to community, careers, and NSA sex, The Monster's reopening of its upstairs piano bar and downstairs dance space promises some semblance of the old normal—but only for some of us.
Announced on The Monster's website as taking effect on Wednesday, May 26, requiring proof of vaccination for entry will leave the "yet to be vaccinated" eligible only to "enjoy our outdoor summer seating… until such a time that all restrictions are lifted by local authorities or you are fully vaccinated and ready to join the party."
Two acceptable methods of proof will get you past the front door: Your vaccination card with matching ID, or a New York State Excelsior Pass, which can be obtained here and is available to present in printed or app form. One downstairs denizen guaranteed to be present with proof of vaccination is two-time Moderna recipient, creator of Wigstock, compelling Twitter presence, and in-demand DJ, Lady Bunny.
Reached via email the day after The Monster announced May 30 as its dancing-again debut, Lady Bunny said she planned to observe the same abundance of caution she displayed during a series of Sunday afternoon DJ gigs in April and earlier this month.
Dubbed "Dining in the Disco," the events saw The Monster's dance space decked out cabaret seating style, with temperature-check-vetted guests seated at reserved tables, separated by clear Plexiglas. Bunny spun solid gold singles from the 70s and often spun and twirled her way around the room, collecting tips and allowing the seated audience to live vicariously through her dervish-like deeds.
Of the May 30 gig (also featuring Chelsea Piers!!), said Bunny, "Whether people are sitting or dancing, I'll have a mask on. I'm vaccinated [Moderna] and feel safe mingling with them and dancing, though I'm mostly in the booth. That's the case with employees in most places where people gather indoors. And even though I'm in sequins and fancy wigs, I'm still the help! Last week, I'd let my wig glue dry up and couldn't dance much or my wig would fly off. This Sunday, have glue, will dance!"
As for what they'll be dancing to, "Sundays is pure disco," says Bunny, "although I do throw in some early 80s dance smashes in the same vein as well. Like Sylvester's Do You Wanna Funk and Laura Branigan's Gloria."
Disco, notes Bunny, is "the music that I fell in love with when I was realizing that I was gay, when I was first hanging out in gay clubs in London in Atlanta in Chattanooga. And it's a joyful music, with legendary singers like Stephanie Mills, Patti LaBelle, Diana Ross, Teddy Pendergrass, Loleatta Holloway. I mean, it is a joyous music, and that music actually means something. No offense, but when I left last night and they put a mix of new stuff, I was instantly struck by how formulaic the melodies were, and an almost, like, driving hard production to make up for the formulaic melodies. I know. Older people lose their ability to take in new influences. I mean, I don't watch much TV and I celebrate new music that I love—but I'm definitely stuck in the past, from my drag to my music, and I don't have a problem with it."
Daniel Tobey of Spunk Events said Sunday's return to form has been in the works since April 2, when NYC again allowed theaters, bars, clubs, and cabarets to resume live performances. Downstairs, the dance space began hosting "gradual test runs where we had DJs to set the mood of that 'Dining on the Disco' theme. We brought the drag queens [who would normally be hosting their own nights each week] back as hosts and as greeters seating hostesses who accompanied parties downstairs. And later in the evening, we had them do pop-up [lip synch] numbers. All of that was leading up to Lady Bunny."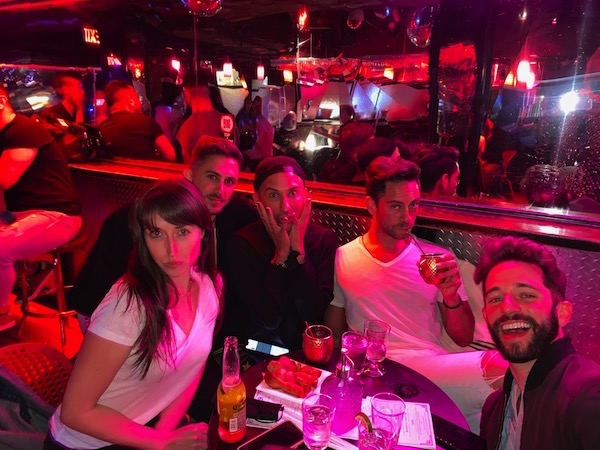 Flash back now to a phone interview on the morning of April 19, the morning after a "Dining on the Disco" gig attendee by Chelsea Community News. Said Bunny of the vibe, "If there's a way to safely be together, then we need to do it." People are "just happy to reconnect," said Bunny. As for the presence of round tables on the dance floor instead of spherical booties, "This is just what it has to be until things are fully reopened," declared Bunny.
Flash forward to this week, and Bunny admits she is "sometimes mystified by the guidelines. But I do my best to follow them because I'm not a scientist. I can't conduct lab experiments."
What she can do, however, is read people. Bunny says that from the pandemic's earliest days, she read the tea leaves and predicted nothing but shade. "I saw people's attitudes, recalled Bunny, "toward the queens who were still going out and performing—that they were going to be shamed by others who do not need to work, or can work from home safely. You can't shame someone who is forced to make a living. The vaccine gives me confidence to be in a room with people."
And the full room downstairs at The Monster, Bunny knows full well, is packed with people whose need for one another make them the, as the (admittedly non-disco) song goes, the luckiest people in the world. "I've spent the last year mostly alone," says Bunny, "so I love connecting with appreciative fans who also need to escape being cooped up and boogie. There was a very bittersweet moment a couple weeks ago when Brenda Dharling was hosting and she announced we'd be open until 4am again soon. People cheered at the very mention of a return to normalcy. We've been through a lot, and dancing is a celebration that I know I need!"
"Dancing Returns! with Lady Bunny" (with Chelsea Piers and special guests) takes place from 4pm to 9pm on Sunday, May 30, at The Monster (80 Grove  St.). Sun., May 30, 4pm-9pm. General Admission: $10. VIP Table: $65 (towards front of the house; table charge includes admisso for up to 5 people). Outdoor seating hours: Mon.-Tues., 4pm-10pm / Fri. 4pm-11pm / Sat. & Sun.: 3pm–11pm. To RSVP (mandatory), click here or call 212-924-3558 or via monsterbarnyc.com.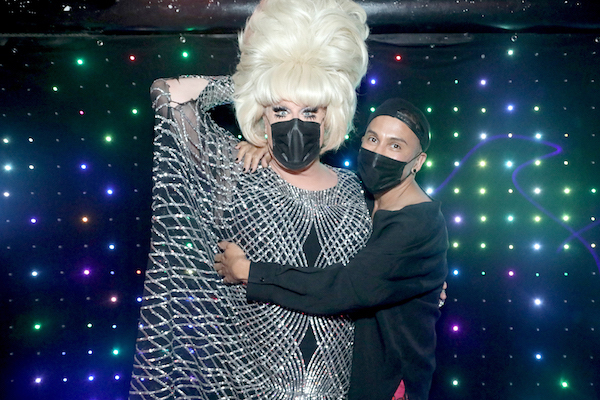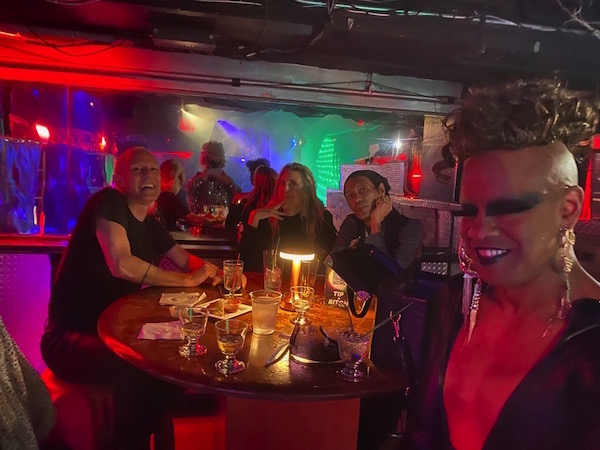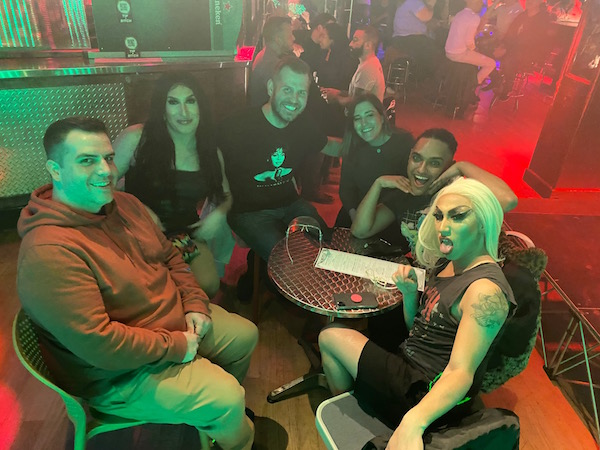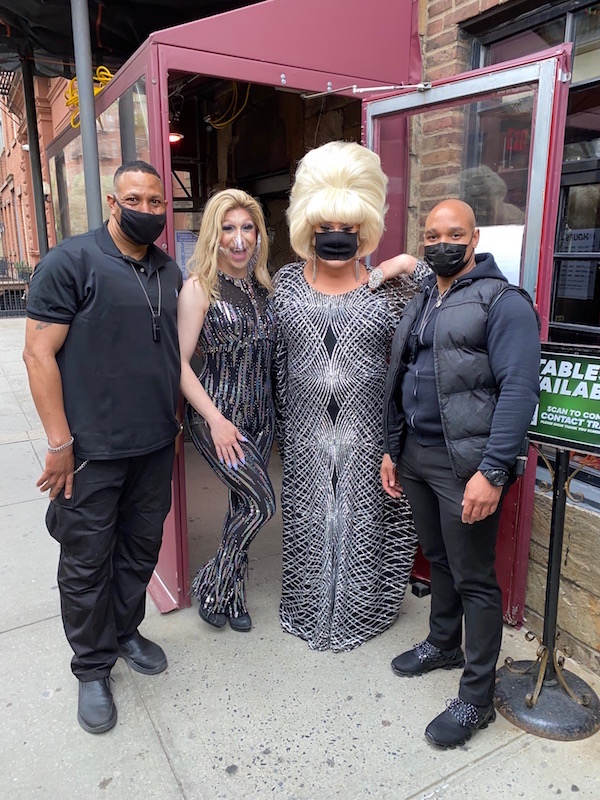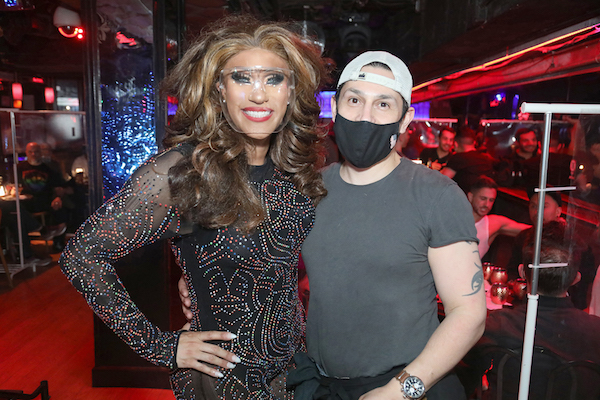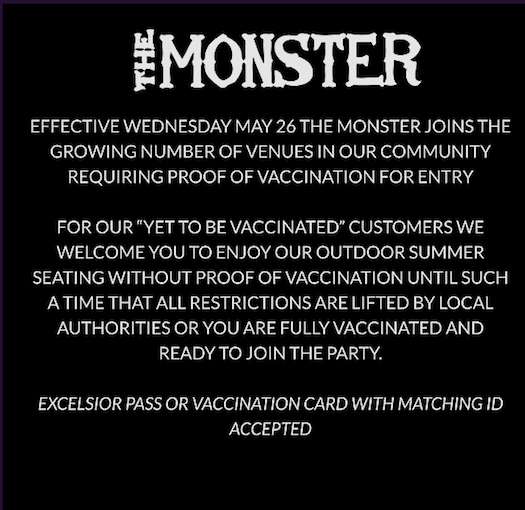 Chelsea Community News is made possible with the help of our awesome advertisers, and the support of our readers. If you like what you see, please consider taking part in our GoFundMe campaign (click here). To make a direct donation, give feedback, or send a Letter to the Editor, email scott@chelseacommunitynews.com.