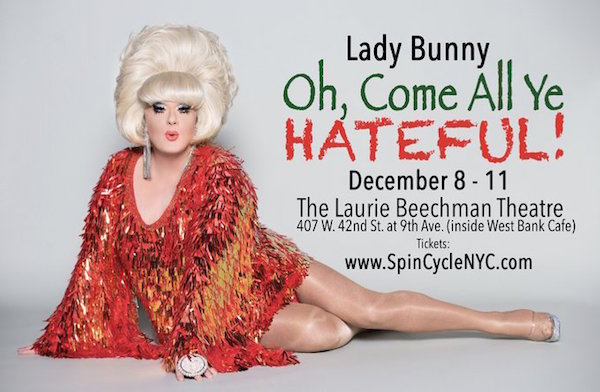 BY SCOTT STIFFLER | No matter how cute it looks in the ad, no matter how much they beg for it, do not get a bunny for Christmas. Sure, it's fun to be around—but it eats constantly, leaves droppings everywhere, and requires costly drugs to keep it in check. Better to spend your money on tickets to see Lady Bunny. Yes, all of the above product warnings apply to the legendary NYC-based drag queen—but seeing this bunny in her natural habitat lets you leave the messy upkeep to management, and sends you out into the night with a full tummy or a pleasant buzz, depending on what side of the $20 food/drink minimum you land on.
Arriving just in time for that hard-to-please Secret Santa selection or those parents of preschoolers who've developed immunity to non-stop poop and pee-pee jokes, Lady Bunny: Oh, Come All Ye Hateful! is the mostly new but far from virginal Christmas show concoction from the religiously entertaining Bunny, who will have no trouble living up to the press release's promise of many "trademark potty-mouthed parodies of holiday classics like Rudolpho The Uncut Reindeer, It's Beginning to Look Apocalyptic, and Santa Claus is Spreading COVID Around."
"I always love doing Christmas shows," said Lady Bunny, in a tone of pith-perfect wholesomeness that, thankfully, would not be heard again during our recent phone interview. That Bunny had the bandwidth for such niceties was all the more impressive given the time of our call (9am Pacific, as Bunny was on the West Coast).
"Well, I've been traveling and performing a lot," noted the fully vaccinated (2xModerna+ booster) globetrotting comedic performer and DJ, who was working as best, and as much, as she could when we last spoke. At the time, April 19, Bunny had just begun what would become a series of April/May gigs downstairs at the Monster, where patrons who would normally be heating up the dance floor were seated throughout it, at socially distanced tables separated by vertical strips of sturdy see-through material. This was not her ribald stage show,
That look of revulsion and knee-jerk pearl clutching from first-timers in the front row is like an old Lady Bunny, who explains it thusly: "Sometimes people will introduce friend to me as a 'drag diva,' and I come out and do [the parody song] All That Jizz and they say, "Oh, my god, she's dirty." So I do encourage everyone who books me to say, on the Purchase Tickets link, to say that: Bunny's act is often offensive, so don't buy a ticket if you don't like twisted humor!"
Being ready, willing, and able to offend, and then doing so with glee, has always been part of the social contract between audience and drag performer—at least in the gay nightlife setting. But in the world of commercial cable television, where swear words are bleeped and talk of cum is kept in check, something must emerge to fill the void. Thus, the mainstream drag queen is often cast in the role of peacemaker and/or (ugh!) role model. That's fine for some people—but some people ain't Bunny.
"For me, as someone who got my start in clubs," says Bunny, "we like the sicker stuff, with an edge. We were performing for people who were really drunk or high at 2 or 3am, and they didn't want Rebecca of Sunnybrook Farm—and neither did we. I think [mainstream TV] drag has become about this empowerment message, this idea that you're mentoring others [the viewers], and I think that's a shtick."
That said, she does acknowledge the legit function and grand tradition of mentoring within the drag community itself. "Ethel Eichelberger took me under her wings," noted Bunny, "when I didn't even know how to put on false eyelashes."
As for the general audience, Bunny advises against lifting the veil or letting them peek too far behind the curtain. "I like drag queens who have a mystique and who aren't explaining every make up tip and how they make hip pads. I don't see that as information for the general public. I consider it shop talk." And as for the notion that a queen should be expected to make you feel like royalty, Bunny says better to stick to basics.
"Drag queens aren't therapists," insists Lady Bunny. "They need therapists. I don't think drag is a magic wand for people. It's not a life-changer, it doesn't solve your problems. I think it's very entertaining, and that's why I chose it as a career."
Performances of "Lady Bunny: Oh, Come All Ye Hateful!" on Wed. & Thurs. Dec. 8 & 9 and Sat. Dec. 11 are SOLD OUT. Seats are available for Wed. Dec. 22 & Thurs. Dec. 23 at 6:30pm & 9pm. The Laurie Beechman Theatre is located inside West Bank Cafe (407 W. 42nd St. at Ninth Ave.). All attendees must present proof of full vaccination to enter. General admission is $25. VIP tickets that include reserved seating and a pre-signed photo of Lady Bunny (NO meet-and greet) are $35. There is also a $20 food/drink minimum; full dinner menu available. To purchase tickets, click here. Artist info at https://www.ladybunny.net.
Chelsea Community News is made possible with the help of our awesome advertisers, and the support of our readers. If you like what you see, please consider taking part in our GoFundMe campaign (click here). To make a direct donation, give feedback, or send a Letter to the Editor, email scott@chelseacommunitynews.com.