BY CHARLES BATTERSBY | A mere eight months ago, Chelsea Community News covered 2021's Makeup Show, assuming that COVID masks as a fashion accessory were a thing of the past, and that a new year of full-faced, germ-free glamour was upon us. While many things have stayed the same, the world of professional makeup artistry and civilian beauty enthusiasts has seen some innovations for The Makeup Show, 2022.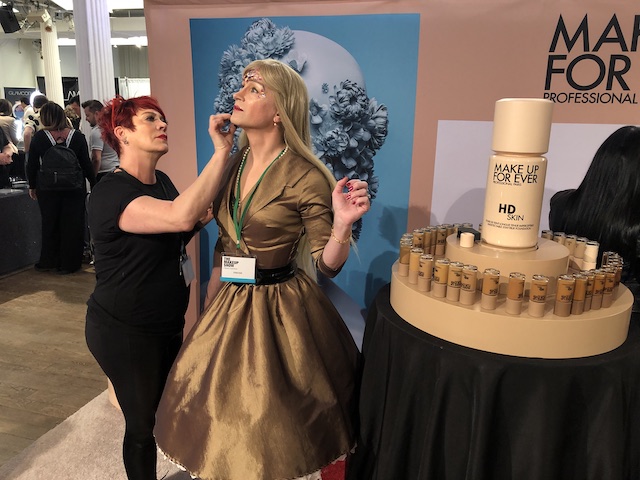 While the functionality of a product is always important, many brands at the show were highlighting the environmentally friendly nature of their cosmetics. Make Up For Ever was showing off their HD Skin foundation which they call, "The most popular foundation in the world." Aside from being designed to be used with new Ultra HD cameras, it also has recyclable packaging and ecologically sound ingredients. Rebecca Blitenthal, Director of US Sales for Make Up For Ever, told us, "We don't have to compromise high performance to be earth conscious now… which is important to a lot of people both pro and consumer."
For the never-ending COVID era, the HD Skin foundation also has much needed features, including "Waterproof, sweat-proof, smudge proof, and mask friendly," which is steadily going from 2020-chic to the defining look of the decade.
For the party people who are less concerned about social issues, and more interested in getting back into clubs, music fests, and red carpet arrivals, there is the current makeup trend of "Graphic eye liner." This is the new look involving bold, colorful eyeliner used to draw patterns and shapes over the eyelid. It was prominently seen on models and attendees during the convention, but some companies were focusing on this trend. SUVA Beauty was demoing a line of water-activated, Ultraviolet-sensitive eyeliners in bright colors.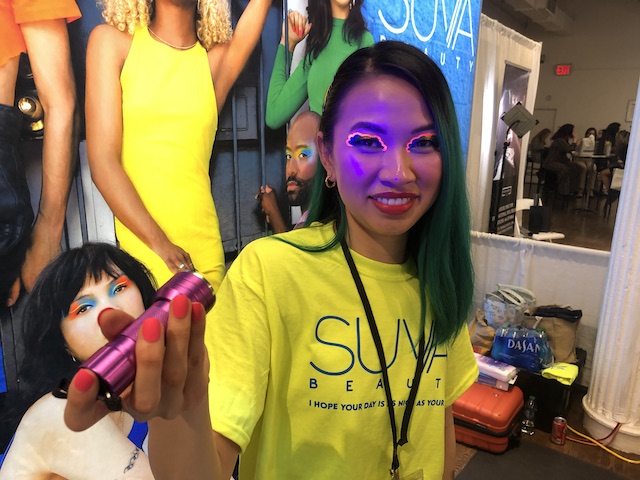 Suva Beauty's products can be seen in the HBO show Euphoria, and are worn by quite a few on-trend celebrities. We spoke to Olivia, brand manager for Suva Beauty. Her eyeliner was bright under the regular lighting on the convention floor, but when she zapped her face with an Ultraviolet flashlight the high-tech makeup reflected it back brilliantly. She explained the liners are, "Great for raves, festivals, bowling alleys, Space Mountain, anywhere you want to go."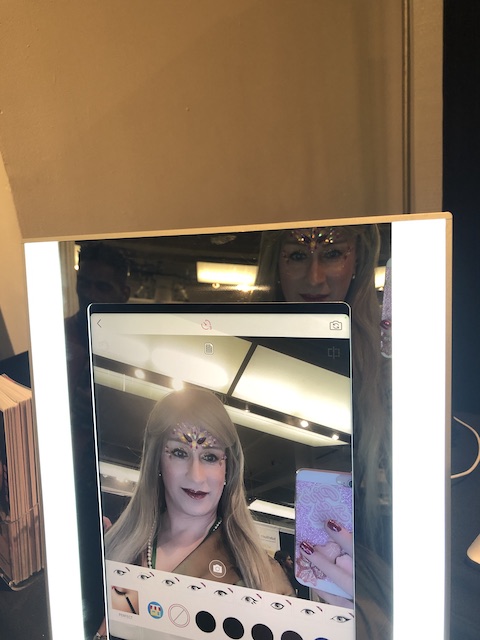 The new technology seen at the Makeup Show even extended beyond the makeup itself. Our pre-pandemic coverage of the Makeup Show didn't even notice the use of "Virtual try on" applications for smart phones. In fact, some of the mirrors seen around the show were actually tablet computers using their cameras to put virtual makeup on consumers through "Augmented Reality" programming that superimposes detailed recreations of specific makeup products on people (Not unlike Instagram filters, but with more realistic results). We spoke to Kristi Vannatter, the Vice President of Business Development at Perfect Corp, which is a "Beauty tech company" that provides these applications for high-end companies including Mac Cosmetics and Chanel. She told us that at previous industry conventions, "The only thing people knew about [Augmented Reality] was the game Pokemon Go. Nobody knew, and brands were afraid of it."
Naturally the pandemic lockdowns caused drastic change in this field. As Ms. Vannatter explained, "Pre-COVID, virtual try-on was nice to have, but during the pandemic it became a must-have. Stores closed. People were shut in their houses, needing ways to feel pretty, and find the right products, or diagnose your skin and find the right care."
In the past, it was enough for a cosmetics company to boast that their makeup wasn't tested on animals. Now "plant-based" is all the rage, both for foods and for makeup. A new plant-based product at this year's show is Ada Lip Beauty, which has an unconventional way to add color to their lipstick. We spoke to Ada Hsieh, the founder, and she told us that she uses vegetables to create her pigments. "It's a very hydrating, versatile formula," she explained, while dabbing the dark red beet-colored lipstick on our reporter's kisser.
Between plant-based glam, and ultraviolet flare, this year's the Makeup Show was positively glowing with new trends for the summer, as well as social causes to support–through your choice of lipstick, of course.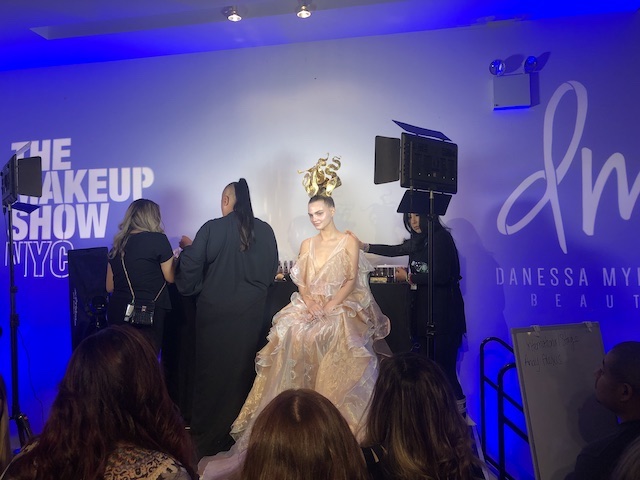 Chelsea Community News is made possible with the help of our awesome advertisers, and the support of our readers. If you like what you see, please consider taking part in our GoFundMe campaign (click here). To make a direct donation, give feedback, or send a Letter to the Editor, email scott@chelseacommunitynews.com.