BY SCOTT STIFFLER | Boots on the ground and wheels parked curbside account for the sudden concentration of resources in an area of Chelsea whose unmet social service needs have been receiving top-tier, if temporary, attention.
Since Tuesday, August 2, two programs from NYC Health + Hospitals [H&H] have provided the focused, sustained outreach promised by NYC Department of Social Services (DSS) Commissioner Gary Jenkins. In a July 31 message to NYC Council Member Erik Bottcher, Jenkins noted that DSS is "planning to conduct a 2-week surge in the 23rd & 8th area in Manhattan starting Tues, 8/2. Present with us will be an H&H SHOW [Street Health Outreach & Wellness] van [aka mobile unit] and a DOHMH HEAT  [NYC Department of Health and Mental Hygiene] team, as well as NYPD."
In an August 1 email to constituents, Bottcher invoked the above Jenkins quote as an answer to his request for "real action by the city to address the deteriorating public safety and quality of life situation in our neighborhoods, particularly on and around Eighth Avenue in Chelsea." Elsewhere in the message, Bottcher assured his office would be "advocating for better permanent social services that will extend beyond this window of time." That advocacy has already yielded one result: DSS-contracted Roving Teams will continue their Chelsea walkabouts after the two-week surge runs its course.
Soon to return to its frequent parking place alongside Port Authority, an H&H SHOW mobile unit has spent the surge stationed on Eighth Avenue, between West 22nd and 23rd Streets, from 11am to 7pm, Tuesday through Sunday. Next to the vehicle, staffers sit underneath a tent and engage passersby with information about the mobile unit's formidable range of offerings—everything from bottled water to prevent dehydration, to emergency wound care, to COVID testing, to the distribution of Narcan (along with training to administer the overdose treatment effectively).
Some find their way there after interacting with the Roving Team that canvasses the surrounding area twice daily, from approximately 11am to 1pm and 6pm to 8pm. Along the way, they establish contact and engage in ongoing conversations with the unhoused, those in mental distress, and individuals at various stages of Substance Use Disorder. Services can be provided in the moment on site, or inside the SHOW mobile unit.
The Roving Team, notes physician assistant Palak Patel, "consists of a social worker, a paramedic, and a physician assistant or a nurse practitioner—a clinical provider who leads the team." Patel has been roving West Chelsea since the team's August 2 arrival. On the job itself since last year, her prior experience "in emergency medicine, hospital medicine, and critical care" found her uniquely qualified for the unpredictable nature of street medicine—where wound care is a constant need, and seasonal dangers like heat stroke and frostbite are certain to manifest.
For NYC H&H, the mobile unit and Roving Team represent ambitious expansions from the program's early, pandemic-era presence in Hell's Kitchen. "It was our first foray into doing street medicine, with mobile vehicles bringing COVID testing to people who are experiencing homelessness," recalls Amanda K. Johnson, MD, MBA. The Assistant Vice President of Care Models in the Office of Ambulatory Care and Population Health for NYC Heath + Hospitals notes that their take on street medicine "can't just be about testing and vaccination. We're able to bundle the opportunity to get COVID care with general medical care, harm reduction, and other services." As such, notes a SHOW spokesperson, the April 2021-launched program has conducted "81,000 COVID tests, 16,000 medical consultations, 7,800 vaccinations, and over 47,000 social worker engagements."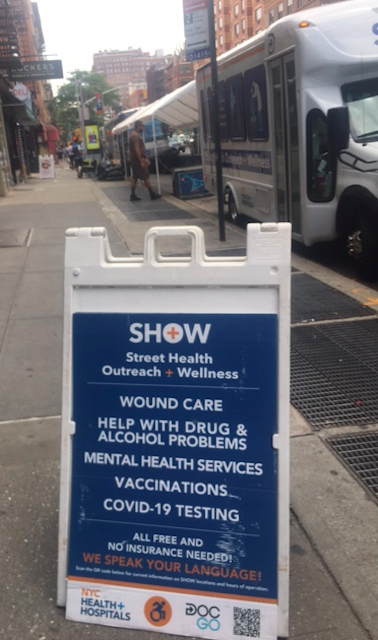 What further distinguishes these initiatives from the traditional scope of street medicine is the goal to provide those in need with—sometimes, for the first time in their lives—a primary care physician (PCP). Hallmarks of that relationship, such as annual checkups and routine follow-up appointments, add an element of routine to the patient's life. Likewise, notes Johnson, "Prescriptions tend to be filled on time, allowing diabetics to avoid so much as one missed day or dose.
Asked to take the pulse of Chelsea after over a week of Roving Team participation, Patel noted, "What I've seen is what we're seeing all over the city. There are clients with both mental illness and medical care needs left untreated. And it's challenging to convince them to let us in [into their confidence], and a lot of that is because of mistrust."
Johnson says that over time, the simple act of remaining present can chip away at mistrust. "We don't just drop into an area for a day here and a day there We're here day in and day out," she notes, of an ongoing SHOW and Team presence in eight locations citywide, including Queens, Harlem, and Washington Heights. Playing the long game and doing so with a soft touch yields results. When offered a mitigation program for substance use disorder, for example, says Johnson, "A client might say, 'I'm not interested.' But over time, they'll come in for other services, and that is when they'll consider something more long-term."
As for where local long-term campaigns begin, Patel noted that the area underneath scaffolding along Eighth Avenue, between West 20th and 21st Streets—a longtime bane of locals because of its earned reputation for open-air drug sales and use, often by recidivists with open warrants and dozens of career arrests—has become a stop during any given Roving Team shift. This reporter observed just that, shortly after 12:30pm on August 2, H&H's first day on the ground in Chelsea. At that time, the Team appeared to be three strong as per Patel's breakdown, and joined by two men sporting orange DOHMH vests, looking like a security detail and interacting with one uniformed NYPD police officer, presumably from the nearby 10th Precinct. Subsequent sightings of Roving Teams seem to feature a lighter, more approachable lineup.
Chelsea Community News spoke with a small group of men conversing underneath the scaffolding on the afternoon of Wednesday, August 10. The Roving Team was well-known to them, and several described their interactions as polite but not necessarily productive. ("Money," said one man without missing a beat, when asked if there was anything the Team could offer not found in its current collection of services.) Another gentleman described the DOHMH workers' style as a "nice, clean approach." Other assessments included "respectful" and "They were doing their job."
If the exact nature of their job remains elusive, Patel notes the Roving Team is amenable to explaining themselves. "A team of people walking around with backpacks and medical supplies, handing out wellness guides? It's not something you normally would see in Chelsea," Patel acknowledged. "So yes, I'm sure people are wondering what we're doing. But if anybody at any time has any questions or concerns, they can certainly stop us and ask us what we're doing—and we're happy to explain why we're here."
Chelsea Community News is made possible with the help of our awesome advertisers, and the support of our readers. If you like what you see, please consider taking part in our GoFundMe campaign (click here). To make a direct donation, give feedback, or send a Letter to the Editor, email scott@chelseacommunitynews.com.