UPDATE: On Friday, June 10, Manhattan District Attorney Alvin Bragg saw for himself the contentious corner of West 21st Street and Eighth Avenue, as he toured the area alongside NYC Councilmember Erik Bottcher, 10th Precinct Commanding Officer Capt. Robert Gault, and others. Chelsea Community News is will have a full report on the matter soon. Below, find our report on May 25's Community Council meeting. (In reading it, note construction work has begun at 205-207 Eighth Ave., which will ultimately result in the removal of the sidewalk scaffolding.)
BY SCOTT STIFFLER | Fed-up residents, frustrated law enforcement reps, and resolved elected officials found themselves on common ground at the 10th Precinct Community Council meeting of Wednesday, May 25, when understaffing and recidivism were repeatedly identified as a major contributor to the criminal activity and atmosphere of intimidation some locals say is pervasive and unrelenting, particularly along a notorious Eighth Avenue corridor.
Referencing a West 29th Street incident hours before the meeting that saw a knife brandished in broad daylight, local resident Estelle Rosenthal said, "I think I felt safer in 1976 when I moved in. What's happened to Chelsea is a remarkable decline." Rosenthal called the current state of affairs the cumulative effect of "de Blasio, Defund the Police, and the pandemic" and went on to note, "I've not seen a police officer on the street in a few years." That last statement was refuted by other attendees, although the 10th's ongoing status as an understaffed precinct would remain a topic directly involved in, or periphery of, increases in crime both real and perceived.
Held online via Zoom and attracting nearly three times the usual number of attendees—just over 50 at its height—this installment of the 10th Precinct's citizen-run Community Council further distinguished itself as the last such meeting until September, as the annual summertime break sees the gatherings go dark from now through August.
That three-month absence of access to top NYPD brass was a topic of concern, as it is the general public's only recurring opportunity to engage publicly with Captain Robert Gault. (The 10th Precinct Commanding officer has racked up nearly perfect Council attendance since Sept. 30, 2020—days after arriving at his new post). With moderator duties by Council President Larry O'Neill, Gault begins each monthly meeting by discussing index crimes for the last 28-day and year-to-date periods, as compared to the previous year. The main draw, however, is the Q&A session, whose perennial topics include residential building package theft, bicycle lane scofflaws, and—without fail—the public intoxication, solicitation, intimidation, and assaults occurring on and around Eighth Avenue, from West 20th to 21st Streets.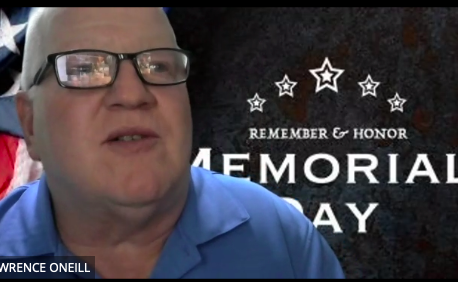 Early on in the Q&A, West 300 Block Association Acting President Eric Marcus sought an explanation for the three-month summer hiatus, noting the criminal element on the abovementioned Eighth Ave. corridor did not allow itself such down time. Marcus, who rarely attends Council meetings yet often weighs in on matters bereft of the context he'd glean from doing so, has a home for his strong words in the often informative Neighborhood News enewsletter he founded and edits. (Marcus neglected to disclose this affiliation but brought to the meeting a tone befitting his capacity as a block association rep).
"A lot of us during the summer, we have to take a break," explained O'Neill, further noting he has "lots of meetings to attend" as well as familial obligations. "I have to focus on them as well," said O'Neill, adding, "Sorry about that, Eric." O'Neill pointed out that the 10th Precinct's Community Affairs Officers "are always available to talk," and will remain accessible to residents during the Council's absence. (Call Community Affairs at 212-741-8226.)
Marcus followed up his summer hiatus question by asking CO Gault for an update on the Eighth Ave. corridor, whose criminal activity and quality of life infractions have flourished since prepandemic times.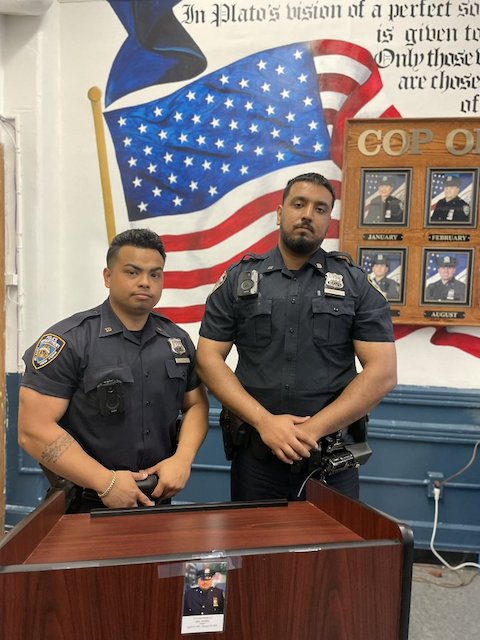 Gault's response momentarily—but first, a bit of backstory: On the west side of 21st and Eighth is the West 21 Deli and Grocery (215 Eighth Ave.), whose ownership admitted to fencing after they repeatedly purchased stolen goods from  undercover officers of the 10th Precinct. CO Gault has previously observed that employees would regularly purchase stolen goods from those who liberated unclaimed packages from nearby residential buildings. Money from this transaction would make the short trip outside and be transferred to drug dealers and/or prostitutes, with both purchases put to use mere feet from their point of origin.
Shielding such activity from plain view is building construction scaffolding along the 205-207 stretch of Eighth from W. 20th to 21st Sts., and again on much of W. 21st btw. Eighth and Ninth Aves. (due to construction at PS11 elementary school). Also of note, on the Eighth Ave. corridor's lone-block stretch are three adult stores (The Blue Store, Sexy Boutique, Rainbow Station), which locals insist are the magnet that draws and fuels illegal activity. Some of those locals make little attempt to mask their contempt for the gay men and transgender individuals who frequent such establishments—a pattern O'Neill, as moderator, could do a better job of, in terms of separating scorn for the act from stereotyping the individual. (Memo to all involved from the out, gay author if this article: Trannies, transsexuals, and shemales are outmoded and hurtful terms of reference. Best to use "transgender" person or individual.)
One documented case that supports resident concerns was mentioned at the May 25 meeting by CO Gault, as it has been several times before: As the result of a coordinated investigation, a man was arrested for selling crystal meth during his work as an employee at Sexy Boutique (corner, W. 21st St. & Eighth Ave., former home to Rawhide gay bar). The man conducted the same activity across the street at Rainbow Station, where he was also employed. Responding to a Chelsea Community News email inquiry, the Manhattan District Attorney's office noted that this case is "currently with SNC," aka the NYC Special Narcotics Prosecutor's Office, which investigates and prosecutes high-level felony narcotics offences in NYC.
The District Attorney's Office also gave assurances via email that they will "coordinate with the Community Council to present at their next meeting." The coordination promise references an assurance given by DA rep Eric Strazza, at the May 25 Council meeting, when he said an "Arrest to Disposition" presentation would be made. This is an "overview of the process through which an individual goes, from their arrest to the final 'disposition' or outcome of their case, is provided. This presentation helps improve the community's understanding of how our office approaches cases and why certain outcomes may occur."
Not so much passing the buck as noting where it stopped, Strazza at one point noted that the DA's office can only make recommendations regarding sentencing  or bail. In a non-jury trial,  judge who hears the case is the sole decider on a defendant's fate. Regarding drug arrest, the DA's office noted, "With narcotics arrests generally, in some cases if individuals commit to drug treatment, our office may decline to prosecute."
As for sidewalk level activity, CO Gault noted the area along and around Marcus' 300 block of W. 21st St. "has been very active" and that NYPD "engagement is there." Recently, for example, a male on Eighth Ave. and W. 21st St. was approached by 10th Pct. Officers "because he was out there with an open container of Four Loco [alcoholic drink]. My officers found out he had a bench warrant for a previous crime," recalled Gault. "We brought him in [into custody] and our detectives managed to link him to a burglary and criminal trespass a couple of days prior, on West 19th Street."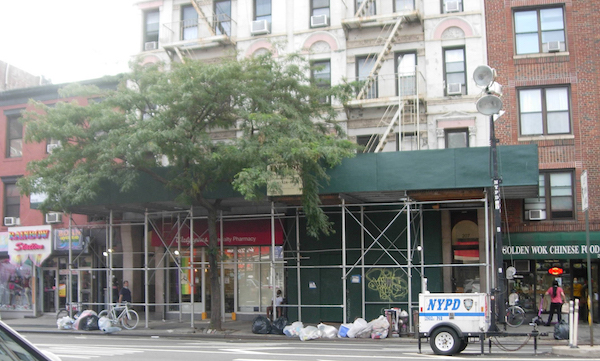 The public boozer with the bench warrant was "not incarcerated" as a result of his arrest, said Gault, who noted that lack of incarceration, whether while awaiting trial or after an "innocent' verdict, puts known repeat offenders back onto the streets of Chelsea, while compulsory protocols keep arresting officers of the 10th Precinct physically removed from the neighborhood for hours on end "Arrest paperwork takes them off the street, kept in the station doing processing… We have some policies that needs to be addressed."
New York City Councilmember Erik Bottcher, representing District 3 (whose area of coverage includes Chelsea), addressed some of the policy failures CO Gault spoke of. "I am pulling together a meeting on with the District Attorney and the 10th Precinct. I agree with what Captain Gault said," noted Bottcher. "The linchpin here is the criminal justice system. It's a truism that the vast majority of crimes are committed by a small percentage of individuals who have been arrested 50, 60, 100 times."
The high end of that figure, 100, is not a typo. Taking to Twitter on Wednesday, June 1, the 10th Precinct wrote, "While conducting quality of life enforcement today along West 39 St between 9th-10th Ave your NCOS [Neighborhood coordination Officers] Bavuso & Sendrowski apprehended a Robbery recidivist with a bench warrant for Burglary. This individual has now been arrested 100 times!! Recidivism must stop!
Bottcher specified one goal of his upcoming meeting: Go "name by name" through the list of recidivists he and CO Gault have been compiling. "I want to know from the DA's office what is going to be done to break this cycle of arrest and rearrest," said Bottcher of the familiar criminal faces who return to Chelsea days, often hours, after their arrest by 10th Precinct officers, calling for "meaningful intervention, whatever that looks like." As is, recidivists who make bail have paid for their crimes with little more than "pretrial detention," said Bottcher, adding that the key to solving recidivism—sentencing—is being thwarted in no small part by the culture of violence on Rikers Island.
"They do not want to send anybody there for anything but the most egregious crimes," said Bottcher, for whom mental health informs many of his policy objectives. "I believe we need a jail system to intervene, to break the cycle of incarceration. What we have is a system where people come out worse [than when they went in]… I support federal receivership of Rikers Island."
As for the scaffolding that helps perpetuate the cycle of crimes and quality of life infractions, Bottcher told those in attendance that he and staff from his District Office recently "had a meeting with the 10th Precinct along with the [205-207 Eighth Ave.] building owner and his management team. They committed to getting that construction up and running are apparently waiting for some final sign-offs.  We are now told it could begin as early as Friday [May 27] and be done by end of summer." Bottcher had asked the owner to hire private security and ownership committed to that. But as of this writing, no security service is in place and the construction work paving the way for scaffolding removal has yet to begin. Anticipating possible delays, Bottcher vowed to hold the owner to his construction and security promises, vowing, "People want to be safe in the neighborhood, and that's why we've got to keep pushing on."
A fitting last three words ("keep pushing on") for those at the Council meeting and elsewhere committed to working together in the service of improving the walkability of Chelsea's streets, and the livability of its residents.
NOTE: An edit was made to this article at 5:30pm on Sunday, June 5, correcting an earlier version that indicated the May 25 Council meeting was NYC Councilmember Erik Bottcher's first since he began Councilmember duties on January 1, 2022. It was, in fact, the third such meeting he's attended since becoming Chelsea's District 3 rep. We regret the mistake, as we also regret our error in identifying Estelle Rosenthal as "Ethel" (correction made at 12:55am, Monday, June 6).
Chelsea Community News is made possible with the help of our awesome advertisers, and the support of our readers. If you like what you see, please consider taking part in our GoFundMe campaign (click here). To make a direct donation, give feedback, or send a Letter to the Editor, email scott@chelseacommunitynews.com.