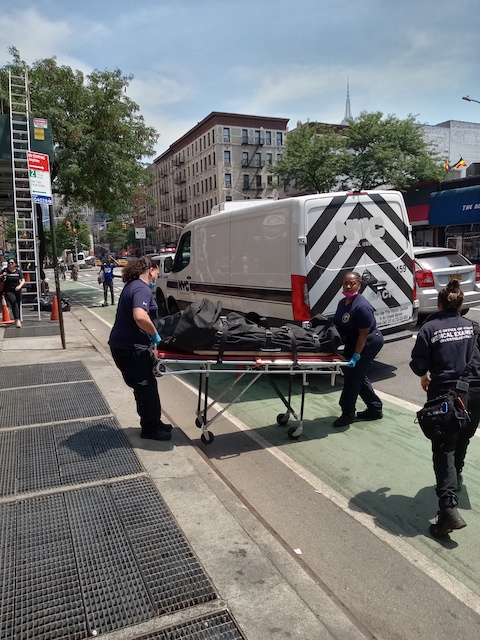 BY SCOTT STIFFLER
Uniformed officers from Chelsea's 10th Precinct issued 12 summonses during a Tuesday, July 5, 9pm business inspection of Rainbow Station. The 24-hour adult store's 203 Eighth Ave. location puts it on the block of W. 20th to 21st Sts., where longstanding construction-related scaffolding—expected to be removed within months—is cited by residents as an incubator and/or way station for everything from open air drug use to public intoxication to prostitution (a sizable portion of those infractions committed by recidivists).
Tuesday's action by the NYPD was the first, although likely not the last, act of scrutiny visited upon Rainbow Station following the July 1 death of a 38-year-old male found inside one of the private porn viewing booths in the store's separate-entrance basement space. A hypodermic needle found on his person suggests—but does not confirm—overdose from injecting a controlled substance. If the Rainbow Station patron's cause of death is determined to be overdose, protocol compels the NYPD to open a narcotics investigation. The NYPD Legislative Affairs Unit is also likely to be involved in future inquiries and/or actions.
Responding to an email inquiry sent shortly after 5pm on Friday, July 8, a Public Affairs rep at the NYC Office of Chief Medical Examiner (OCME) told Chelsea Community News (CCNews) the nature of the fatality "remains under investigation by OCME. When the cause and manner of death is determined, we can share that information with you."
As for the nature of the summonses issued earlier this week, a spokesperson from the NYPD's Office of the Deputy Commissioner, Public Information (DCPI) said, in a July 6 email to CCNews, "The inspection was conducted following community complaints.  There were 12 summonses issued to the establishment relating to NYC and NY State administrative codes, fire codes and building code violations." A follow-up email requesting the specific charges was responded to thusly:
(3) Exit Sign Not Mounted at Least 7' Above Ground
(2) Fire Extinguisher Not Mounted Above Ground
(1) Prohibited Storage in Electrical Room
(1) No Signage Posted on Electrical Room
(1) Fail to Maintain Panic & Fire Hardware
(1) No Smoking Sign Not Posted
(2) No Occupancy Sign Posted
(1) Using Extension Cord as Permanent Wiring Through Wall/Ceiling
At the time of this article's publication, CCNews had yet to receive a response to our inquiry as to whether the basement space is the location for summonses not attributed to "Above Ground" or "Electrical Room." This article will be updated, should that request for clarity arrive. Our previous coverage of the July 1 death can be accessed by clicking here.
Chelsea Community News is made possible with the help of our awesome advertisers, and the support of our readers. If you like what you see, please consider taking part in our GoFundMe campaign (click here). To make a direct donation, give feedback, or send a Letter to the Editor, email scott@chelseacommunitynews.com.