BY SCOTT STIFFLER | Four men are facing serious criminal charges for their part in the brutal beating that occurred along a notorious Chelsea corridor just before 9:30pm on Thursday, July 28.
The location of the incident has been a prolific generator of quality of life and crime complaints since pre-pandemic times. Nearby residents and business owners say the protective, construction-necessitated scaffolding that cocoons 205-207 Eighth Ave. (btw. W. 20th & 21st Sts.) has created a narrow stretch of sidewalk where one is likely to encounter drug dealers, prostitutes, mentally ill individuals, and territorial intimidators—some of whom are drawn to the block by its three adult businesses: The Blue Store at 206 Eighth Ave., and Sexy Boutique, on the corner of Eighth and West 21st St. Abutting one side of the scaffolding is Rainbow Station (203 Eighth Ave.). The adult retail establishment has been under increased scrutiny since July 1, when a patron was found dead inside one of the private porn viewing booths located in the basement.
Rainbow Station's proximity to the vertical tower of metal and mesh seems to have played a role in the July 28 conflict. Having scaled the scaffolding in an agitated state, a 29-year-old male (said to be high on meth) exchanged heated words with a 42-year-old positioned in front of Rainbow Station. Verbal sparring escalated into physical confrontation when three others joined the 42-year-old to, as the victim told police, "punch him repeatedly in the head and body causing significant pain and broken jaw."
The 29-year-old was taken to Bellevue Hospital, where he was treated for his injuries. When it was discovered that he had an active warrant for assault, the man was returned to court, in custody.
The 42-year-old attacker (a recidivist with 50 prior arrests) was taken into custody by officers of the 10th Precinct, after that canvassed the nearby area—action that also netted an 18-year-old male who took part in the attack. Both men have been charged by the Manhattan District Attorney's office with Assault in the 3rd Degree, as a hate crime (the three-letter "f" word was hurled while the group wailed on their victim, whom they presumed to be gay). Adding the hate crime bumps the misdemeanor assault charge up one gradation, to the level of a Class E felony. Two other male suspects who fled the scene remain at large–potentially facing, upon capture, the same charges as their cohorts.
–END–
NOTE: In an email sent to Chelsea Community News just before 4pm on Wednesday, August 3, a spokesperson for the NYPD's Office of the Deputy Commissioner, Public Information (DCPI) said, "There are no additional arrests at this time. There are still only two arrests associated with the incident." Chelsea Community News will update this article as significant developments occur. Above content regarding times, dates, quotes, and sex/ages of victim and suspects were provided by DCPI.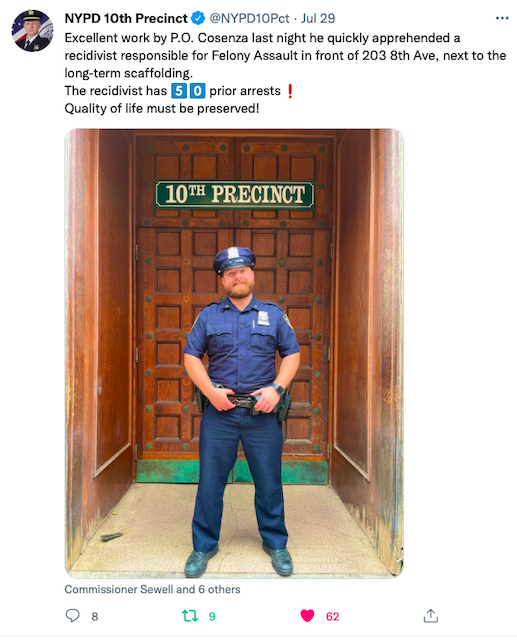 Chelsea Community News is made possible with the help of our awesome advertisers, and the support of our readers. If you like what you see, please consider taking part in our GoFundMe campaign (click here). To make a direct donation, give feedback, or send a Letter to the Editor, email scott@chelseacommunitynews.com.