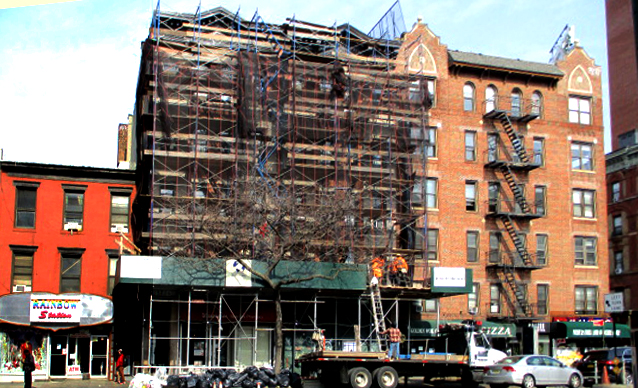 BY SCOTT STIFFLER | A 30-year-old male criminal recidivist—known to the 10th Precinct as an individual who exhibits signs of emotional distress—was arrested again on Tuesday, April 25, nearly six hours after a violent incident inside Rainbow Station.
The adult store's 203 Eighth Ave. address (btw. W. 20th & 21st Sts.) makes it part of a corridor notorious for quality of life complaints, criminal acts including open air drug and alcohol use, and, until very recently as we reported here, sidewalk scaffolding running the length of two buildings next to Rainbow Station, whose construction materials provided partial shielding for all manner of activity, from unseemly to downright unlawful. Rainbow Station has long been the bane of nearby residents, more so than ever before following the July 2021 fatality of a customer—as noted here and here in our reporting. The April 24 in-store incident, however, appears to be much more personal in nature, involving ill will between management and clientele.
In an email to Chelsea Community News sent on April 25 at 11:29am, a spokesperson for the NYPD's Office of the Deputy Commissioner, Public Information (DCPI) noted the defendant"was arrested and was charged on April 25, 2023 at 0340hrs. [3:40am]."
Damien Walker faces Assault and Criminal Possession of a Weapon charges stemming from the Monday, April 24, 9:50pm incident. Noted the DCPI email, "It was reported to police that the defendant entered the store from which he is banned from and when a 52-year-old store employee approached him to escort him out, a verbal dispute turned physical where the individual pulled out a large knife and slashed the victim in the right forearm causing a deep laceration. The victim was removed to Bellevue Hospital in stable condition." Upon his arrest, DCPI further noted, Walker was "found to be in possession of two knives."
Walker's 10 prior arrests include charges for criminal mischief, assault, burglary, criminal contempt, strangulation, burglary, menacing, and criminal possession of a weapon.
DCPI declined Chelsea Community News' request for an interview with 10th Precinct Commanding Officer Captain Robert Gault. "Thank you for your request for interview, unfortunately the commanding officer is not available," they wrote.
CO Captain Gault is expected to be available—and empowered to answer the questions of those in attendance—when the 10th Precinct Community Council meets on Wednesday, April 26. Held as a Zoom-only event for most months from the pandemic to the present, this meeting will be the Council's first brick and mortar gathering since September 2022. It takes place at 7pm at the 10th Precinct, 230 W. 20th St. (btw. Seventh & Eighth Aves.).
–END–
Chelsea Community News is an independent, hyperlocal news, arts, events, info, and opinionwebsite made possible with the help of our awesome advertisers and the support of our readers. Our Promise: Never a paywall, no pop-up ads, all content is FREE. With that in mind, if circumstances allow, please consider taking part in our GoFundMe campaign (click here). To make a direct donation, give feedback, send a Letter to the Editor, or contact our founder/editor, email Scott Stiffler via scott@chelseacommunitynews.com.
To join our subscriber list, click here. It's a free service provding regular (weekly, at least) Enewsletters containing links to recently published content. Subscribers also will be sent email with "Sponsored Content" in the subject line. That means it's an exclusive message from one of our advertisers, whose support, like yours, allows us to offer all content free of charge.