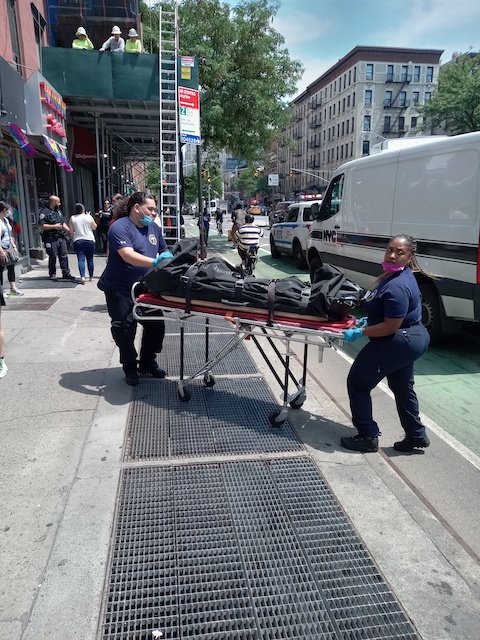 BY SCOTT STIFFLER | Independence Day weekend began with an extreme reminder that a troubled West Chelsea corridor is far from declaring itself free of the illegal activity area residents have long contended is capable of producing dangerous, even deadly, consequences.
Summoned by 10th Precinct officers dispatched in response to a 911 call placed at 6:45am on Friday, July 1, EMS workers arrived at adult store Rainbow Station (203 Eighth Ave. btw. W. 20th & 21st Sts.) to pronounce a 38-year-old Hispanic male deceased. Authorities were alerted to the body shortly after "a male went into the basement of the location to clean" and observed the victim "unconscious and unresponsive inside of a private booth."
That's according to excerpts from a 4:49pm email of Friday, July 1, sent to Chelsea Community News and written by a spokesperson for the NYPD's Office of the Deputy Commissioner, Public Information (DCPI). The email went on to note, "Drug paraphernalia was recovered from the male." The Medical Examiner, DCPI concluded, "will determine the cause of death." That the paraphernalia was a hypodermic associated with self -administration of illegal narcotics, accidental drug overdose is a strong contender for cause of death.
The perspective provided by DCPI makes its public debut in this report—filed late in the day, some 16 hours after the 911 call, and just over six hours after emails circulated by two community members that both rallied the troops and muddied the waters.
In a 5:38pm email sent to longtime West 21st Street resident and Chelsea activist Pamela Wolff, similarly involved resident Eric Marcus wrote, "Two deaths!  Both overdoses.  A second corpse was removed from Rainbow Station's basement at 11:45 a.m. where there are individual cubicles (For viewing porn?  For sex?  Haven't been, so I don't know).  The first corpse was found in a cubicle, too, at around 8:45 a.m."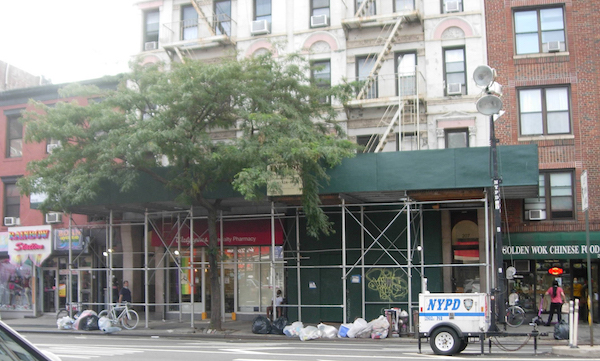 Marcus, founder/publisher of the weekly Neighborhood News Enewsletter, penned this missive only in his capacity as a member of the 300 West 20th Street Block Association. Among its recipients were newly installed Council of Chelsea Block Associations president Sally Greenspan, multiple staff from NYC Councilmember Erik Bottcher's office, and the Community Affairs officers of the 10th Precinct.
Speaking with this reporter shortly after 6pm on July 1, an individual working the register at Rainbow Station's street level entrance insisted, multiple times, that a single incident took place earlier in the day, involving the discovery of a body in the basement's private video viewing area (accessed via a clear glass door to the right of the main one). The employee went on to note that removal of the victim occurred after 11am, and said he knew nothing about similar activity three hours earlier. That timeline matches the action seen in a photo taken just before 11:50am, in which members of the New York City Office of Chief Medical Examiner appear alongside an occupied body bag strapped to a gurney, headed in the direction of a vehicle owned and operated by the Examiner's Office.
Writing independent of her capacity as president of preservationist group Save Chelsea, Pamela Wolff's email of July 1, 5:28pm, was sent to many of those on Marcus' list. "We can't just keep talking about this mess. We have to do something.  Now," concluded Wolff, who earlier in the email urged "CCBA, Save Chelsea, our local police, our Press, our elected officials" to "coalesce" to "close this sordid magnet [Rainbow Station] for some of the most tragic among us."
The retail establishment's presence has long been a bone of contention with nearby residents, who say it's a magnet for the drug users, drug dealers, and male prostitutes who find ample opportunities inside and outside of the Station, as well as in and within the orbits of The Blue Store and Sexy Boutique, two other adult establishments on the same block of Eighth Ave., between West 20th and 21st Streets.
Those complaints have long been documented by Chelsea Community News, in our ongoing coverage of 10th Precinct Community Council's and Build the Block meetings. And while there is a well-known symbiotic relationship between the adult stores, a corner deli whose ownership admitted to fencing (after a years-long, multiagency effort coordinated by 10th Precinct Commanding Officer,  Captain Robert Gault), and the sidewalk scaffolding (scheduled for removal in the coming months) along 205-207 Eighth Ave. that attracts a myriad of criminal and unsavory activities, this is the first (suspected) drug overdose known to have occurred within the confines of a business on that contentious block.
Chelsea Community News is following this developing story and will add information to the above, as it comes in.
Chelsea Community News is made possible with the help of our awesome advertisers, and the support of our readers. If you like what you see, please consider taking part in our GoFundMe campaign (click here). To make a direct donation, give feedback, or send a Letter to the Editor, email scott@chelseacommunitynews.com.