BY SCOTT STIFFLER | Founded in 2010 and operating from the fourth floor of 312 West 36th Street since 2018, Chain Theatre's restless quest to contemplate "the cyclical nature of history and complexity of the human spirit" has expressed itself through muscular revivals of proven stage works (The Pillowman), film and play festivals, and NYC or world premieres from the likes of Eric Bogosian and Keith Huff (whose A Steady Rain had a 2009 Broadway run).
And then, compulsory recalibration courtesy of the pandemic: Steadfast markers that dotted the arc of a typical season were, like butts in the seats, nowhere to be found. Cue a series of fortuitous events that saw Chain—already with 40- and 65-seat theaters in the building—take over the entire third floor of their building. Expansion began in March of 2021 and, upon its recent completion, created 40- and 99-seat theaters and a rehearsal studio (all of which earn their keep as outside rentals when not being used for in-house productions).
"It's a weird thing to contemplate: Would this have happened without the pandemic? I don't know," says Chain Theatre Artistic Director Kirk Gostkowski, adding, "It's hard to grapple with, this huge leap for us. I think our evolution warrants it, but I feel awkward saying we have something extra that others might not."
Asked if Chain might benefit from rehearsal and performance space rentals to artists who return to find their old haunts have given up the ghost, Gostkowski notes, "A lot of spaces closed because of the pandemic and some just left the spaces. Some were retiring and I get it there were some wonderful people struggling." Of a grant which allowed them to go forth to the third floor with the hammers, nails, and elbow grease necessary to double Chain's brick and mortar footprint, Gostkowski notes that even for the funded parties, the grant process was a "rigorous" process that saw some in the theatre community benefit wile "people who just deserved it didn't get it. But look, I don't want to be ungrateful for the help we got."
Gratitude is plentiful throughout our phone interview, with Gostkowski noting that time spent shepherding their West 36th Street space through its upgrade as the pandemic played out created an opportunity "to really start getting to know people better"—among them, he notes, members of Manhattan Community Board 4 and District 3 NYC Council Member Erik Bottcher. "It's the first time I've met people from the City level, who expressed how important culture is to the area," says Gostkowski. "And they meant it. They've been helping to get the word out. Erik Bottcher, he's come to the theatre. I've never had a City Council Member come to our theatre, and he's shown great support to the arts. The Garment District Alliance has been amazing—helping to make sure we were safe, encouraging people to come to the shows, and cleaning the garbage [ground level, around the building]."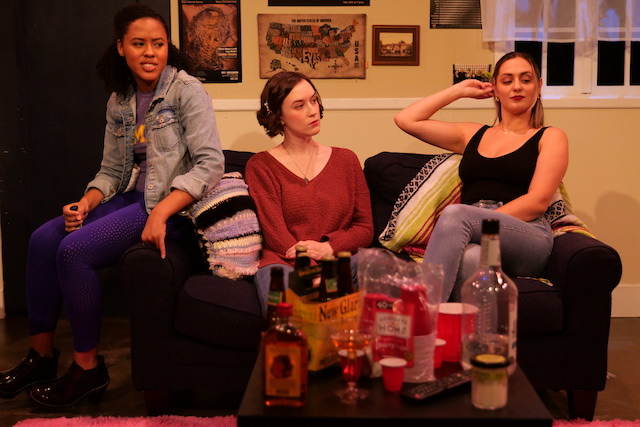 Having the support of longtime neighbors and new friends, said Gostkowski, further fortified the fire lit from within when the events that would allow them to expand converged. Now, that inner flame has come roaring onto the boards, in the form of Chain Theatre's current world premiere production. Based loosely on Shakespeare's supposedly cursed "Scottish play," early career scribe Sophie McIntosh's macbitches reads on paper as a welcome corrective to the pandemic's practically supernatural power to put mankind on "Best Behavior" mode long enough to circle our wagons.
Raising the stakes of the Mean Girls genre with each new stroke of her poisonous pen, McIntosh transplants Shakespeare's tale of toxic power grabs onto a college campus whose theater department denizens are shaken to their core when a newcomer is cast in the lead female role expected to be claimed by the department's alpha thespian. Heads roll and tongues do the blood-drawing work of daggers, as the six-person cast sees the roles and routines they've settled into changed forever in the blink of an eye. Think of it as a cautionary tale meant to inform your transition from sheltering in place to the pre-pandemic world of board room rivalries, uncomfortable silence in the elevator, and water cooler smear campaigns.
Life, the play seems to tell us, can be a real "macbitch" when you take the rose-colored glasses off. But one would be mistaken to interpret playwright McIntosh's travel down the warts-and-all path as damning and defeatist, at least if viewed in light of a Gostkowski quote taken by this reporter just slightly out of context: "We look to reflect the world around us," he said. "We want to challenge the audience, we want to investigate humanity… Why do we not learn, or why do we learn?"
Performances are Wed., Thurs., Fri. & Sat. at 8pm and Sun. at 3pm through Sept. 10. At Chain Theatre (fourth floor of 312 W. 36th St., btw. Eighth & Ninth Aves.). Tickets are $25 and are available online at www.ChainTheatre.org. Tickets may also be purchased in-person at the theater a half-hour prior to the performance. Running time: 85 minutes, no intermission. Wearing a mask is mandatory: Proof of vaccination is not. For the complete COVID protocol, click here. Written by Sophie McIntosh and directed by Ella Jane New. Starring Laura Clare Browne as Piper, Lauren Dietzel as Swing, Marie Dinolan as Hailey, Morgan Lui as Cam, Natasja Naarendorp as Lexi, and Caroline L. Orlando as Rachel.
Chelsea Community News is made possible with the help of our awesome advertisers, and the support of our readers. If you like what you see, please consider taking part in our GoFundMe campaign (click here). To make a direct donation, give feedback, or send a Letter to the Editor, email scott@chelseacommunitynews.com.