In This Week's "THIS WEEK IN & AROUND CHELSEA"
White Rabbit Red Rabbit / This Week's CB4 Committee Meetings / Public Transportation in NYC: A Conversation / World Premiere Play at the Chain Theatre / St. Patrick's Day in Chelsea Green Park / Community Cleanups / Apply by March 22 for the Manhattan DA's High School Summer Internship Program 
White Rabbit Red Rabbit, Part of Let There Be Theatre—A Call to Action: Monday, March 13, 8pm at TheaterLab (357 W. 36th St,. 3rd floor) | Forbidden to leave his home country, Iranian author Nassim Soleimanpour wrote a one-performer play as a letter that would travel the world in his place. With no rehearsals, no director, and a sealed script, White Rabbit Red Rabbit has its actor reading the script for the first time onstage.Theaters from all over the globe will be staging a production on March 13, to mark the date that most theaters had to shut down due to the pandemic. At 8pm in every time zone, there will be a multitude of shows starting at the same time for 24 hours. Et Alia Theater, in association with Aurora Nova and TheaterLab, is proud to represent New York in this event, for the third year in a row, this year inviting an Iranian actress to take on the challenge and bring the words of this playwright to life. Click here to purchase tickets.
Monday-Thursday, March 13-16: Committee Meetings of Manhattan Community Board 4 (CB4) |
"Four" is the magic number (and the operative word) this week, with Mon.-Thurs. meetings of CB4, where various committees go about vetting various presentations, plans, and protocols–often generating letters that go before the full board for a vote (the next full board meeting being Tues., April 4, one day earlier than usual). For a full rundown of March commitee meetings, click here. Or, stay here and get the bare bones version: 
Mon., March 13, 6:30pm via Zoom: Arts, Culture, Education & Street Life Committee (ACES)
| The meeting opens with an Open Session followed by a presentation by
Open Plans
on the School Open Streets program. Also scheduled is a presentation by the NYC Department of Education on the matter of Adult Education programming. A discussion of business, old and new, concludes the proceedings. To register,
click here
.
Tues., March 14, 6:30pm via Zoom: Business License & Permits Committee (BLP)
| Among the agenda items, new liquor, wine, beer and cider license applications will be considered  To register,
click here
.  
Wed., March 15, 6:30pm via Zoom: Transportation Planning Committee (TPC)
| TPC will, alongside the WPE committee, see a presentation regarding curbside electric vehicles and charging stations, which will then be put before a vote. Also, the MTA will present on the Quill Bus Depot project. A vote will follow a presentation by retailer B&H, regarding their request for curbside trash pickup. To register,
click here
.
Thurs., March 16, 6:30pm via Zoom: Housing, Health & Human Services Committee (HHHS)
| Tentatively scheduled is a presentation by Essence Development and NYCHA, regarding the Chelsea NYCHA Development Plan. To register,
click here
.
NYC Council Member Erik Bottcher in Conversation with Richard Davy, President, NYC Transit: Wednesday, March 15, 5:30pm via Zoom
| This online conversation also has a Q&A element that gives members of the public an opportuity to interact with both NYC Transit President Richard Davey and District 3 NYC Council Member Erik Bottcher. To ask a question about NYC's public transportation system, you must register. Do so by
clicking here
. See the below flyer for more info.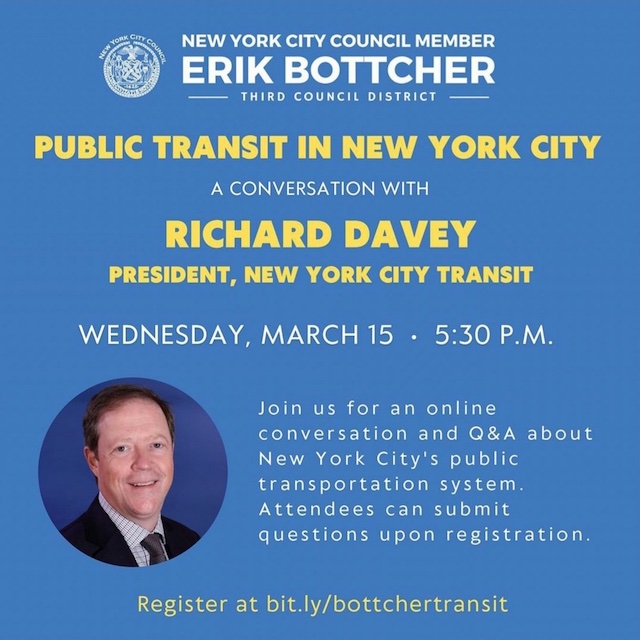 THEATER: World Premiere, Matthew McLachlan's This G*d Damn House | The latest production from the Chain Theatre (whose pandemic-era double-down commitment to the NYC independent theater scene we profiled here) brings back Ella Jane New (director of their summertime 2022 hit, macbitches) to helm the world premiere of Matthew McLachlan's This G*d Damn House. Said by the scribe to be the "most personal thing I have ever written," that quote is a call to action for the curious to pre-order his memoirs. What? They've not been written yet? Or even contracted? Well, we'll just have to make due with this tale of an over-60 hoarder and twisted matriarch.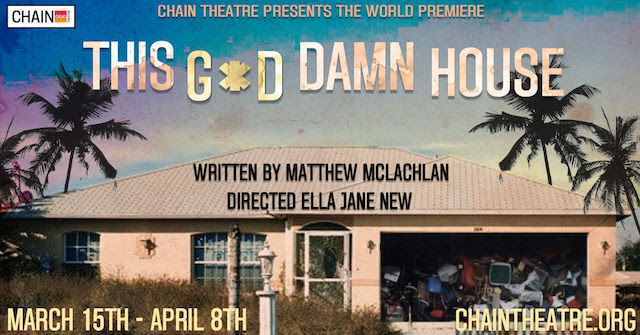 Bonus provocation: Said matriarch is played with (and we're taking an educated leap of faith here) ferocious intensity by Sachi Parker (daughter of Shirley McLaine and author of her autobiography My Life With and Without Shirley McLaine). March 15-April 8 is the limited engagement run, with an opening night of March 18. At the Chain Theatre (312 W. 36 St. btw. Eighth & Ninth Aves). For tickets($30), click here to visit the applicable page on the Chain Theatre website.
St. Patrick's Day Art in the Park and Raising Green for Chelsea Green: Friday, March 17, 4-6pm at Chelsea Green Park (140 W. 20th St. btw. Sixth & Seventh Aves.) | Yes, we can celebrate St. Patrick's Day with the wearing of the green—but the smart little park known as Chelsea Green invokes that grass-colored hue every time its name is written, spoken, or read… or experienced? See foryourself from 4-6pm on St. Patrick's Day, when Chelsea Green invites kids to make Shamrock Wands, Lucky Charm Bracelets and Leprechaun Traps. Speaking of luck—and this means no disrespect toward four-leafed clovers—the best kind of luck is the type you make yourself. In that spirit, Chelsea Green Park boosters Friends of Chelsea Green are organizing a fundraiser to ensure their Spring Block Party is a memorable, no-cost-to-you shindig on par with last year's fantastic Halloween celebration. Their Silent Auction goes live on March 14. The offerings (made possible through the generosity of local businesses) include VIP Tickets to see the Late Show with Stephen Colbert and Happy Hour for Ten Friends at Peter McManus Café. Follow Friends of Chelsea Green on Instagram for updates, and join their email list by sending a request to chelseagreenpark@gmail.com.
Community Cleanups with NYC Council Member Erik Bottcher: Most Sundays Through May 21 | The District 3 Council Member whose area of coverage represents the West Village, Chelsea, and Hell's Kitchen areas invites citizen volunteers to clean house–by cleaning up their streets. Facilitating a tidy and inviting environment is one of the actions the Council Member has been advocating for since before he was running for that office. Years later, this annual tradition continues, now until the chilly winter of 2023. To participate, click here.  For more info, see the below flyer.
The Manhattan District Attorney's High School Summer Internship Program: In-Person, July 10-August 25 / Application Deadline is Wednesday, March 22, 5pm| The Manhattan District Attorney's High School Internship Program is a rigorous internship that provides students with an insider's view of the criminal justice system. Participants will have the opportunity to engage in workshops and discussions surrounding criminal justice, police brutality, civic engagement, leadership, and more. All applicants must live or attend school in Manhattan and be current sophomores, juniors, or seniors. For more info, click here, email highschoolinternship@dany.nyc.gov, or call Imani Doumbia, Education Coordinator, at 917-808-6421… and see the below flyer!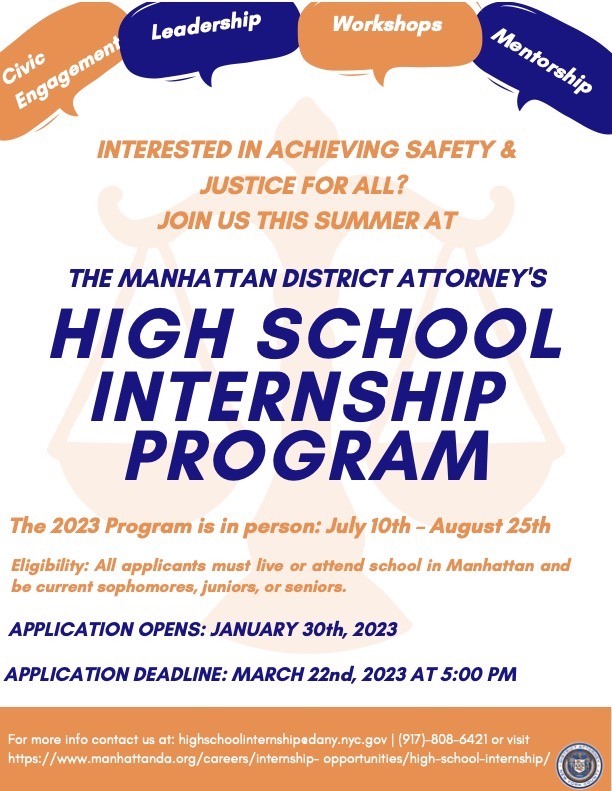 —Listings Compiled by Scott Stiffler
Chelsea Community News is an independent, hyperlocal news, arts, events, info, and opinion website made possible with the help of our awesome advertisers and the support of our readers. Our Promise: Never a paywall, no pop-up ads, all content is FREE. With that in mind, if circumstances allow, please consider taking part in our GoFundMe campaign (click here). To make a direct donation, give feedback, send a Letter to the Editor, or contact our founder/editor, send an email to Scott Stiffler, via scott@chelseacommunitynews.com.
To join our subscriber list, click here. It's a free service provding regular (weekly, at least) Enewsletters containing links to recently published content. Subscribers also will be sent email with "Sponsored Content" in the subject line. That means it's an exclusive message from one of our advertisers, whose support, like yours, allows us to offer all content free of charge.