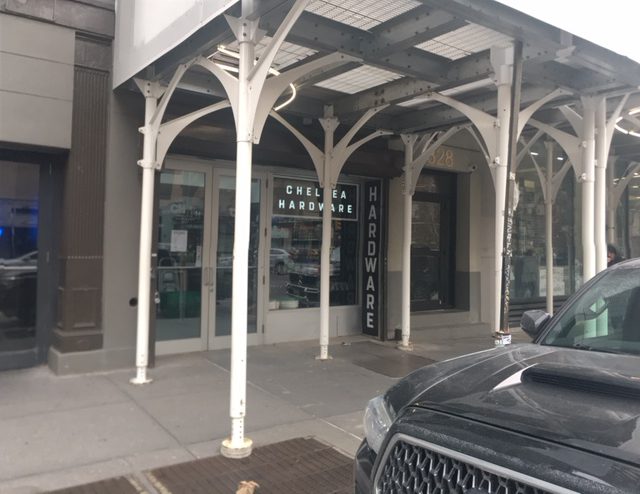 BY JOANNE ADLER SINOVOI | I heard a new hardware store, long-rumored to be taking over the space of a similar small business, finally opened on Eighth Avenue near my home. I went over to take a look, and the first thing I noticed was that the scaffolding covering the entrance. My first thought was that people are not going to notice that they are open for business. When I walked through the doors of Chelsea Hardware NYC, I immediately noticed the lighting, which was nice and bright (unlike the previous hardware store, under different ownership). There was no trace of the former business. I was definitely impressed, and hope they can stay in business for many years to come. The owner, Pedro Figueroa, was kind enough to take some time out of his day for the Q&A printed below.
Joanne Adler Sinovoi for Chelsea Community News (Sinovoi): When did you open?
Pedro Figueroa (Figueroa): Monday, January 30, 2023.
Sinovoi: Is this your first hardware store?
Figueroa: No, this is my second hardware store. My other store is Midtown Hardware, 815 Second Ave., by the UN.
Sinovoi: Do you have a business partner?
Figueroa: Yes, my wife—it's a family business.
Sinovoi: What made you decide to open a hardware store right here?
Figueroa: Location. The nearest hardware store on Eighth Avenue is 38th Street.  And we wanted to be part of this community.
Sinovoi: What kind of supplies do you carry?
Figueroa: Electrical, plumbing, and cleaning supplies, key copies, hand and power tools, paint and painting supplies…
Sinovoi: What improvements have you made from the gutted former hardware store that was in your location?
Figueroa: We installed LED lighting–big fixtures, brand new flooring. The store was completely empty [when we took over].
Sinovoi: Will you be working in this store every day?
Figueroa: I'll be spending the majority of my time here.
Sinovoi: How did you get into the hardware store business?
Figueroa: I've been in the business since 1995. My mentor, the old owner of my Midtown store, sold me that store in 2017, when he retired. He said [years before], "If I retire, I promise, the store is yours."
Chelsea Hardware NYC
328 Eighth Ave. (btw. W. 26th & 27th Sts.)
Call 646-649-4749 and email chelseahardwarenyc@gmail.com
and
Midtown Hardware 
815 Second Ave. (btw. E. 43rd & 44th Sts.)
Call 212-682-7858
Both locations offer UPS AccessPoint and Bounce Luggage storage
Ask About Opening a Corporate Account
–END–
About reporter Joanne Adler Sinovoi | Chelsea Community News welcomes Joanne to our expanding pool of freelance writers. She's currently a member of the first class to establish our Community Reporter Training Program, which recruits Chelsea residents with an interest in journalism. They study under our editor and a seasoned freelance contributor, and then embark upon their own assignments—and are paid for their time, every step of the way. The Training Program is made possible by a $10,000 grant from the West Side Community Fund. To read about the Fund and the work it is furthering throughout Chelsea, Hudson Yards, and Hell's Kitchen, click here. The application process for their next round of grants is active now through February 27. For info, click here.
Chelsea Community News is an independent, hyperlocal news, arts, events, info, and opinion website made possible with the help of our awesome advertisers and the support of our readers. Our Promise: Never a paywall, no pop-up ads, all content is FREE. With that in mind, if circumstances allow, please consider taking part in our GoFundMe campaign (click here). To make a direct donation, give feedback, send a Letter to the Editor, or contact our founder/editor, send an email to Scott Stiffler, via scott@chelseacommunitynews.com.
To join our subscriber list, click here. It's a free service providing regular (weekly, at least) Enewsletters containing links to recently published content. Subscribers also will be sent email with "Sponsored Content" in the subject line. That means it's an exclusive message from one of our advertisers—whose support, like yours, allows us to offer all content free of charge.