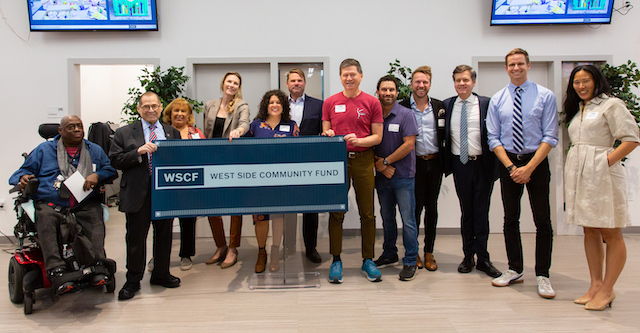 BY SCOTT STIFFLER with ADDITIONAL REPORTING BY EILEEN STUKANE | Last year, when the West Side Community Fund emerged from a pandemic-era period of relative inactivity, it did so with an expanded roster of financers, an expansive area of coverage, and a reconsideration of what they could, and would, fund. The result: Fifteen grant recipients shared $100,000, with winners recognized for their emerging or established work in Chelsea, Hudson Yards, and Hell's Kitchen.
The next West Side Community Fund (WSCF) grant cycle begins on January 31. Applications are due by Friday, March 10 (extended from its previously announced Feb. 27 date), with grant recipients announced in April.
Eligible applicants include neighborhood organizations, block and tenants' associations, nonprofits, city agencies, schools, health clinics, NYCHA projects, police-community programs, religious institutions, homeless facilities, etc. Individuals who deliver services, such as teachers, are also eligible to apply.
Past grant winners—including community health centers, food pantries, and neighborhood news groups (specifically, Chelsea Community News!) may re-apply with a new project.
Apply at westsidecommunityfund.org.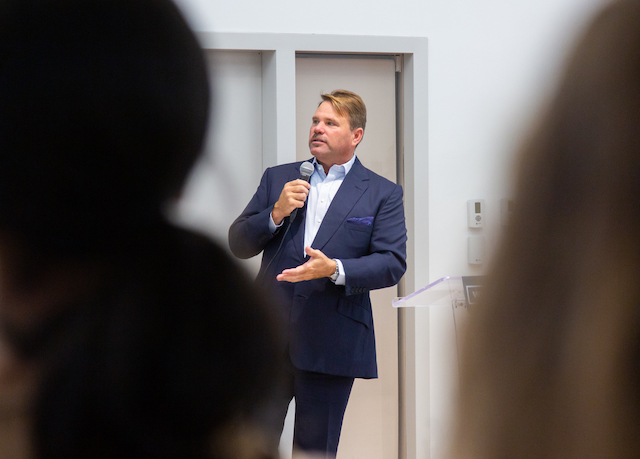 Eligibility Requirements:
—Proposed services must occur in the Chelsea, Hudson Yards, or Hell's Kitchen area (i.e., Community Board 4 catchment area)
—The applicant organization's total annual budget must be below $15 Million
—Grants cannot support religious or partisan activities, nor programs that promote any form of discrimination on the basis of race, religion, gender, sexual orientation, national origin, or disability
About WSCF: The West Side Community Fund (WSCF) is a consortium of leading companies based on the west side of Manhattan that have come together to support local and neighborhood initiatives along the West Side, through a bi-annual grant program. Multi-service organization Hudson Guild administers the grant process.
NOTE: The following is a partial reprint of Eileen Stukane's West Side Community Fund feature story from October of 2022. To access the full article, click here.
How important are the granted funds to local organizations? Here's a sampling from four Round One, 2022 Grantees:
Aaron Moore, Food Pantry Director at grant recipient Rauschenbusch Metro Ministries, who talked at the October 11 event about how his organization used to serve 80 people a week, but then the number rose to 240 a week, and now 300 to 350 people are coming. From June to September, the Ministries' other grants were depleted and in order to provide food for those in need, funds were donated by the congregation of the Metro Baptist Church. "So this grant money will go toward replenishing some of those funds, and we always need more. We've been able to rise to the occasion every time the need increases but there's always more need." Every week, Rauschenbusch also gives out toiletry bags with a toothbrush, razor, shaving cream, and snack bags with protein bars and fruit cups. In the past, it distributed about 30 bags a week. The current weekly count now stands at around 150, and is expected to increase.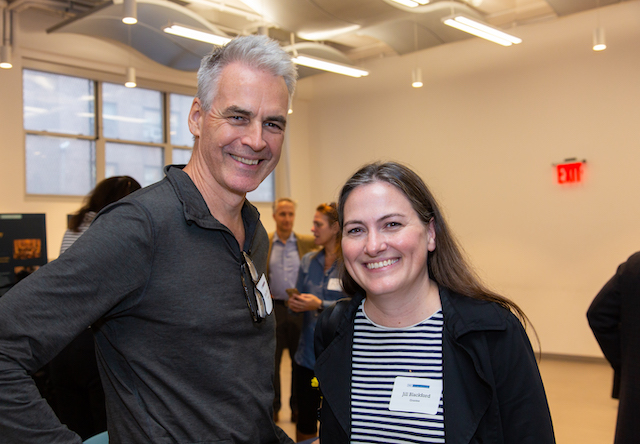 John Mudd, President of Midtown South Community Council, another grantee, supplies food to shelters from the organization's urban garden and upstate Hudson Valley garden, and the grant will enable greater garden development. The Council focuses on meeting a broad area of needs in health, housing, homelessness, and food insecurity. It can distribute 100 pounds of food a week, and just last week gave out 180 pounds of food. Mudd echoes Aaron Moore in speaking about community need: "We need more of it [grants like WCSF]. The grant itself has to grow and really build communities. We need a balance between communities and businesses… We have to be respectful of each other and live with each other."
For Christine Berthet, longtime CB4 member and Co-Founder of grantee CHEKPEDS (Clinton Hell's Kitchen Chelsea Coalition for Pedestrian Safety), the funding will allow the completion of a software app—WalkMapper—to help its users walk NYC streets safely. The app will include 70 complaints, such as sidewalk obstruction, or problems with a pedestrian crossing. Normally when a New Yorker has an issue, the only alternative is to call 311. With this app, a safety concern will not only reach 311 but also a Councilmember, Community Board, the local BID, other elected officials, and even selected social media.
Nitiya Walker, Executive Director of Seeds of Fortune Inc. says they've been able to help prepare 22 female students of color for college with the funds from their grant. The organization is working with the High School of Fashion Industries to teach future career skills via its partnership with Chanel. Students who may not have been aware of opportunities will now find themselves at Chanel headquarters in Soho, where they will experience career choices in fashion, chemistry, administration, and law. The students will be helped with college scholarship opportunities as well.
Chelsea Community News is an independent, hyperlocal news, arts, events, info, and opinion website made possible with the help of our awesome advertisers and the support of our readers. Our Promise: Never a paywall, no pop-up ads, all content is FREE. With that in mind, if circumstances allow, please consider taking part in our GoFundMe campaign (click here). To make a direct donation, give feedback, send a Letter to the Editor, or contact our founder/editor, send an email to Scott Stiffler, via scott@chelseacommunitynews.com.
To join our subscriber list, click here. It's a free service provding regular (weekly, at least) Enewsletters containing links to recently published content. Subscribers also will be sent email with "Sponsored Content" in the subject line. That means it's an exclusive message from one of our advertisers, whose support, like yours, allows us to offer all content free of charge.