Spotlight on Small Businesses
DANA BLAIR DESIGNS
112 West 17th Street
Hours: Monday-Saturday, 12pm-7pm and Sun., 12pm-6pm
Online: https://danablairdesigns.com
Email: dana@danablairdesigns.com
Phone: 516-815-5324
TEXT, QUESTIONS & PHOTOS BY JOANNE ADLER SINOVOI | I was walking down West 17th Street when the sign for a jewelry store caught my eye. So I walked in to have a look. Sitting at a desk was jewelry designer Dana Blair, busy working with beads. Her designs were on one side of the room, with the designs of her partners on the other side. "What a charming shop," I thought to myself. I liked that no piece was exactly the same. (I do not know any other jewelry designer that gives you three different choices of metals!)
Looking around, I was drawn to a peace sign necklace made with gemstones. Like everything I saw in the store, it was striking, thoughtful, and original. Soon, I was speaking with Dana, who is very personable. You can tell right away that she puts her heart into everything she creates. "What a thoughtful gift these creations would make," I thought, imagining that I would be returning the next time a special friend or occasion required something unique. I encourage you to stop by and see for yourself—I think you'll be glad you did.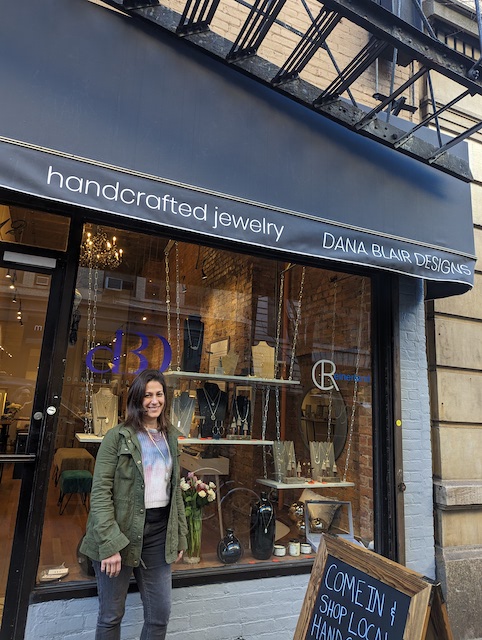 Joanne Adler Sinovoi, for Chelsea Community News (Joanne): When did your West 17th Street store open?
Dana Blair (Dana): October 1, 2022.
Joanne: I understand you have partners in the store, sharing the space. Who are they, and what is the name of their business?
Dana: My partners are Cristina Taranu and Reiner Mengesdorf. Their business is Reinerland. I met them in the beginning of 2007 and have known them for 16 years, when we shared a space called The Edge, on Bleecker Street.
Joanne: How long you have been making jewelry, and how did you get started?
Dana: I started making jewelry in 2002. My first piece was a birthday gift for my mom. My mom wore the necklace and a clerk from a local store wanted one. So I explained I made it for my mom as a birthday gift. The clerk placed an order the next day for a different color gemstone, in blue.
Joanne: Can you tell me a little about your handcrafted jewelry and what metals and stones you use?
Dana: My metal options are 14K gold, 14K gold filled, and sterling silver. I use natural handcut gemstones and I also work with the healing properties, birthstones, and chakras for clients that are interested. Each piece is unique, handmade, and customizable.
Joanne: I like your peace sign necklace. How long did it take you to design, and how long to make? What was your inspiration for creating it? I ask, as I am a baby boomer and it represents a time in my life when we had war—back in the '60s.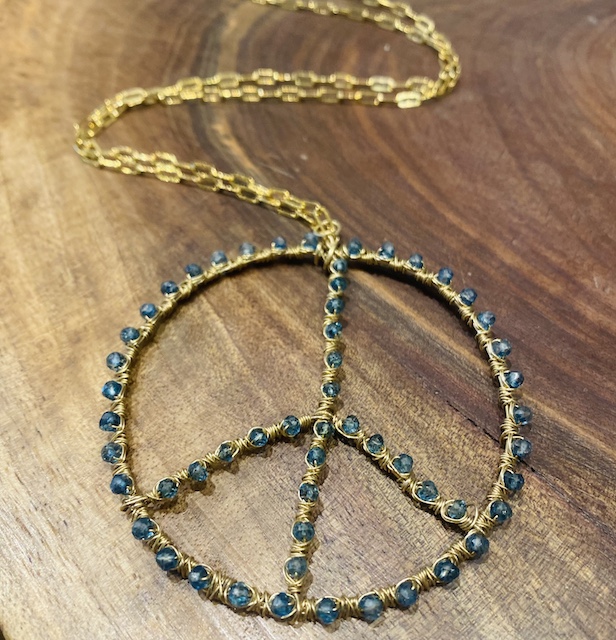 Dana: I initially made a small version without gemstones. One day, I took one of my bangle bracelets and adjusted the stones… it took me five hours to make.
Joanne: Is there a piece of jewelry that is your absolute favorite—and if so, why?
Dana: All of my pieces have meaning, like Dreamcatcher Star; the way they are connected—the earth to the sky. My other favorite piece is the Symbolic Gem Necklace [both necklaces are pictured].
Joanne: Who are your clients?
Dana: Locals from the neighborhood, longtime clients, and tourists who like to purchase from small businesses.
Joanne: I understand you do custom work so what is your most popular?
Dana: My wire woven hoops are the perfect gem hoop. People like them in different colors, and I can customize hoops.
Joanne: Why did you pick Chelsea to open your business? I understand you previously had a stand in Artists and Fleas, in Chelsea Market?
Dana: I was working in the SOHO location of Artists and Fleas, but they closed so I ended up in Chelsea—and stayed.
Joanne: How is your Internet business doing?
Dana: Currently more people order in-store—but I've been doing business online since 2006.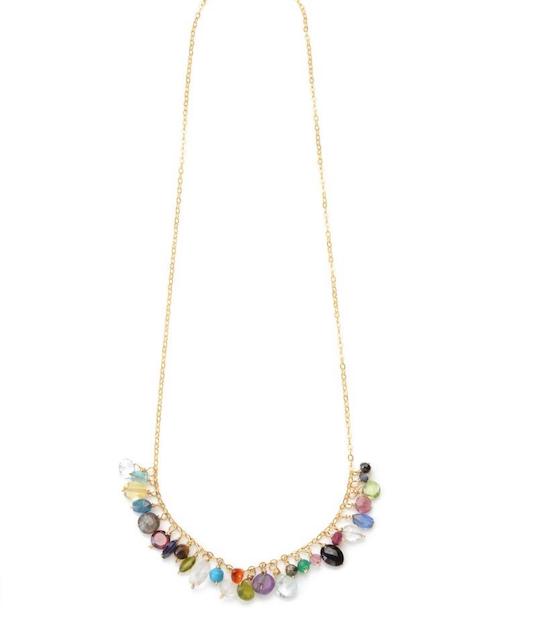 Joanne: Why should I shop in your jewelry store compared to any other in the neighborhood?
Dana: We are here year-round and can give you personalized service.  You can come into my store, and I can sit down with you and work with you one on one.
Joanne: How are your prices and what is your price range?
Dana: Our prices are from $15 to $5,000 as we can customize for any price point.
Joanne: Other than making jewelry, is there anything else you do for fun?
Dana: I ski, practice yoga, cook, travel, and go to concerts.
Joanne: Can you tell me about your charities and why you think it is important to give back?
Dana: Every month I donate a portion of sales to nonprofits that hold meaning to me. This January, 2023, I donated to Best Friends Animal Society, working to save the lives of cats and dogs all across America. I've also donated to the Brooke Jackman Foundation, which raises millions for educational resources—and the Celiac Disease Foundation, as I have celiac. Habitat for Humanity and Food Bank of New York, I donate to annually. If I have a platform on any level, I use it.
–END–
About reporter Joanne Adler Sinovoi | Chelsea Community News welcomes Joanne to our expanding pool of freelance writers. She's currently a member of the first class to establish our Community Reporter Training Program, which recruits Chelsea residents with an interest in journalism. They study under our editor and a seasoned freelance contributor, and then embark upon their own assignments—and are paid for their time, every step of the way. The Training Program is made possible by a $10,000 grant from the West Side Community Fund. To read about the Fund and the work it is furthering throughout Chelsea, Hudson Yards, and Hell's Kitchen, click here. The application process for their next round of grants is active now through February 27. For info, click here.
Chelsea Community News is an independent, hyperlocal news, arts, events, info, and opinion website made possible with the help of our awesome advertisers and the support of our readers. Our Promise: Never a paywall, no pop-up ads, all content is FREE. With that in mind, if circumstances allow, please consider taking part in our GoFundMe campaign (click here). To make a direct donation, give feedback, send a Letter to the Editor, or contact our founder/editor, send an email to Scott Stiffler, via scott@chelseacommunitynews.com.
To join our subscriber list, click here. It's a free service providing regular (weekly, at least) Enewsletters containing links to recently published content. Subscribers also will be sent email with "Sponsored Content" in the subject line. That means it's an exclusive message from one of our advertisers—whose support, like yours, allows us to offer all content free of charge.