In This Week's "THIS WEEK IN & AROUND CHELSEA"
Participatory Budgeting Vote Week /  / The First Annual Flatiron/NoMad Plant-Based Food Fair / Chelsea Community Church Palm Sunday Service / Community Cleanups / Past Tense: Events from Earlier in the Week (calendar updated 3/30): Remaining CB4 March Meetings / Rise and Resist Elevator Action Group Rally Outside MTA Headquarters: / Recipie for Success: Celebrating Women Entrepreneurs at Chelsea Market / The 10th Precinct Community Council Meeting
Participatory Budgeting Vote Week: Through April 2| Participatory Budgeting (PB) is an annual process that allows the public to determine how City Council discretionary funds will be used to pay for public space projects. In the case of Council District 3–whose area of coverage includes Chelsea–$1 million has been put aside for PB, by District 3 Council Member Erik Bottcher. For a full rundown of the projects on the ballot as well as info on how to vote in-person and online, click here to see our recent coverage–and see directly below, a promotional flyer inviting you to PB's Closing Ceremony, 1-3pm on Sunday, April 2.
The First Flatiron/NoMad Plant-Based Food Fair: Friday, March 31 through Sunday, April 2, 11am to 3pm, at Flatiron North Plaza (Broadway & 23rd St.). | The Flatiron NoMad Partnership and Eleven Madison Home (from the team and kitchen behind Eleven Madison Park) host the inaugural Flatiron NoMad Plant-Based Food Fair. Timed to celebrate the start of April's Earth Month, the three-day, family-friendly event celebrates the Flatiron NoMad district's animal-free food options and green alternatives. Participants can sample products from plant-based restaurants and beauty businesses in the neighborhood. At Eleven Madison Home's interactive activation space, visitors can plant their choice of bean, squash, and corn seeds into take-home compostable cups while decorating plant markers. Then, enjoy their riff on an Oysters Rockefeller with oyster mushrooms. The fair will also feature live music by The Jazz Gallery. Eleven Madison Home is located at 22 W. 27th St., second floor. To visit the website, click here. Click HERE for updates about the event. Additional program updates will also be posted on the Flatiron NoMad Partnership's Twitter, Instagram & Facebook pages at @FlatironNY.  Bon ap·pé·tit!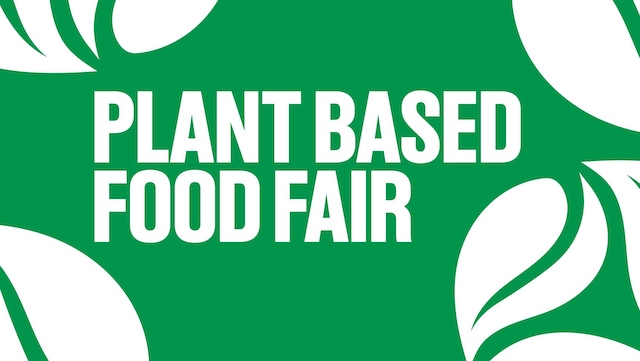 Chelsea Community Church Palm Sunday Service: Sunday, April 2, 1pm at 346 W. 20th St. (btw. 8th & 9th Aves.) | "We as New Yorkers have welcomed many new neighbors to our City," note the event organizers. "Many unfortunately do not have permanent housing, work or a safe place to practice their faith. To all our old and new neighbors, Chelsea Community Church extends an invitation to join us on Palm Sunday. Our service on this day will be bilingual." For more about their mission, click here to visit the Chelsea Community Church website–and see the flyer below.
Community Cleanups with NYC Council Member Erik Bottcher: Most Sundays Through May 21 | The District 3 Council Member whose area of coverage represents the West Village, Chelsea, and Hell's Kitchen areas invites citizen volunteers to clean house–by cleaning up their streets. Facilitating a tidy and inviting environment is one of the actions the Council Member has been advocating for since before he was running for that office. Years later, this annual tradition continues, now until the chilly winter of 2023. To participate, click here.  For more info, see the below flyer.
 Events from Earlier in the Week (calendar updated 8/30)
The Remaining March Meetings of Manhattan Community Board 4 (CB4) |Monday, March 27, 6:30pm via Zoom: Executive Committee (EXEC) | The agenda was TBD at press time. To register, click here. By telephone: 646-518-9805 Webinar ID: 916 5217 3279. The Next Full Board Meeting of CB4 is Tuesday, April 4, 6:30pm | To register, click here. To attend via phone, call 646-518-9805. The Webinar ID is 986 0945 5541. Want more, more, more? Follow CB4 on social media. Facebook: Manhattan Community Board 4 and Twitter: @manhattanboard4. For a full rundown of March commitee meetings, click here.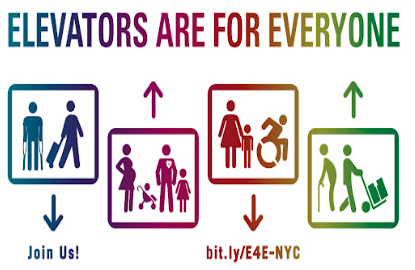 Rise and Resist Elevator Action Group Rally Outside MTA Headquarters: Wednesday, March 29, 8:30-9:30am at 2 Broadway | A coalition of transit accessibility activists take their case to MTA headquarters for a rally that promises speakers, chants, signs, a banner, and a "dramatic surprise" revealed just prior to the MTA's board meeting. Their demand: Improve subway elevator reliability. "Shockingly, last year saw 98,969 MTA elevator outages, and an astounding 9,401 entrapments," notes the Rise and Resist Elevator Action Group, adding, "On average, 25 out of 267 elevators break down every single day, inconveniencing and endangering thousands of New Yorkers and visitors." The result, they say, is a subway system made "dangerous and unpredictable for wheelchair users, caregivers with strollers, older adults, workers with deliveries, and travelers with luggage." Noting that the buck stops on the desk of Governor Hochul, rally organizers sent her this message in advance of the March 29 event: "You are responsible for MTA priorities… Please commit to announce outages on affected platforms and subway lines; station MTA personnel at broken elevators and escalators to help riders; and dispatch repair crews immediately, because safety begins with speedy repairs. Other cities alert and assist stranded passengers. Why can't New York?" Indeed. For more information, click here to visit the Rise and Resist Elevator Action Group Page.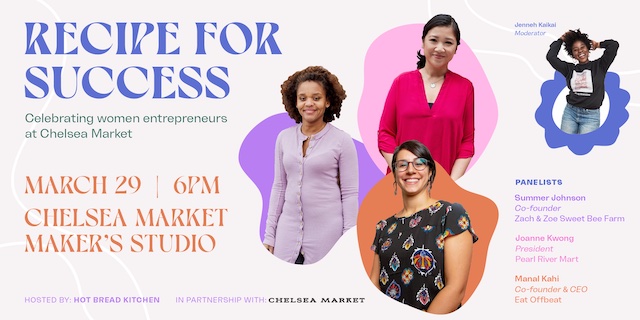 Recipe for Success: Celebrating Women Entrepreneurs at Chelsea Market Maker's Studio: Wednesday, March 29, 6pm at Chelsea Market (Ninth Ave. at W. 15th St.)

|

Chelsea Market and careers-in-food nonprofit

Hot Bread Kitchen

 join forces to close out Women's History Month with a panel discussion that filters entrepreneurship and culinary industry concerns through the female perspective. Three of Chelsea Market's BIPOC, female business-owners will talk about what it takes to build a successful brand, as well as the particulars of owning a small business in the large-scale setting of NYC. Jenneh Kaikai, Small Business Director of Hot Bread Kitchen, moderates. The panelists are Joanne Kwong, President of

Pearl River Mart

; Manal Kahi, Founder and CEO of

Eat Offbeat

; and Summer Johnson, Co-Founder of

Zach & Zoë Sweet Bee Farm

. A Q&A follows their 45-minute discussion. General admission tickets can be purchased at the link

here

. All proceeds will fund and further the work of Hot Bread Kitchen.
The 10th Precinct Community Council: Wednesday, March 29, 7pm via Zoom

| 
The citizen-run Council meets at 7pm on the last Wednesday of the month, via Zoom unless otherwise noted. Council President Larry O'Neill hosts the event, which typically sees 10th Precinct Commanding Officer Captain Robert Gault on hand to discuss the latest crime statistics, trends, and enforcement efforts. O'Neill then moderates a Q&A session in which Gault responds to attendee questions regarding local matters of concern. Electeds and City representatives are often in attendance, and usually amenable to taking questions from neighborhood residents, business owners, and other stakeholders who typify the turnout. Note: 
Follow the Community Council on Facebook by clicking here
. To attend the March 29, 7pm Zoom meeting,
click here
. The Meeting ID is 885 6571 6326. The Passcode is 162123. To attend via phone/one-tap mobile, dial 646-558-8656.
—Listings Compiled by Scott Stiffler
–END–
Chelsea Community News is an independent, hyperlocal news, arts, events, info, and opinion website made possible with the help of our awesome advertisers and the support of our readers. Our Promise: Never a paywall, no pop-up ads, all content is FREE. With that in mind, if circumstances allow, please consider taking part in our GoFundMe campaign (click here). To make a direct donation, give feedback, send a Letter to the Editor, or contact our founder/editor, send an email to Scott Stiffler, via scott@chelseacommunitynews.com.
To join our subscriber list, click here. It's a free service provding regular (weekly, at least) Enewsletters containing links to recently published content. Subscribers also will be sent email with "Sponsored Content" in the subject line. That means it's an exclusive message from one of our advertisers, whose support, like yours, allows us to offer all content free of charge.