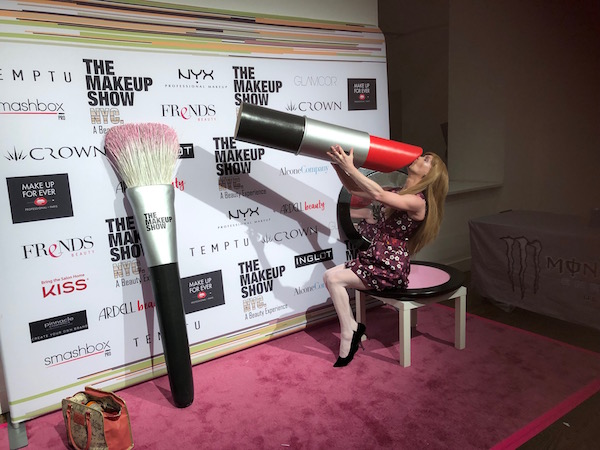 BY CHARLES BATTERSBY | "I didn't know that make up could be a job," said makeup artist James Vincent, at a preview of The Makeup Show. Mr. Vincent is the Director of Education and Artist Relations at The Makeup Show, an industry convention which took up four floors of the Metropolitan Pavilion, (125 W. 18th St. btw. 5th & 6th Aves.), May 4-5.
This annual event might come across as a playground for beauty fanatics, but it is targeted primarily at professional makeup artists. For the duration of the two-day event, the pavilion was filled with educational events, and an army of vendors displaying the latest in high-end cosmetics.
This show has been around for 15 years. We asked Mr. Vincent about the first year it was held, and he told us, "At that time, there was no place you could go to get professional discounts, or to learn from other makeup artists."
Unlike consumer-target beauty events, this show isn't about selfie-ops, or sitting in huge auditoriums listening to famous beauty bloggers. Instead, there were numerous small stages around the pavilion, and attendees could get a close look at artists who were doing demos of techniques and products.
When we asked what separates a pro makeup artist's "kit" from an ordinary consumer's makeup drawer, Vincent explained, "Cameras, right now, show so much detail that a lot of the consumer products don't necessarily meet the needs. The other thing we need is quality… We make sure that any of the brands that are here stand up to the scrutiny of the professional audiences. Which means quality, a commitment to easy artistry. And it doesn't get caught up in the marketing, and the packaging, and the spin on social media."
For those HD (high definition) cameras, we found a product that gives the airbrushed look, but doesn't require pro equipment—the Era line of aerosol foundations. It sprays on like an airbrush, but comes in a small aerosol can. A pro artist at Era's booth explained that it's a staple on some of the Real Housewives shows, but also has uses for the average consumer who wants a flawless smooth face, or for quick makeup applications.
Among the other heavy duty products available were Mehron, Nudestix, and Alcone, all of which are standards for Broadway and drag performers, but are largely unknown to average consumers. While the typical drug store doesn't stock these industry secrets, New Yorkers can find them at the Alcone store, just off Times Square.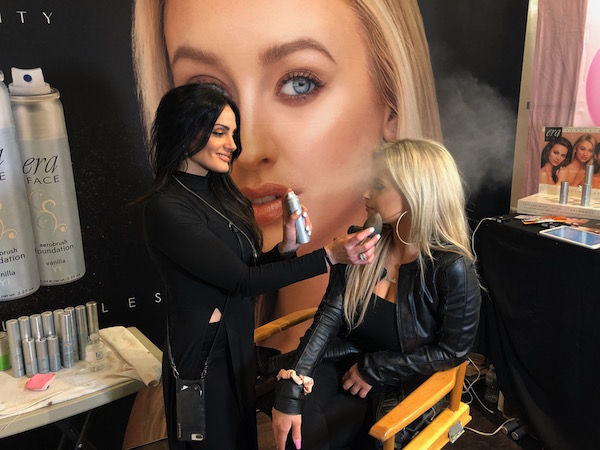 Many of the exhibitors were smaller companies that make highly specialized products.
LashPop makes a latex-free eyelash glue for people with latex allergies. They also have a special "Band Blender" glue powder that helps the lashes blend in with eyeliner. Elsewhere was Vermillion, which focuses on lips. Their line of products includes not only lipsticks, but also lip-shaped moisturizer masks. These are like the ubiquitous "Hannibal Lecter" face masks, but they fit over the mouth, in a giant kissy pout.
At this show, makeup isn't just about being pretty. There were several artists doing special effects work. One was transforming a model into an abstract work of art, by using head-to-toe paint. Another had created a sci-fi creature out of a pretty model. There were also oddball products that could, theoretically, be used to become prettier, but were mostly for self-expression.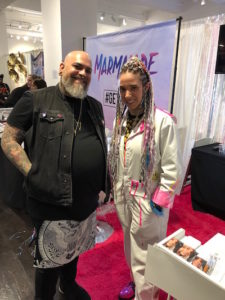 We spoke to Yelle Belle of Chrom Tooth Polish, which can be used to temporarily change the color of someone's teeth. She told us that their most popular product is the "Uptight White" polish, which makes teeth pearly white, but they also have outlandish colors that turn teeth pink, blue, or metallic. Even fairy dust glitter for teeth (yes, non-toxic).
When compared to other beauty conventions, The Makeup Show has a stronger focus on makeup removers, facial cleansers, and skin care. Twinmedix was showing off a high-end line of skin care. Our experience with the products showed impressive results after a short trial. It was one of several pro-quality products that would make the average consumer swoon with envy.
For those everyday makeup users, the most important thing they could acquire was knowledge, especially about coming trends. The current "Bold" painted-on eyebrow is going to be a thing of the past, at least according to several experts we spoke with. The new trend will be the "Fuzzy Brow," which is a euphemism for "bushy" or "Boy" brow.
We asked Mr. Vincent why these particular looks are arriving now, and he theorized, "Makeup is socio-political. Whenever there's a conservative government, makeup, I think, goes a little to the left. So we're seeing skin again. Foundation is very minimal. It's a little more matte. Brows are back, beautifully. They are fuller, they're denser. Even if you're not a makeup wearer, you can brush a product through your brow and feel like you are working the look."
Glitter was once the exclusive domain of strippers and drag queens, but now it's everywhere. Upon setting foot in the venue, half of the attendees had their lips covered with glitter, which was provided by Glamorous Chicks Cosmetics. Aside from these lips, glitter was nearly ubiquitous, with entire companies that devoted themselves exclusively to glitter (and glues with which to adhere it).
"Texture is a real celebration right now. Unexpected uses of glitter and shine and shimmer," said Vincent. "I find it very exciting, because you can wear no makeup, but pop on a glitter lip, and you've got a gorgeous statement that everybody is looking at."
Politics was also present at the show. A company called Mr Eyeliner was encouraging everyone to wear eyeliner, regardless of gender. "Makeup is powerful, and I don't think makeup always needs to be pretty," said Vincent. "I think it should be expressive of how you're feeling that day. If you're feeling glowing and bronze, throw on a bronzing glow. If you feel a little bitchy, add on a black liner and let everyone know that you're the biggest bitch in the room."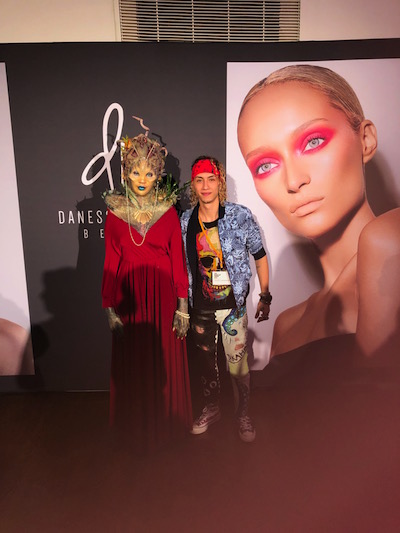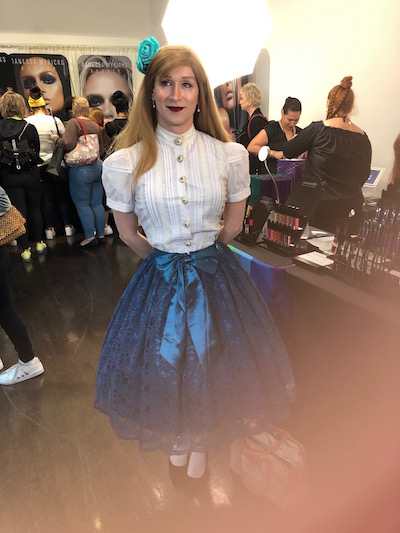 Chelsea Community News is made possible with the help of our awesome advertisers, and the support of our readers. If you like what you see, please consider taking part in our GoFundMe campaign (click here). To make a direct donation, give feedback about the site, or send a Letter to The Editor, email us at Scott@chelseacommunitynews.com.