It's this website's prerogative to change its mind–or at least change formats. That's why all of the activities you've enjoyed reading about in our "Today in Chelsea" section are now to be found here, fresh every Monday, in our "This Week in Chelsea" section. Keep checking this page throughout the week, because we'll be adding new content often (listings get moved to last in cue, after the event happens). Oh, and you'll also notice, sometimes we go outside the strictly speaking realm of Chelsea for events we're especially fond of. Oh, that "prerogative" thing: is there anything it can't (be made to) do?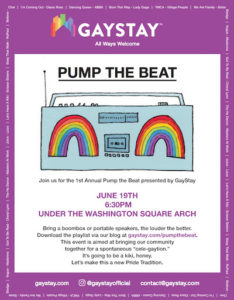 Wednesday, June 19: Pump the Beat | At 6:30pm, join GayStay and friends for the 1st Annual Pump The Beat NYC celebration of the historic 50 years of pride with a fabulous roving soundscape of classic LGBTQ anthems.
Come stroll through the Village pumping I'm Coming Out, with your friends shimmying to Vogue, making this experience yours.
The event kicks off under the arch at Washington Square Park. Bring a boombox or portable speaker.
You can download the playlist via gaystay.com/pumpthebeat. Then, simultaneously, all assembled will press play their our boomboxes and portable devices, and walk through the Village, making a stop at The Stonewall Inn, and concluding outside of The LGBT Center.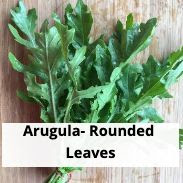 THE PS11 FARM MARKET | The market will run from 8-9:30 am, at PS11 (320 W. 21st St. btw. 8th & 9th Aves.), every Wednesday, through November. It's done in partnership with Stoneledge Farm,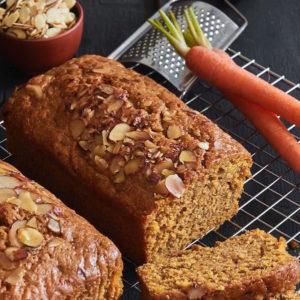 Saturdays at Down to Earth Farmer's Market | Every Saturday, 9am to 4pm through December 21, East of Ninth Ave., on the north side of West 23rd Street, is the place to be—for good green stuff and more. This Westchester, Brooklyn, Manhattan, and Queens market welcomes SNAP benefits—just stop by the manager's tent to use your EBT card.
Here are just a few of the participating vendors, and what they offer:
–Plants, flowers, and certified organic fruits and vegetables from Echo Creek Farm
–Ready-to-eat and vegan options from Pickle Licious
–Baked goods and gluten-free options from Meredith's Country Bakery
–Pantry items, sauces, and seasonings from Arlotta Food Studio
–Breads from Orwashers Bakery
In recent Market News, they note, "We are pleased to introduce brown bin compost drop-off this season at the Manager's Tent. A BIG thank you to our community hosts, Holy Apostles Soup Kitchen for allowing us to participate in their program."
Elsewhere around the neighborhood, their Hudson Yards incarnation is open Thursdays, 8:30am to 4pm, through November 21. It's hosted by the Hudson Yards/Hells Kitchen Alliance. For more information, visit downtoearthmarkets.com.
Film Forum Jr. Spring Season | This series of classic films fit for kids and their families runs each Saturday and Sunday at 11am, through June 30. May got off to a rousing start, with Edward Scissorhands and A League of Their Own, among others. June kicked off with Harold Lloyd's Safety Last! (1923), June 1/2. Steve Sterner provided live piano accompaniment for this sight gag-filled silent film. June 8/9, it was director William Wyler's 1963 musical Funny Girl, starring Barbra Streisand as Ziegfeld Follies and Broadway star Fanny Brice. On June 15/16, it was Spike Lee's semi-autobiographical Crooklyn (1994), a sharply comic look at growing up in 1970s Brooklyn. The British soccer-themed classic Bend it Like Beckham (2002) screens June 22/23—and the series wraps up June 29/30, with 1982's screen adaptation of the Broadway musical Annie. All tickets to Film Forum Jr. screenings are $9 (children and adults). Film Forum is located at 209 W. Houston St. (w. of 6th Ave.). For the full schedule, visit www.filmforum.org.
Sunday Services with Chelsea Community Church | Chelsea Community Church was founded by lay people in 1975 and has never had a regular pastor (they do have a part-time pastoral counselor). As result of not having a regular pastor, they have a variety of guest speakers in the pulpit. For more info, visit www.chelseachurch.org.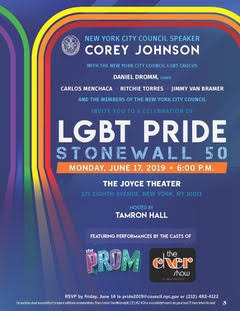 Monday, June 17: NYC Council celebration of LGBT Pride and Stonewall 50 | NYC's calendar of June Pride month events is always a rich, rainbow-hued tapestry of opportunities to celebrate the past, present, and future of LGBTQ+ identity. This year, the city hosts WorldPride and notes the 50th anniversary of the Stonewall riots, a flashpoint which helped usher in the modern LGBTQ+ civil rights movement. But how many of those Pride month events offer you the chance to see, for free, performances from the casts of The Prom and The Cher Show? Just one, in fact, and it's under the auspices of the NYC Council, whose Speaker, Corey Johnson, is not only an out, proud gay man, but also, Chelsea's very own District 3 rep. Among his other distinguishing qualities: He's been known to dance at the drop of a hat, so we're guessing there will be a little bit of that going on at this event, and we're also guessing there will be some dancing in the aisles, perhaps involving you, during those Broadway musical performances. Bonus content: Broadcast journalist Tamron Hall hosts!
RSVP is recommended, but not necessary. No one will be turned away at the door, until the venue is filled to capacity.
Monday, June 17, 6pm at The Joyce Theater (175 Eighth Ave. at W. 19th St.). RSVP via 212-482-4122 or by sending an email to pride2019@council.nyc.gov.
Chelsea Community News is made possible with the help of our awesome advertisers, and the support of our readers. If you like what you see, please consider taking part in our GoFundMe fundraiser (click here). To make a direct donation and/or send feedback about the site, send an email to Scott@chelseacommunitynews.com.